Do you know what the broken window theory is?  It's a theory that says "visible signs of disorder and misbehavior in an environment lead to further order and misbehavior and eventually to serious crimes."
I have a "broken window" in my daily routine.  Guess what it is?  Lunch.  Yes, years of poor planning and eating cheese and grapes off toddler's plates have brought me here.
You could perhaps even say that when mama doesn't have lunch, she may derail into disorder, misbehavior, and eventually serious crimes.
A nicer way of saying it?  A good lunch is a keystone habit, or a habit that leads to a cascade of other positive actions.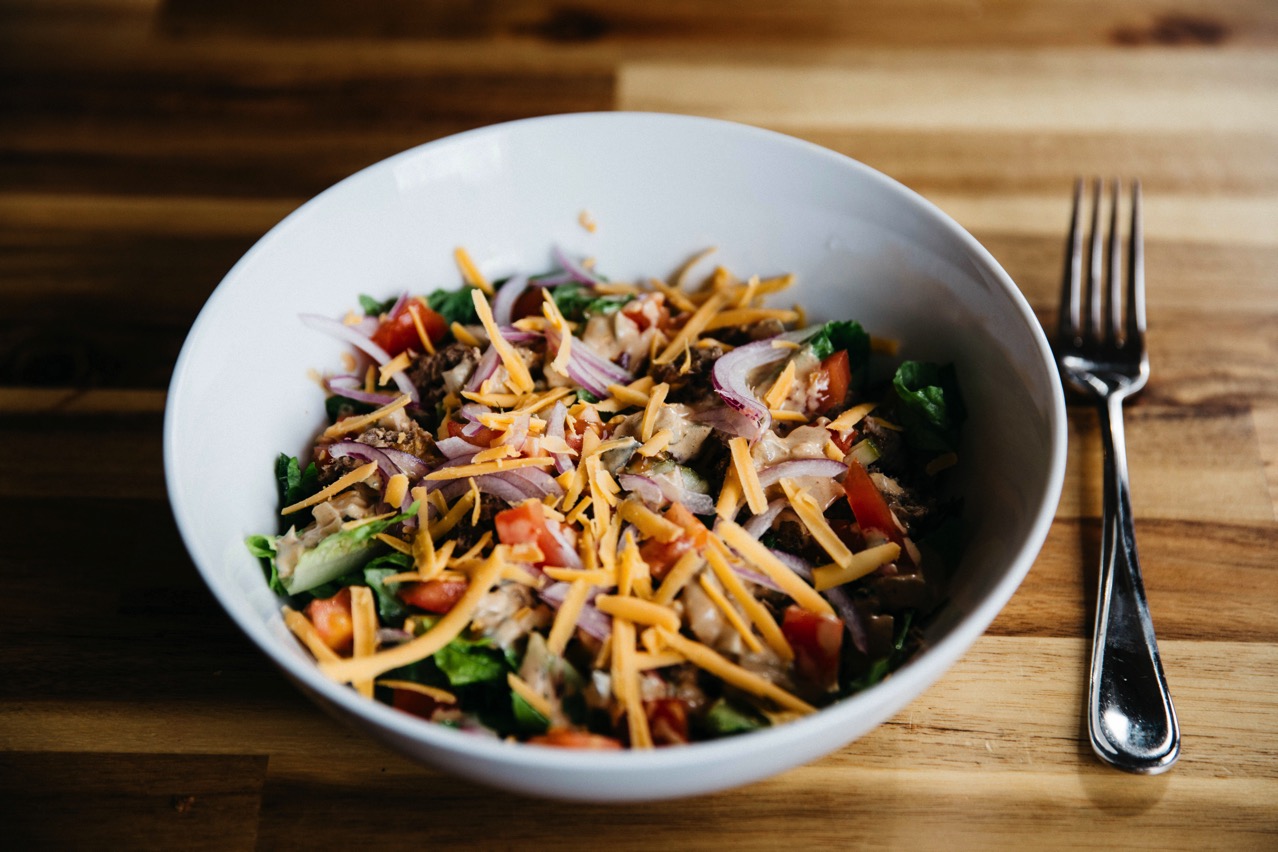 Here's how it goes:
I fix the kids a simple lunch that works for all of us (yay, great job!). But wait, I'm hungry.  I open the refrigerator and stare into it for answers, finding an array of possible candidates.  Nothing seems like a lunch situation suitable for a grown-up: limp romaine, apples, leftover ground beef and the chicken I'm thawing for tomorrow's dinner. Crackers and nuts in the pantry.
My choices are to stand at the counter and eat from whatever I made for the kids, or nibble around on whatever I can easily grab.  Both usually leave me dissatisfied and eventually lead to death by a thousand snacks.  Though my grazing may be enough to sustain me physically until dinner, the sense that I haven't really eaten anything remains.
Five o'clock inevitably arrives and I find myself too irritated and depleted to make the dinner I've planned and shopped for.  Serious crimes come at 9pm when I overdo the cookie dough or ice cream that I "deserve" from a day that felt chaotic and haphazard.
Why does skipping lunch do this to me?  I'm not sure, but I have a feeling I'm not alone. After years of eating cold quesadilla off plastic plates, I discovered there are the three things I need at lunch: accessible protein, a veggie, and a little something special!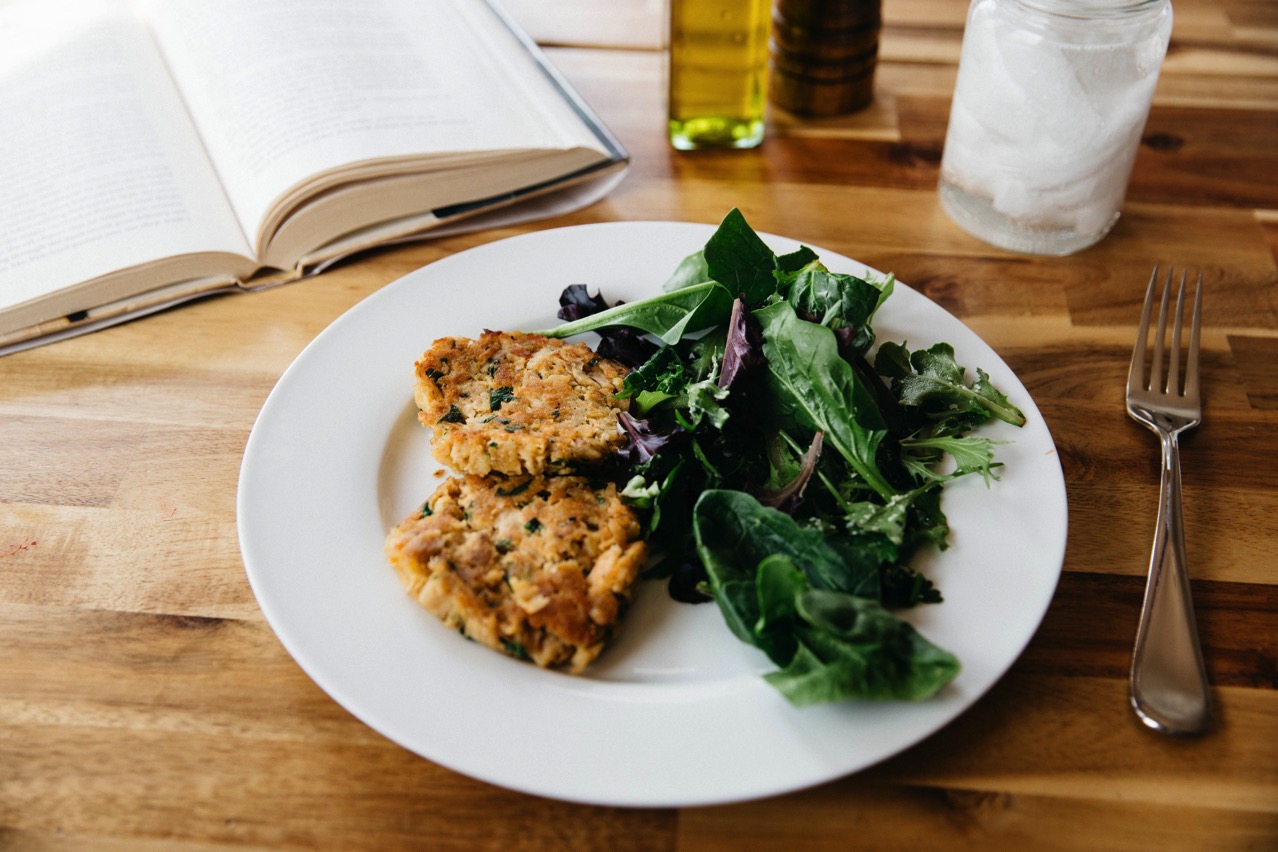 Lunch doesn't have to be fancy.  Here are a few strategies that have helped me have better lunches:
Mom's Choice Leftovers
Once a week I plan a Mom's Choice night into my dinner menu. This is the night where I pick something I want to eat with the express purpose of having leftovers for my lunches.  I choose something from my cookbooks or Pinterest boards that I know everyone else is probably going to pick at (darn), and then pack away the leftovers for myself in pretty glass containers. (Might I suggest this Persian herb stew over rice?)
Mom-ified Kid Lunches
We have a lunch rotation for the kids and occasionally I've found it really works to simply mom-ify their lunches.  For example, when we have bean and cheese quesadillas, I'll make one for me.  Add a generous helping of salsa and a handful of mixed greens on top—eat with a fork.  One mama told me that when she makes chicken nuggets for the kids, she puts some on top of a salad for herself!  Sometimes on snack board day I'll make my own nibble plate with a few fancy additions like olives and dark chocolate.
Breakfast for Lunch
Eggs are such a great accessible protein and if I haven't had them for breakfast, I'll make a veggie and cheese omelette or scramble for lunch.  (In the summer, add tomatoes from the garden and an iced coffee!)
Accessible Proteins
The biggest lunch breakthrough for me has been making sure I have at least one real-food protein source that I can easily access and pair with a veggie for a rounded meal. My favorite accessible proteins are Applegate Farms organic chicken sausage, nitrate-free salami, organic turkey, eggs, tuna, and frozen marinated salmon.
A Bed of Greens
Have you ever been to one of those restaurants where things were served "on a bed of mixed greens?"  (Isn't that a nice way of saying "dry salad?")  Yes, it kind of is.  But also, it really works.  Leftover tuna croquettes on a bed of greens?  Yes, thank you.  Salmon on a bed of lettuce with a sprinkle of feta?  Absolutely.  Chicken salad on a bed of greens?  One hundred percent.  For that matter, whatever can't go on a bed of lettuce can have a handful of greens thrown on top.  (Just ask the Mom-ified Quesadilla and those fancy pizzas with arugula.)  I use this all the time because there's just something about a spring mix that makes lunch feel mature.
(I once sat next to a woman on a plane who ate mixed greens straight out of a bag as though she were eating potato chips.  I am sorry to say, I will have to draw the line there.)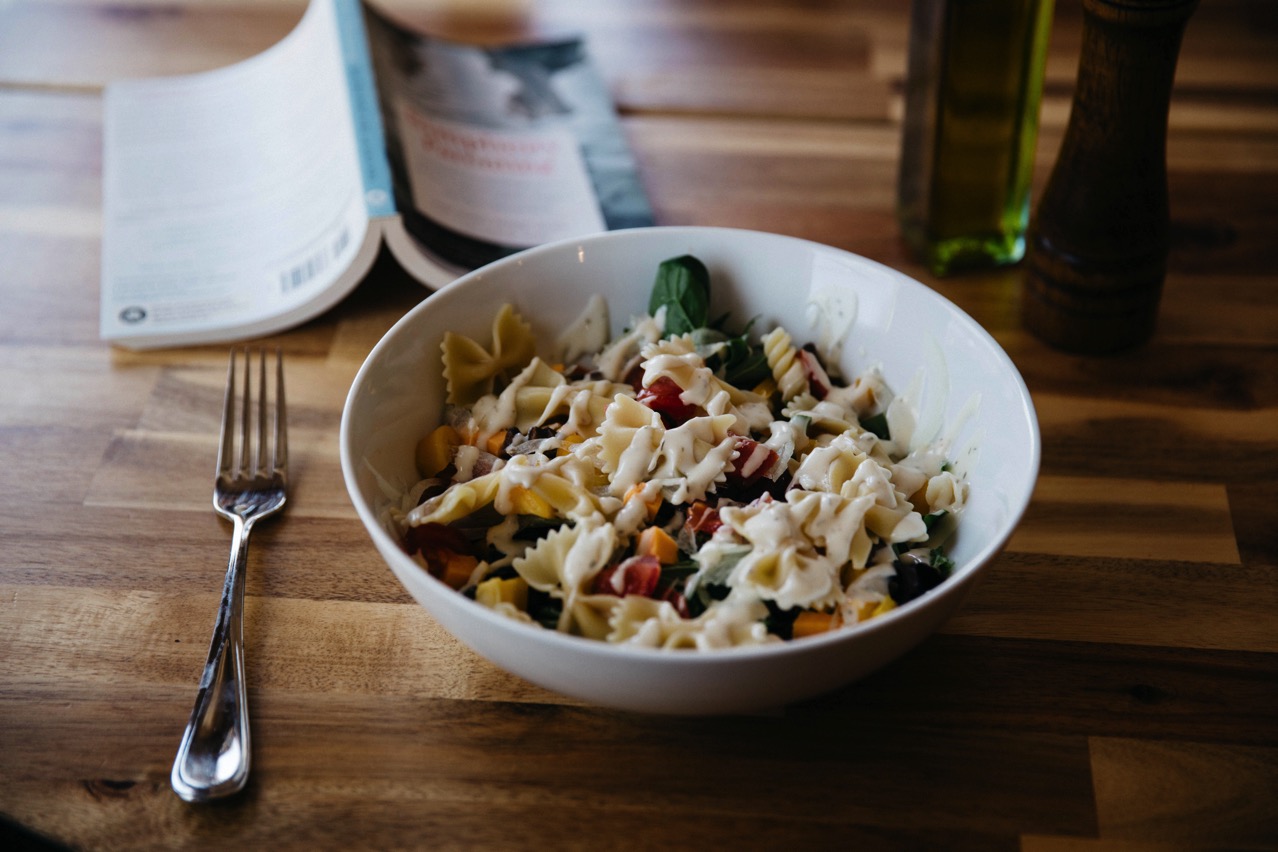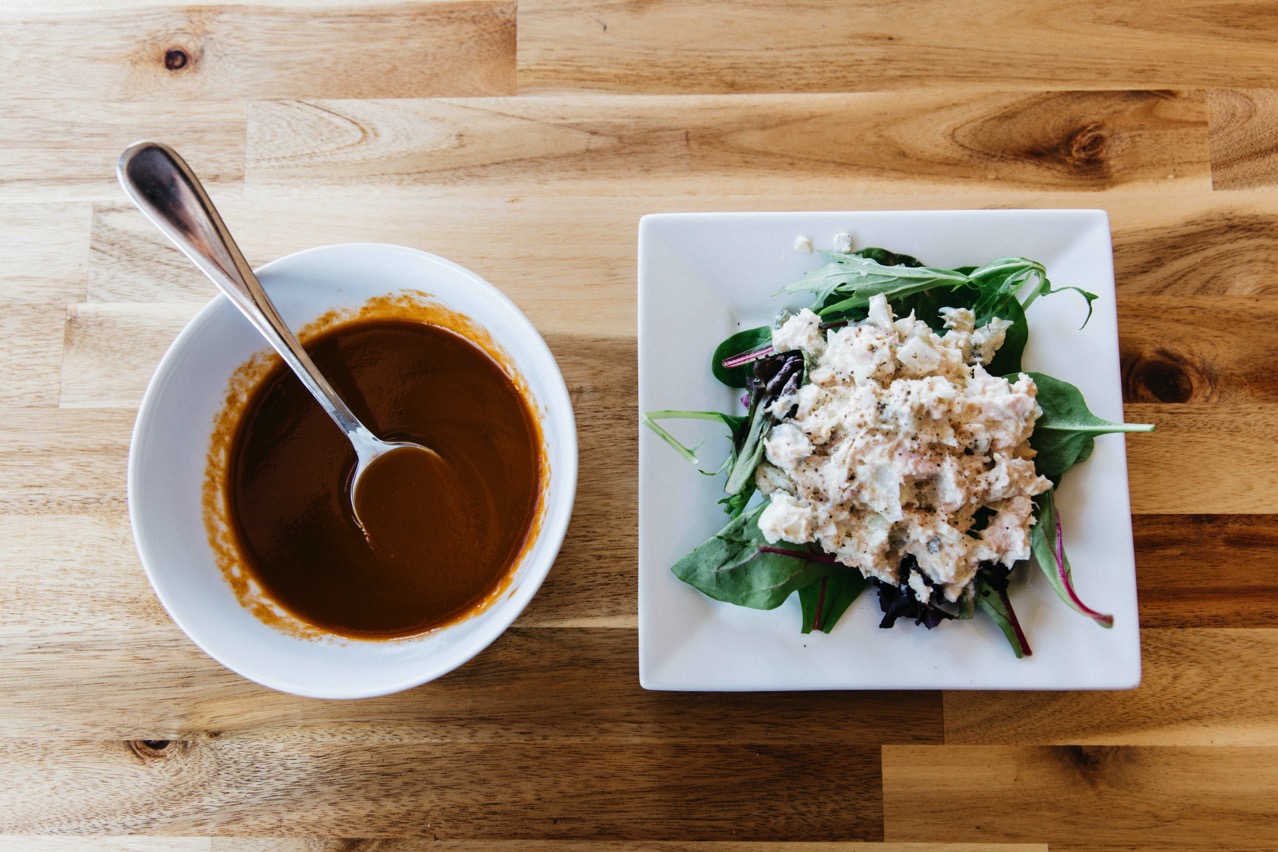 My kids are old enough now that once they've eaten their lunch, they're ready to go off and play by themselves for a little while.  I take this window to actually sit down and chew my food.  I don't clean anything up; I just brush the cracker crumbs off the seat and shove the crusts aside. I seat myself in the middle of the mess and have a decent lunch.  That's just what it takes.
I always have dessert or something special–dark chocolate peanut butter cups are my current thing! I'll read a book, check Instagram or read my favorite newsletters.  Some days I pack everyone up and pick up a latte afterward. It's turned out that lunch is a great keystone habit for a little bit of self care.
Nice lunch = The Finer Things Club
You're also invited to join my newsletter, The Lounge, where we I share books I'm reading, resources I love, and candid takes on my real life.  It's the place where we drink hot coffee and eat the good chocolate!
What are your favorite go-to lunches?