Breakfast is my favorite meal of the day.  Is it the most important?  I don't know, but it's the coziest and it has the coffee.  Hot, un-rushed family breakfasts are by far my favorite perk of a homeschooling day.  I hope our family will always have warm memories of hearty pots of oatmeal and eggs frying in cast iron!
Instead of exact breakfast plans, I stock a handful of staples that make a variety of meals. (Then I don't have to worry about running out of things or most importantly, doing a lot of thinking!)
The goal with the staples method is to simplify planning so that all you need to do is have some base groceries in your house.  This means I'm ready for breakfast time without having to think about every single meal on my menu plan.  It shortens menu planning and gives me flexibility for whatever a day brings.  (Like snow?  Waffles, for sure.)
I stock our shelves for simple, grain-based meals like oatmeal, pancakes, waffles and banana bread.  Eggs and toast is the mainstay that I make three to four mornings a week.
This takes a little planning, but once you've done it once, it's really simple.  The first step is to observe what your family likes to eat most at breakfast time!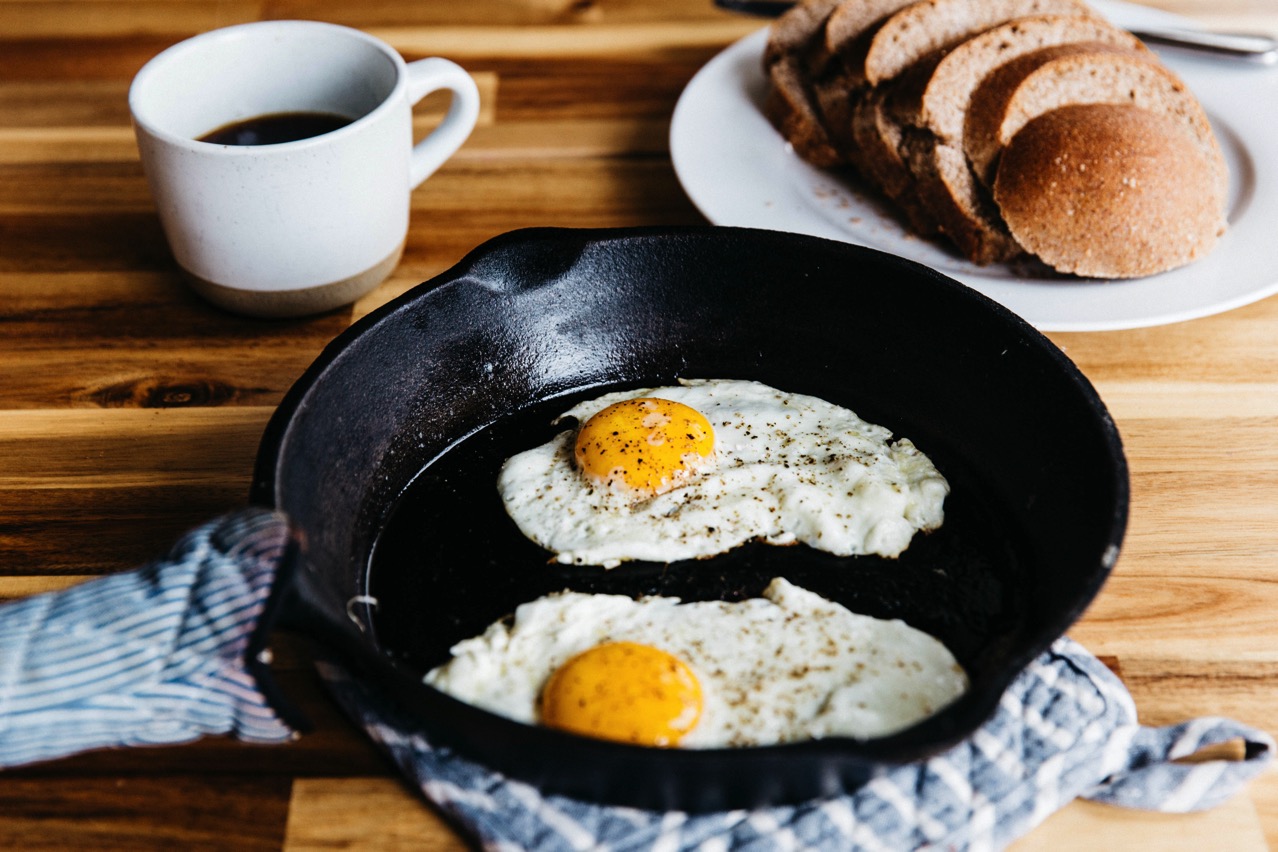 Here are the main breakfast staples I use:
Oats
Wheat berries (hard red for yeast breads, soft white for everything else)
Eggs
Butter
Raw Milk (I can culture my own buttermilk from this!)
Maple syrup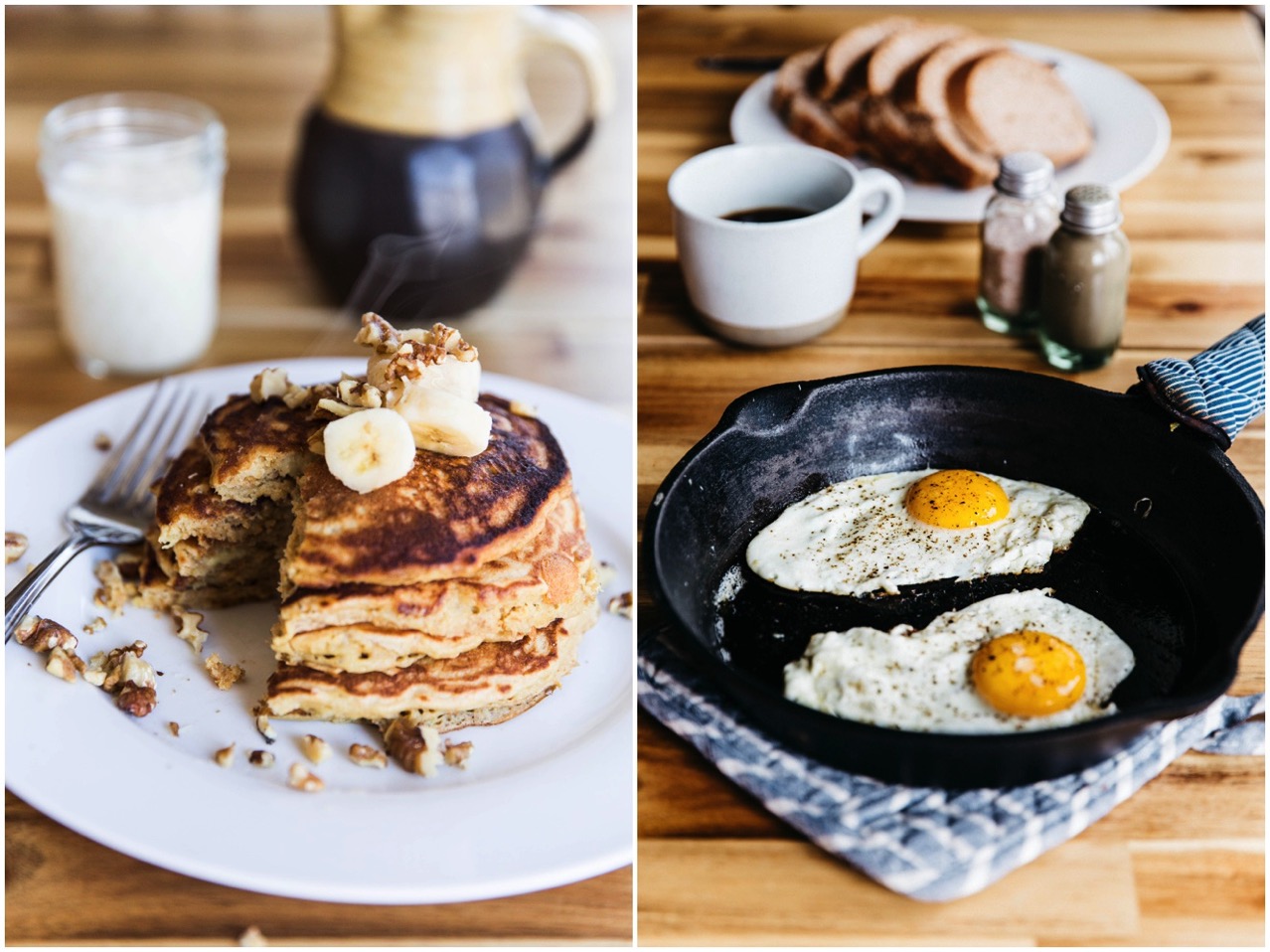 I combine them in different ways to create our favorite breakfasts:
Baked Oatmeal (this is such a fun and easy change-up to oatmeal; it feels like taking cake out of the oven for breakfast!)
Oatmeal
Pancakes (from the Bread Becker's recipe book)
French Toast (made with bread from the Bread Becker's recipe book) My girls can make this by themselves now, which is really nice.
Waffles (from the Bread Becker's recipe book)
Eggs and Toast
Banana Bread (during the summer I do Zucchini Bread!)
Granola and whole, raw milk
Dutch Baby (this is like making a giant crepe in the oven; same texture and ingredients, but without standing over the stove!)
Eggs in a basket (we add a sprinkle of cheese to ours!)
Whole Wheat Cinnamon Raisin Bread (from where else but Bread Becker's recipe book!)
Buttermilk Biscuits with Eggs (Bread Becker's recipe book…again!)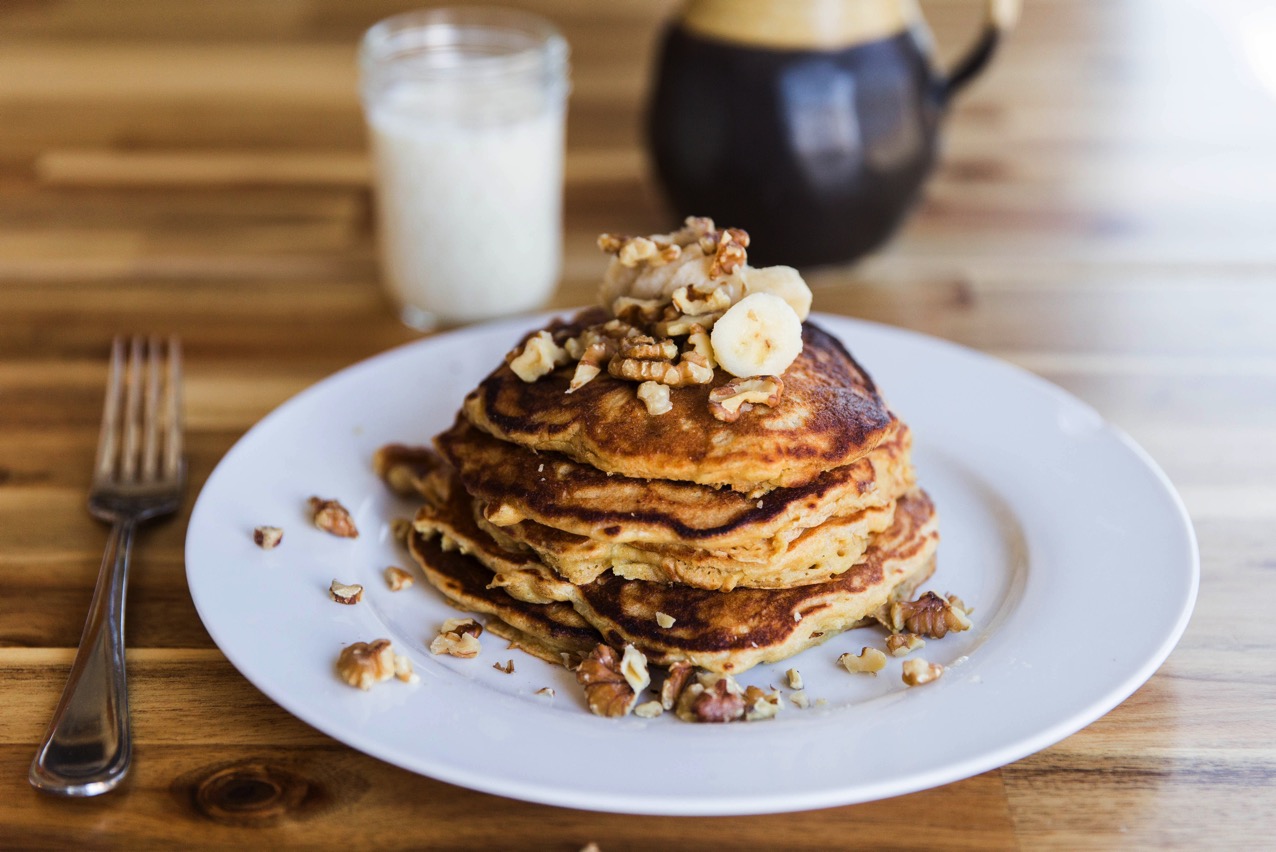 I say this is about warm family memories but it may also be because I'm unmotivated and very dismal about eating cold things at breakfast. Yogurt and smoothies belong in this world after 11 am, you know?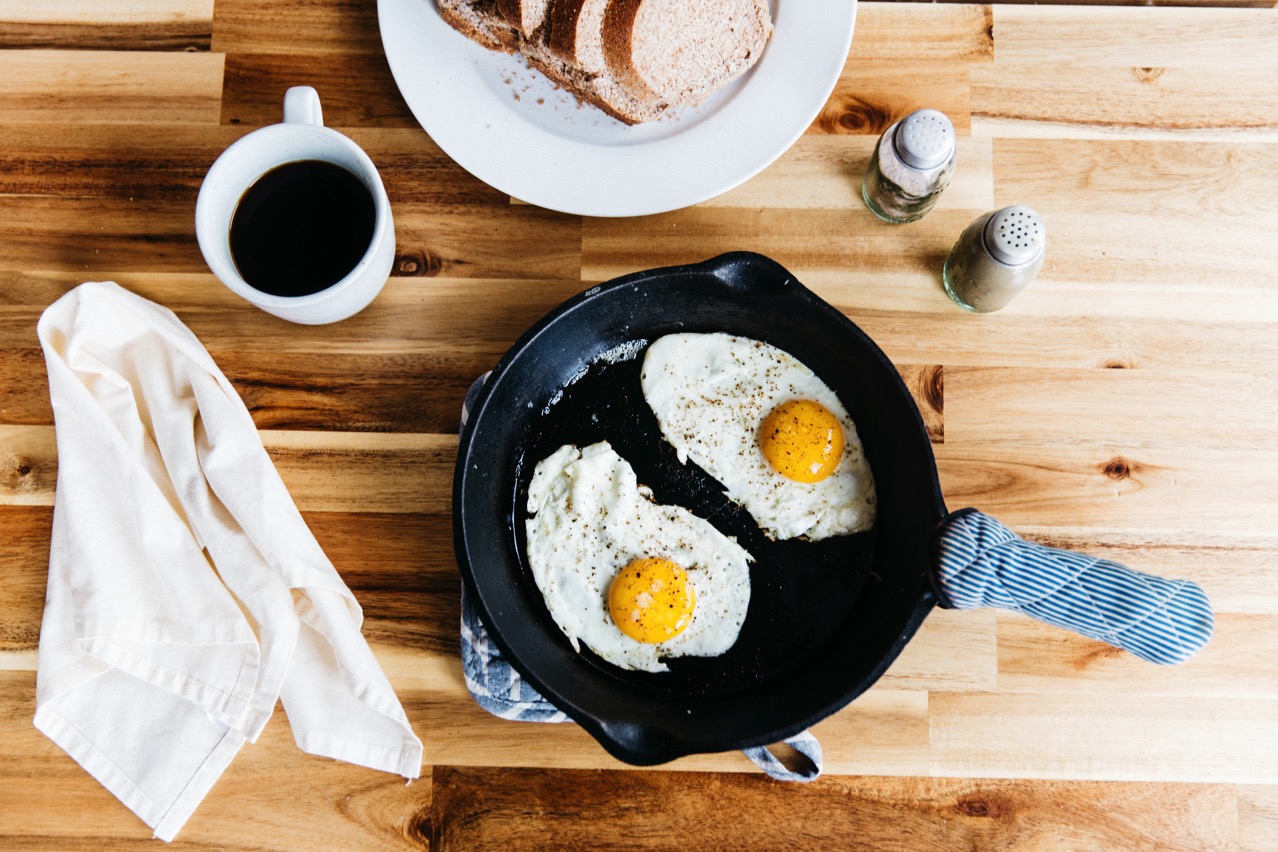 I linked up to all of my very favorite recipes for you!  You can find them along with other ideas here on my Pinterest Breakfast board.
Also? My little secret to packing in nutrition is that I mill my own flour. If you already bake at home, grinding your flour is just about like grinding your coffee.  (I use a
Wondermill
.)
I'm not partnering with a brand or anything like that because I'm not that cool.  I'm pretty much the opposite of cool, which is an enthusiastic grain mill user!  (There's a lot of us out there and we find each other on the Internet and at Azure Standard pick-ups.)
Also this post may contain (does contain) Amazon affiliate links.  I have to say that part.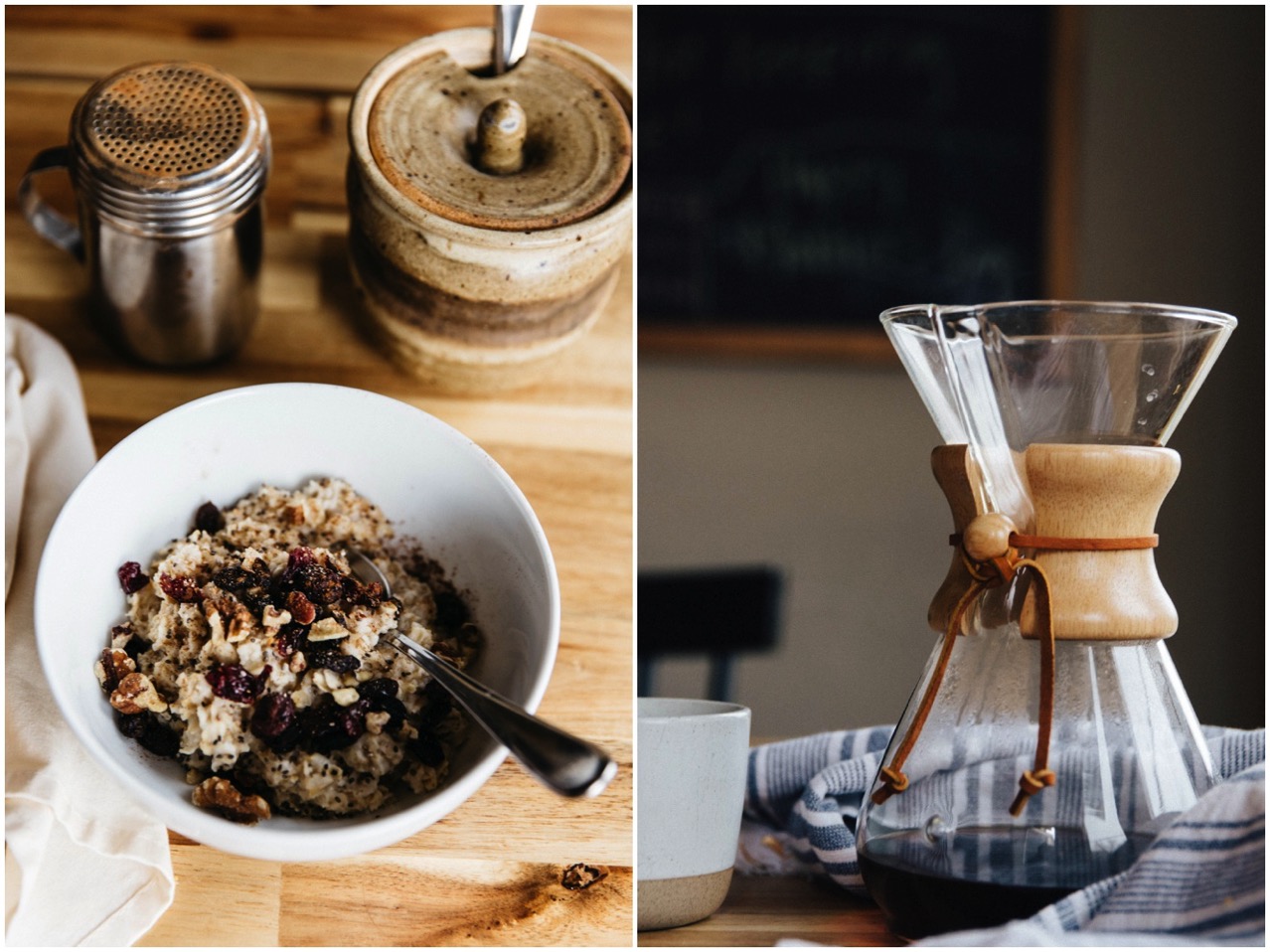 Anyways.  Freshly milled grains contain 40 of the 44 essential nutrients needed to sustain life guys!  So if your kids are not great at eating lots of veggies, you can help by milling your wheat.  (Aside from diseases like celiac, gluten sensitivity can come from consuming deconstructed, store-bought flour due to its higher ratio of gluten  As Joel Salatin would say–folks, this ain't normal.)
I use non-toxic cookware as much as I can: cast iron, stainless steel, and ceramic!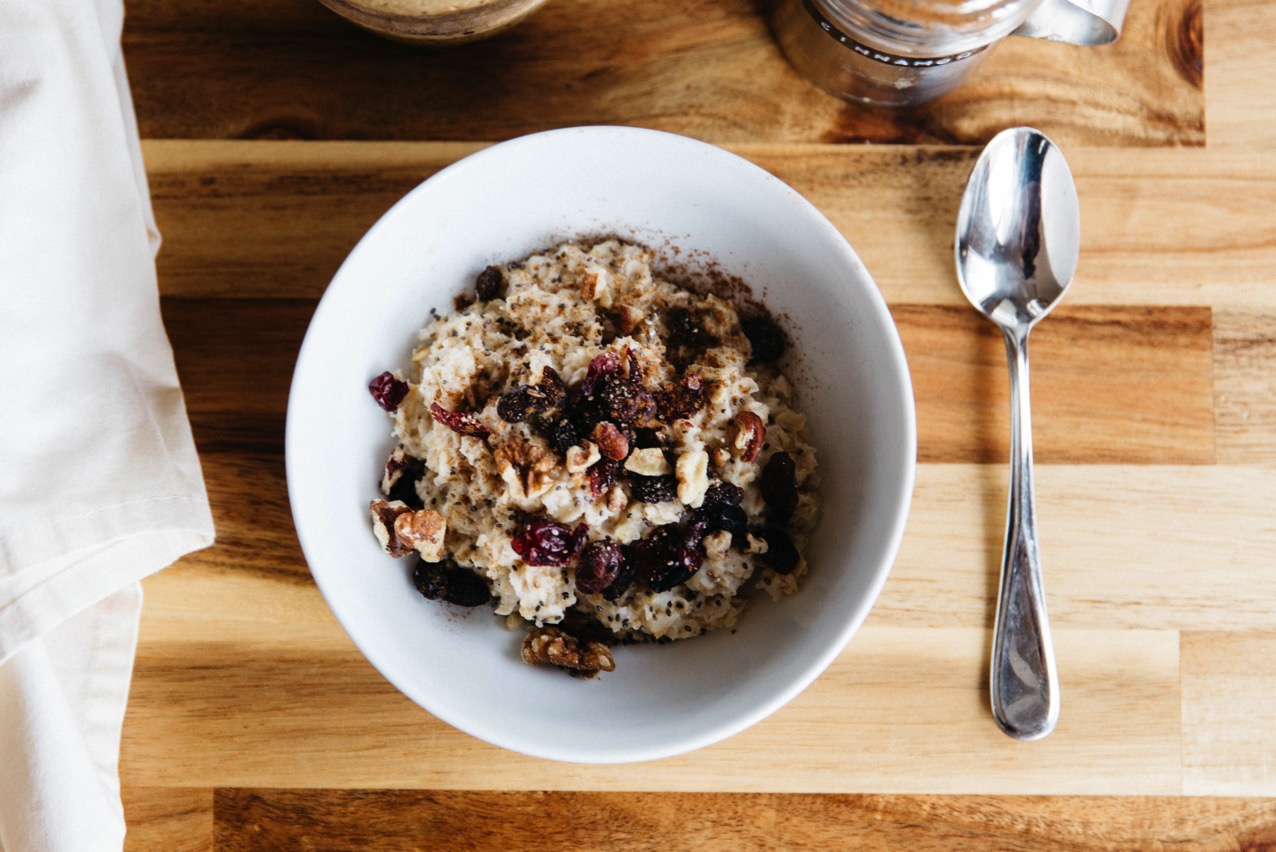 I do eat slightly different from the kids, so I do veggie omelettes, eggs and toast or avocado toast most of the time (unless I just need a waffle with melted butter, you know?)
I hope you enjoyed perusing this list and maybe found a new recipe or two to take home to your own breakfast table!  What kinds of breakfast staples do you stock?
You're also invited to join my newsletter, The Lounge, where we I share books I'm reading, resources I love, and candid takes on my real life.  It's the place where we drink hot coffee and eat the good chocolate!