Our homeschool runs on audio books, especially in the summer months (they're my secret assistant..shhh).  Not only do they provide scaffolding for young readers, but they are also a fantastic substitute for screen time when a rest is needed. (Rest time is one of our daily anchors in the summer!) Audio books are also my very favorite way to trick, I mean encourage, a reluctant reader into loving books.  You can use this tool all year to create peaceful rhythms and a rich learning atmosphere in your home.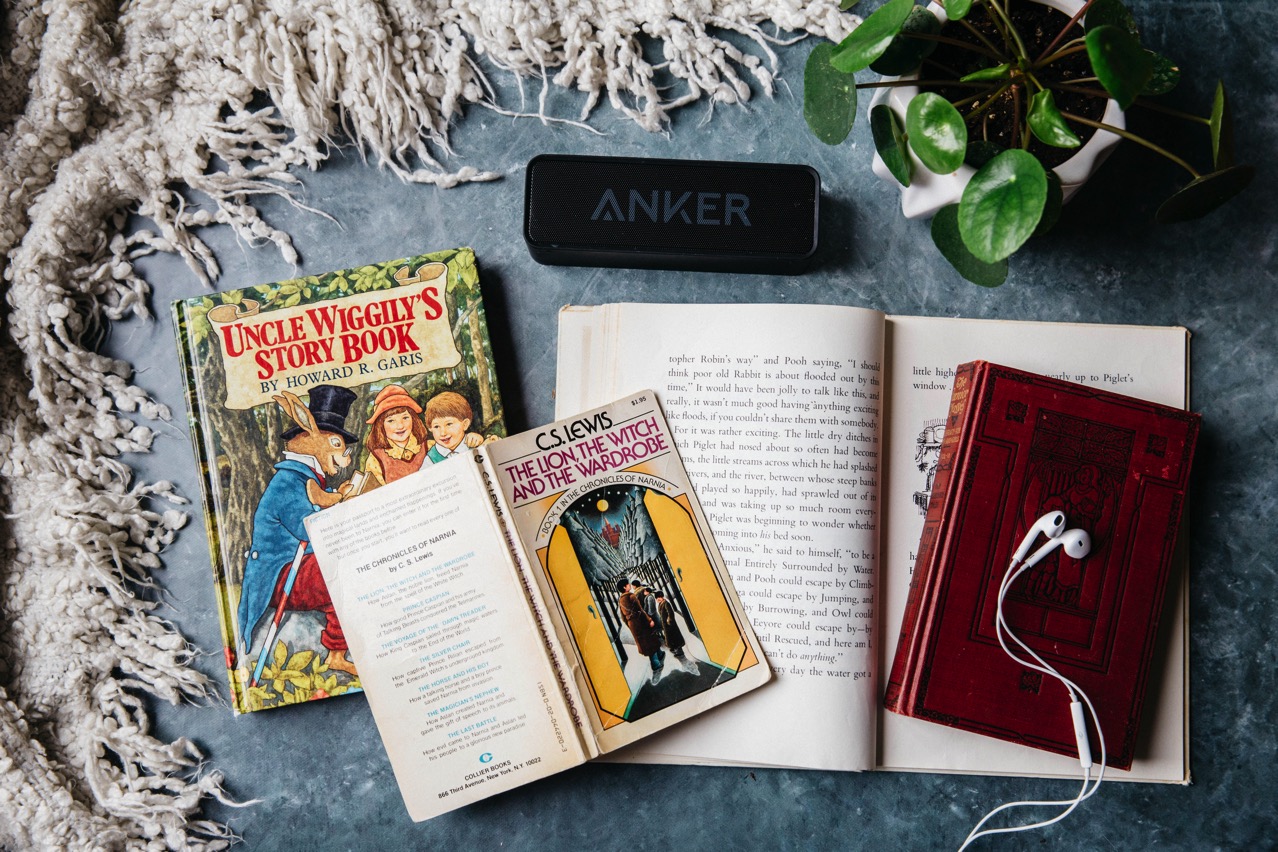 Over the years we've given audience to many wonderful collections, but I've gathered the best of them here for you today. You can listen to almost all of these for free through your library using digital borrowing apps:  Hoopla, Overdrive or Libby.  (Hoopla is our go-to!)
For a group experience, listen in the car or on a blue tooth speaker.  Little ones will enjoy checking out the physical CD's from the library and listening with a small player.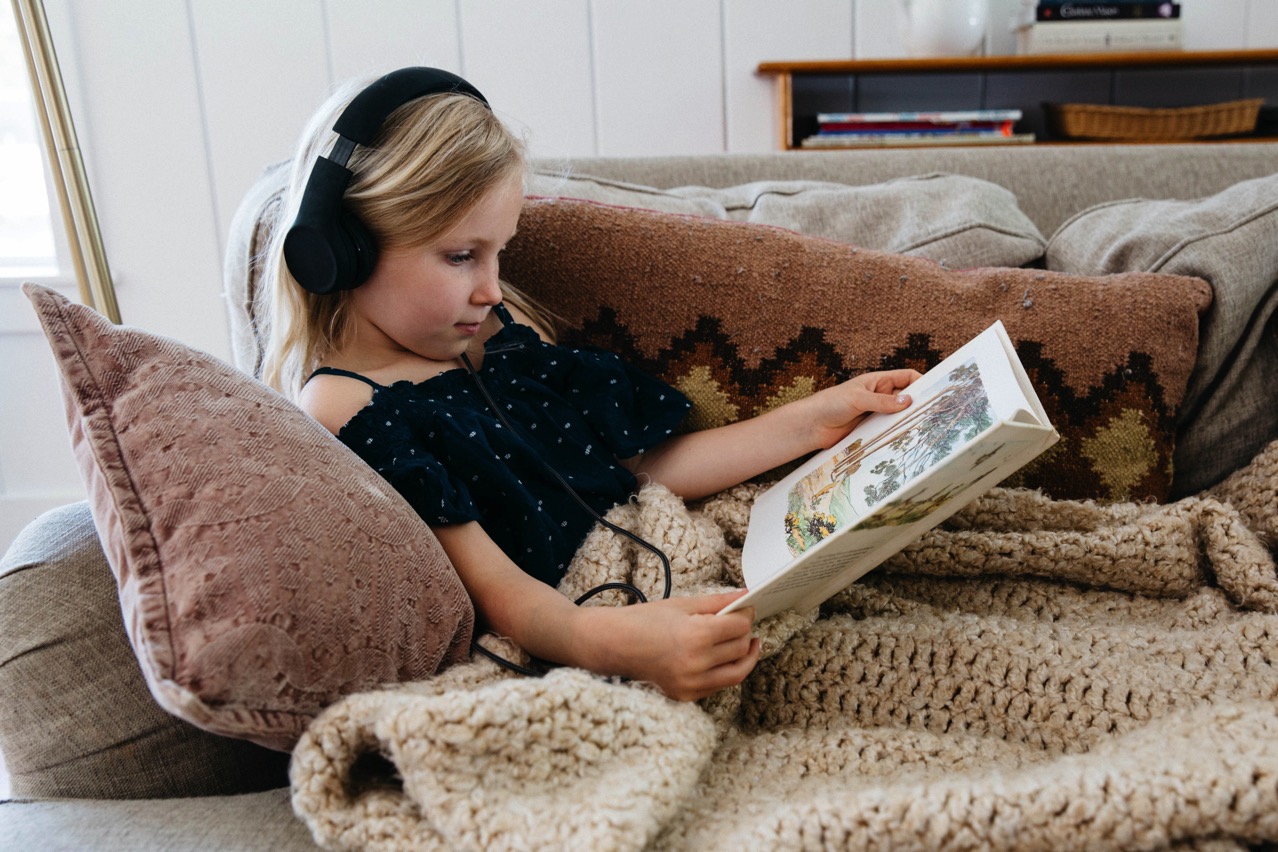 The Beverly Audio Cleary Collection
As a long-time Ramona Quimby fan it was a lot of fun to introduce Beverly Cleary to my kids.  Our library had the entire Beverly Cleary collection available on audio and my girls listened through all of them last year. I credit this series for enticing my early readers level up into chapter books!  Soon after finishing the series they were checking out the physical books and reading through them on their own.
Cherry Jones does a fantastic job of narrating this time-honored series.  To add to the magic, Pa's fiddle plays excerpts throughout.  Even after reading these aloud together, my girls still asked to listen to these in the car or during afternoon quiet times.
The year I had my son we used a literature-based curriculum that had the Chronicles of Narnia series as the spine.  Homeschooling with a new baby was a challenge (read about that school year here and here) and since I had such limited blocks of time to read aloud, we listened to the series on audio.  It was wonderful to listen together as we folded laundry or bounced the baby in the carrier.  What a happy little accident to discover how a proper British narrator makes these books come alive!
I happened upon this wonderful collection of classic fairy and folk tales on CD at my library.  They are narrated by talented celebrity actors such as Robin Williams, Emma Thompson and Jack Nicholson. Use this series on afternoon quiet times to introduce your children to tall tales like Pecos Bill, Kipling's Just So Stories, and other classic fairytales.
Jim Weiss is a teacher and recording artist who makes classical literature and history come alive with his story tellings.  His stories range from children's classics all the way to the Count of Monte Cristo.  Jim has won many awards for his story telling and is a favorite among homeschoolers.  I haven't found them on any of the borrowing apps yet, but several are available for free on CD through my library. They're also available on CD from Amazon, on iTunes, or through Audible.  (For specific story recommendations from this collection, download my master list of children's audio books here!)
The Collected Stories of Winnie the Pooh
There are many audio versions of these beloved stories, but for a dramatized version (different characters played by a cast of actors), I recommend The Collected Stories of Winnie the Pooh featuring Stephen Fry.  For a non-dramatized reading, try narrations by Peter Dennis.
My girls discovered this thrilling children's adventure series on a library end cap display. (There was an enticing picture of a shark on the front!)  These books are fictional re-tellings of significant historical events.  Survivors tell in their own words how they survived near-death events.  The stories have sparked many opportunities for interest-led learning in our home; it's a fantastic way to teach history. (Due to the content I recommend these for children age eight and up.)
The Arnold Lobel Audio Collection 
A teacher told me to have my girls listen to this set of early readers to encourage them into reading the books for themselves.  It was absolutely the best advice; these were some of the first full-length books they read independently.  The stories themselves are also timeless tales that you won't want your kids to miss! Uncle Elephant is a special favorite.
Introduce your children to classical music through these audio books.  This series features biographies of different composers told through story set to music.  Mozart's The Magic Flute is a favorite at our house.  It is hard to find digitally, but it's so worth buying the CD or MP3.
James Herriot's Treasury for Children
These "warm and joyful" animal tales as told by Yorkshire country vet James Herriot belong in every children's library!  For a fun read along experience, I recommend listening along with the picture book which features beautifully painted illustrations.
My children have listened to hours of these mystery stories.  (There are over 150!) I personally don't care for the narration style (it's a tad cringe-y), but my girls don't seem to care!  They love mysteries and I approve of these wholesome family adventures with the Alden children.  (The first book is the best, and Jim Weiss has his own telling available!) These books have accompanied many hours of Lego building in the basement.
Did you like this list?  If you did, then go here to download my master list: 60 Must-Listen Audio Books for Children.  (This action will sign you up as a subscriber to my monthly digest.)  Load your library holds or listening app and fill your home with the magic of story this summer!  There's even a handy pinnable image below so you can save this list for later.
If you're looking for some literature-based family films to enjoy together, check out this list of 15 Classic Read Alouds with Movies to Watch After!
If you're just introducing picture books to little ones, you want this list of beloved books for your preschool basket!   (You might see a few of our favorites re-appear!)
To see all of my book lists (for mamas and kids) in one spot you can go here, or you can sign up for my newsletter to see what I'm reading each month in real time!