Some people love their chore charts.  Can I be honest?  My house seems to be the place where chore charts go to die.  I wish I was a chore chart mom, but I'm not.
In the last few years we've adopted a chart-free chore system made up of six essential chores that keep our atmosphere peaceful and our home functioning smoothly.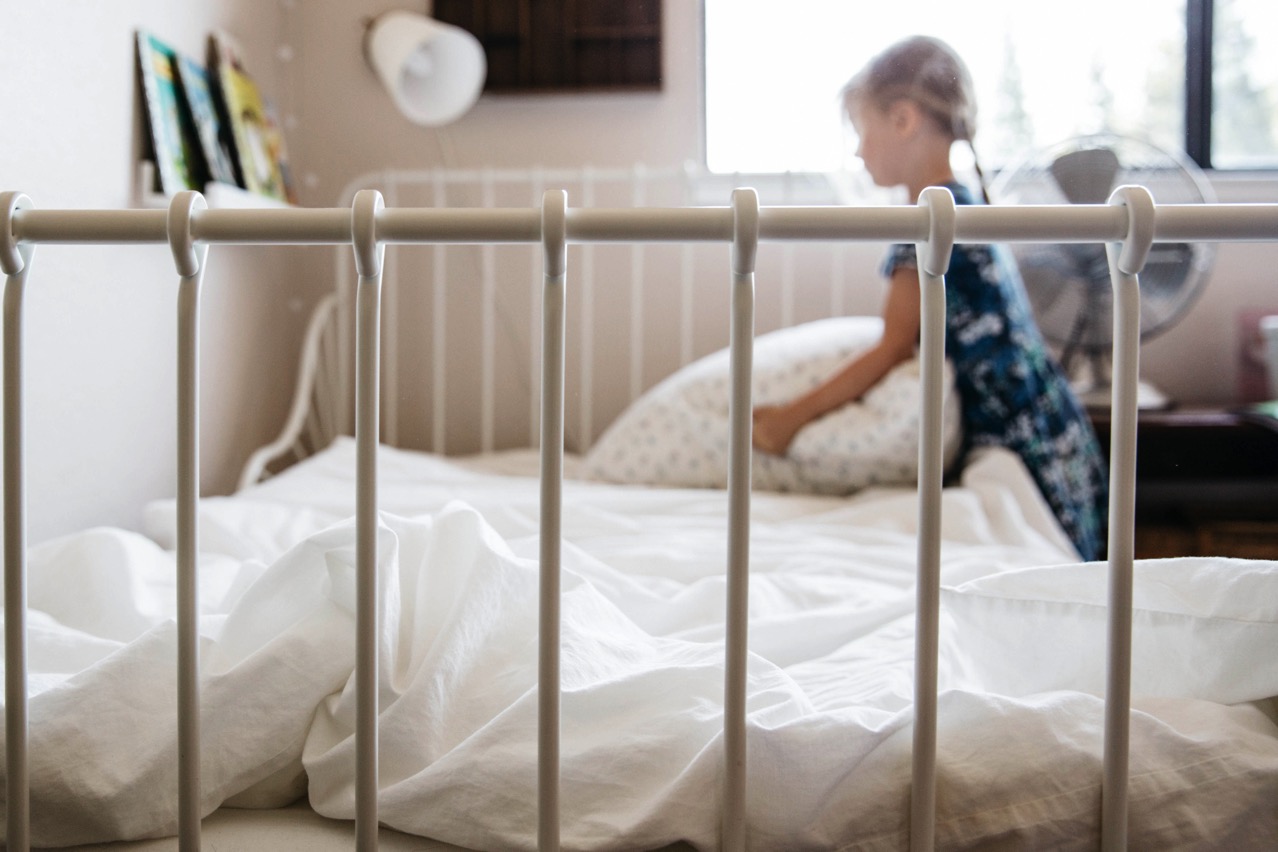 The Essential Chores
I have six essential mini chores for keeping my house running. The chores are all tied to basic functions that I need my home to perform right now which are: clean dishes to eat off of, clear countertops to cook on, clothes for everyone to wear, and the ability to find something when we need it.
It also means that even though the pretty picture on this post shows a child making a bed, it's not actually something we bother doing every day anymore!
So here are the chores we do:
1.) Unload the dishwasher onto the counter
2.) Bring down dirty laundry
3.) Sort and put away one basket of clean laundry (we don't fold clothes, we just put them into the drawers)
4.) Tidy main living spaces
5.) Pick up toys
6.) Load dishwasher
My own personal motto is that the key to happiness is rock bottom expectations, and I stand by that.  I want you to move your chore expectations down to rock bottom!  What do we really need to happen in this house? Don't get hung up on the details.  When we have the home functioning smoothly, we can easily get to the bath tub ring later on when we need to!
You'll also notice that a lot of my chores fall into the category of things that can be sorted or delivered.  Sorting things into their right places or delivering them to where they belong are the easiest kinds of mini chores!  These kind of tasks work well because they do not require a lot of executive decision-making, physical strength, or motor skills.  (Compare to say, vacuuming or washing pots and pans.)
Delegating
Here's the truth: Homeschooling is a family affair!  You need to engage your people in keeping your home functional if you're going to be sustainable as a homeschooler.  That doesn't mean your home will always be perfectly aesthetically pleasing.  It means your home will be able to serve and meet the needs of those who live in it, and that's what we really need.
When it comes to getting help from our kids, it's different with very small children and babies.  As children grow and become capable of more, we need to require them to help.  Kids are amazing helpers!
I like delegation because it's so ridiculously simple: see what needs to be done and ask for help It's quick and can be done at any natural break in the day, but we like to wait until evening.
I set a time frame for my people when I delegate essential chores.  I'll let everyone know I expect this to take fifteen to twenty minutes max.  Mini tasks set within specific time frames communicate our rock bottom expectations in ridiculously clear terms and helps people see the end in sight. (Knowing that this is not a week-long Chore Summit will help everyone relax.)
Before you delegate, communicate your needs to your team.  The most effective language sounds less like "you need to do this" and more like "this is what I need.  Delegation helps me communicate my needs and ask for help when I need it.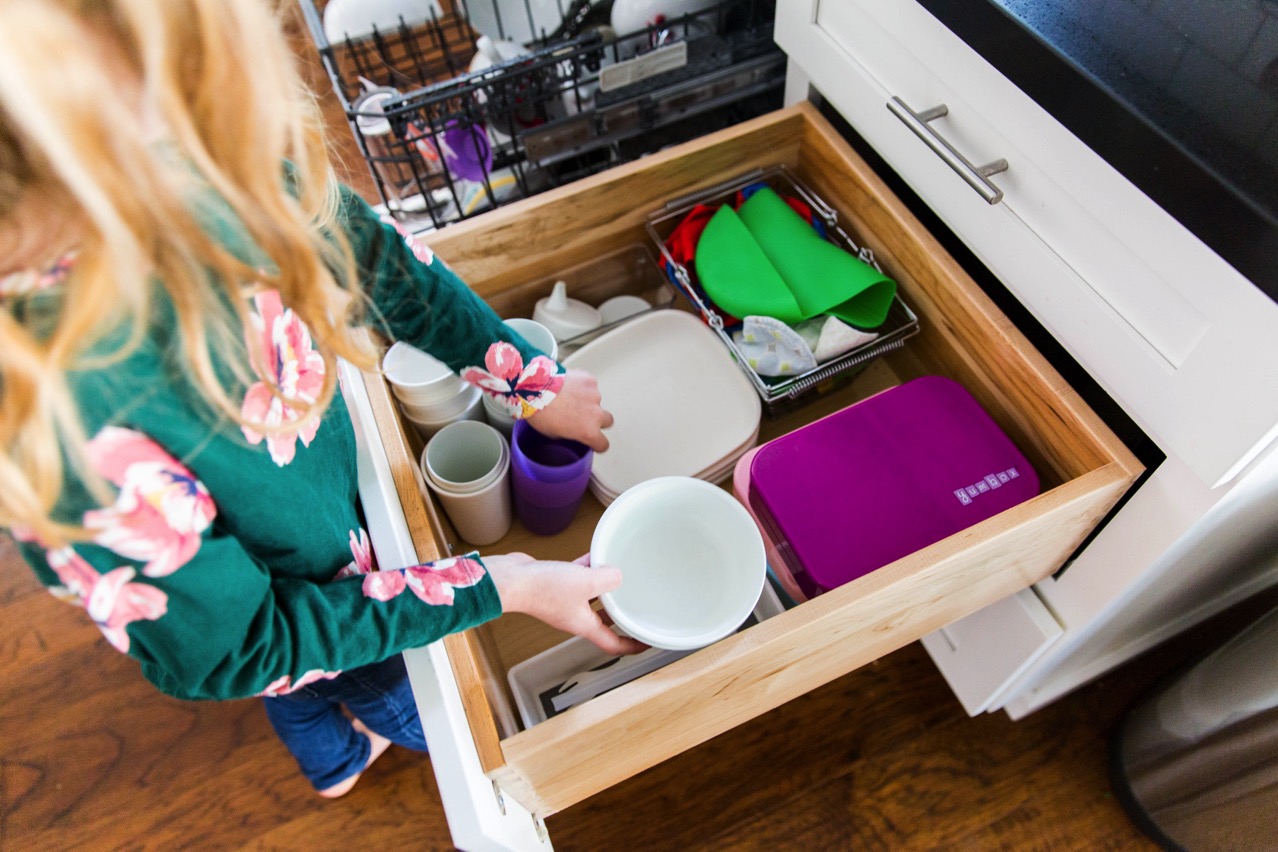 What about Deeper Cleaning and Crisis Messes?
Right now I only do deeper and aesthetic cleaning on an as-needed basis and that's usually
when company is coming.
 (You're welcome.)
The first time you open an empty dishwasher or walk into a neat, picked up living room, you'll be amazed at what your kids are capable of.  Look at those little faces beaming with pride over that chunky knit throw that looks like it was folded by a kindergartener (and it was.). It really never gets old.
Do my kids manage the laundry from start to finish and make perfectly creased piles of clothing? Nope. But can they do tiny tasks that remove my road blocks and stop the cascade of chaos? Yes. Yes they can.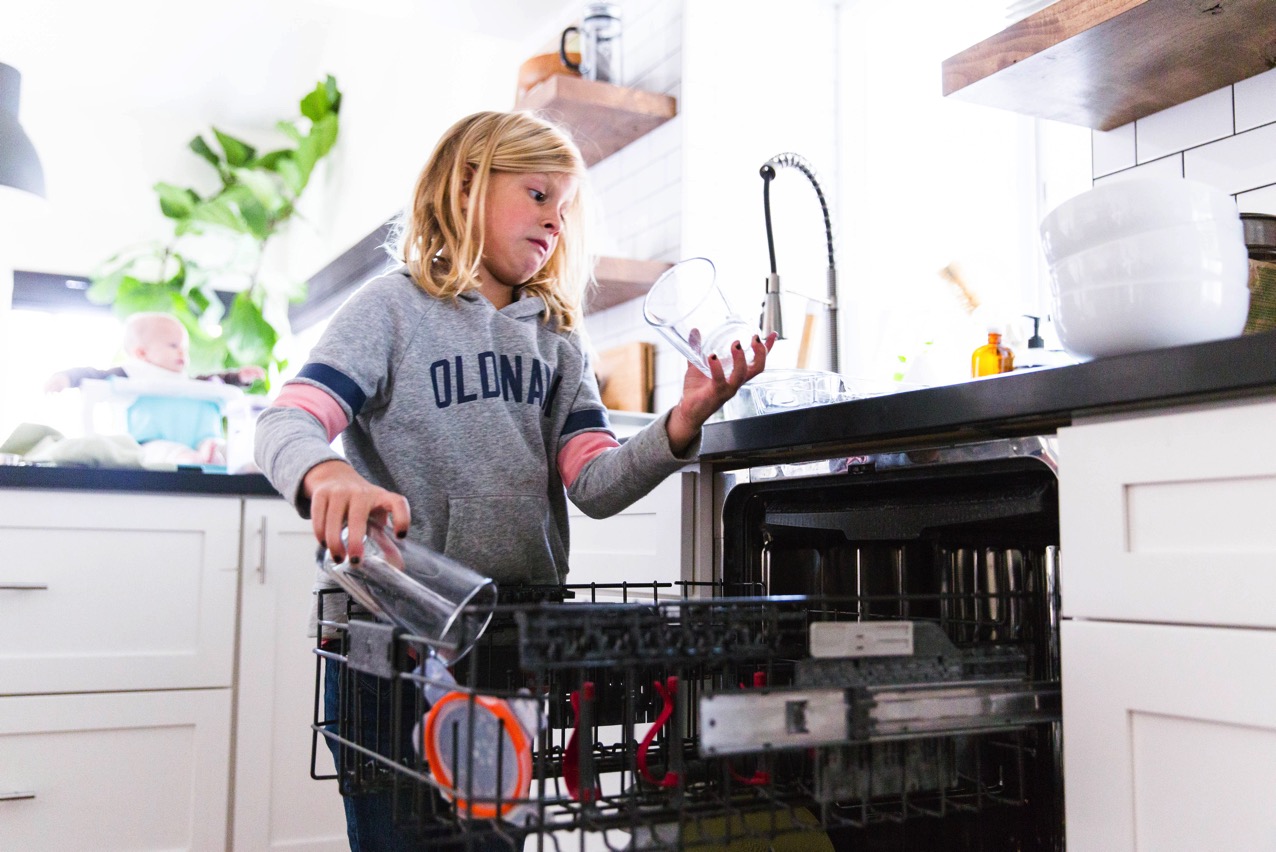 For dealing with bigger-scale crisis messes, I recommend the basket method, which I outline step-by-step in this post. Kids can do this too!
If you need some help getting your mini chores going, I have a sample list for you.  Try some of the things on the list and let me know how they're working.  You can easily tailor them to the ages and abilities of your kids.  Go here to download yours!
If you enjoyed this post, you might also like to read about my no-sort, low-fold laundry method.  You can also sign up for my newsletter, where I speak a bit more candidly about the challenges of managing a home in the midst of homeschooling!