I wanted to share with you guys the story of my kitchen, the space that I love most in my house at the moment.
I've been running into articles on Unclutterer and images on Pinterest from places like Design Sponge and Apartment Therapy featuring older homes with tons of style and originality.  I started noticing that one of the reasons I was drawn to many of them is that they were maybe a little ugly, but still styled.  Often in a very collected way, leaving you to think to yourself, "wait, why is this so cool?"  And maybe homey and approachable too.  Like real people lived there.
In Emily Henderson's book "Styled," (which I mentioned here) she says that part of what makes styling so wonderful is it's ability to change our perspective about a space.  I love this statement.
When we moved into our house, the kitchen cabinets were original oak with bronze exposed hinges straight from the late 80's.  (I hit the jackpot with bronze in this house).
In probably about 2008 during a previous ownership, the home went into foreclosure and the bank came in and "renovated".  You know, by doing things like slopping a bunch of pinky-tan paint everywhere (and I mean everywhere) and putting different flooring material in seemingly every room.  The bank reno also included throwing black granite not only on the countertops…but all the way up the backsplash.
I have nothing against black granite, but that kitchen was cave-like!  So when we had the home painted before moving in, I BEGGED my husband to let the painters spray a rather sloppy layer of white gloss paint on the cabinetry (they did…and right over the hinges too.)  I DO NOT RECOMMEND THIS AS A BEST PRACTICE.  However, it was a few hundred bucks added to the price of the bid and meant me not painting cabinets so I was happy!
What that left me with was an interesting, high-contrast combination of shiny charcoal granite, bright white cabinets and un-matching black and white appliances.  After whining about taking down the backsplash and scheming about ways to get stainless appliances and subway tile in, I decided to stop.  A kitchen renovation was not in the cards.  And plus, well, the appliances are functioning pretty fine except the dishwasher.
So that is how I started pretending like I was a professional stylist working for a fancy magazine in San Francisco.  (WWAPSWFAFMISFD?  What would a professional styist working for a fancy magazine in San Francisco do?  I just ask myself this whenever I get into a pickle of any kind.  It really seems to work.)
After trying a bunch of stuff that looked stupid (see, aren't we glad this isn't tile stuck on a wall), I decided to play with a high-contrast look using my white dishes and some black chalk paint. I thrifted and Amazon-ed and scrubbed paint off hinges and pinned many-an open shelf.
Then one day, my monochromatic-farmhouse-modern-antique-eighties kitchen was born. I kept throwing in little things like Mason jars and wood utensils and it kept looking good.  I mixed in some modern and well, it worked.  My favorite part is the open spice cabinet, which was a happy little accident.
Limitations are not always a terrible thing.  The end result feels a little bit original and a lot me.
Enjoy!  🙂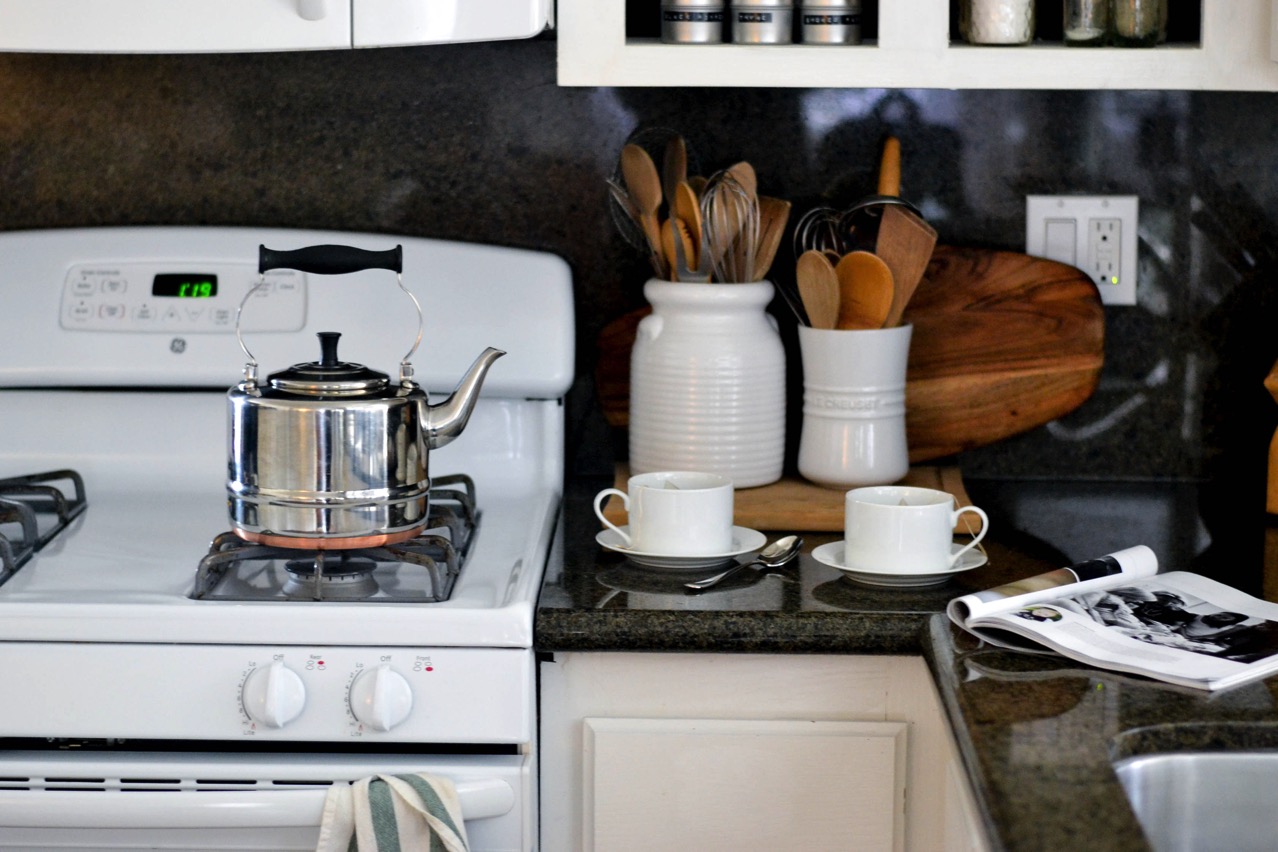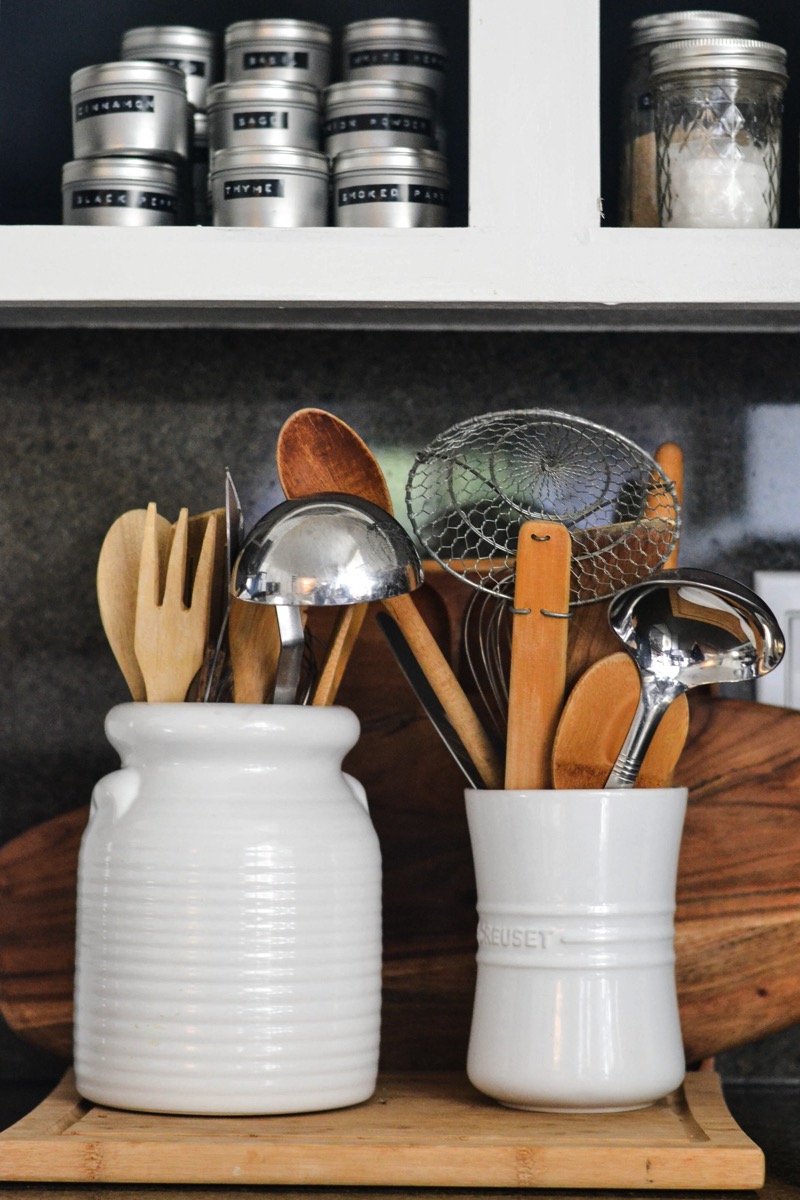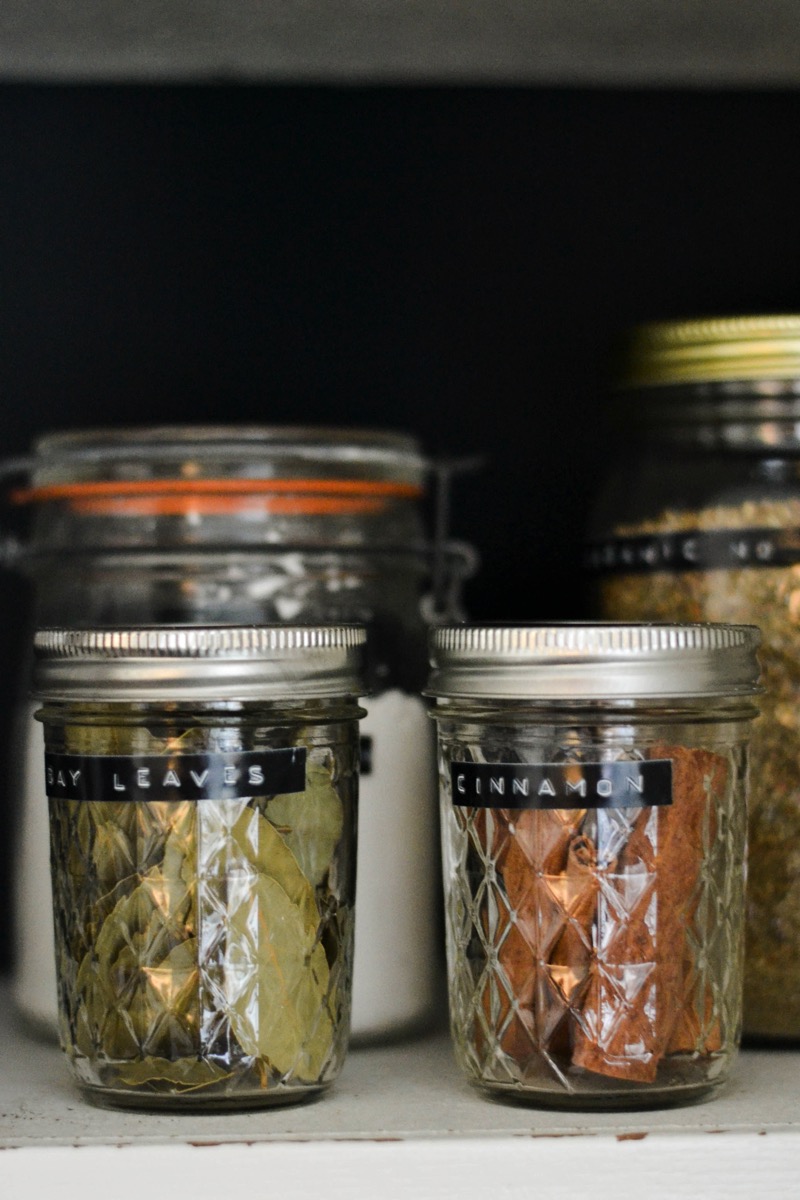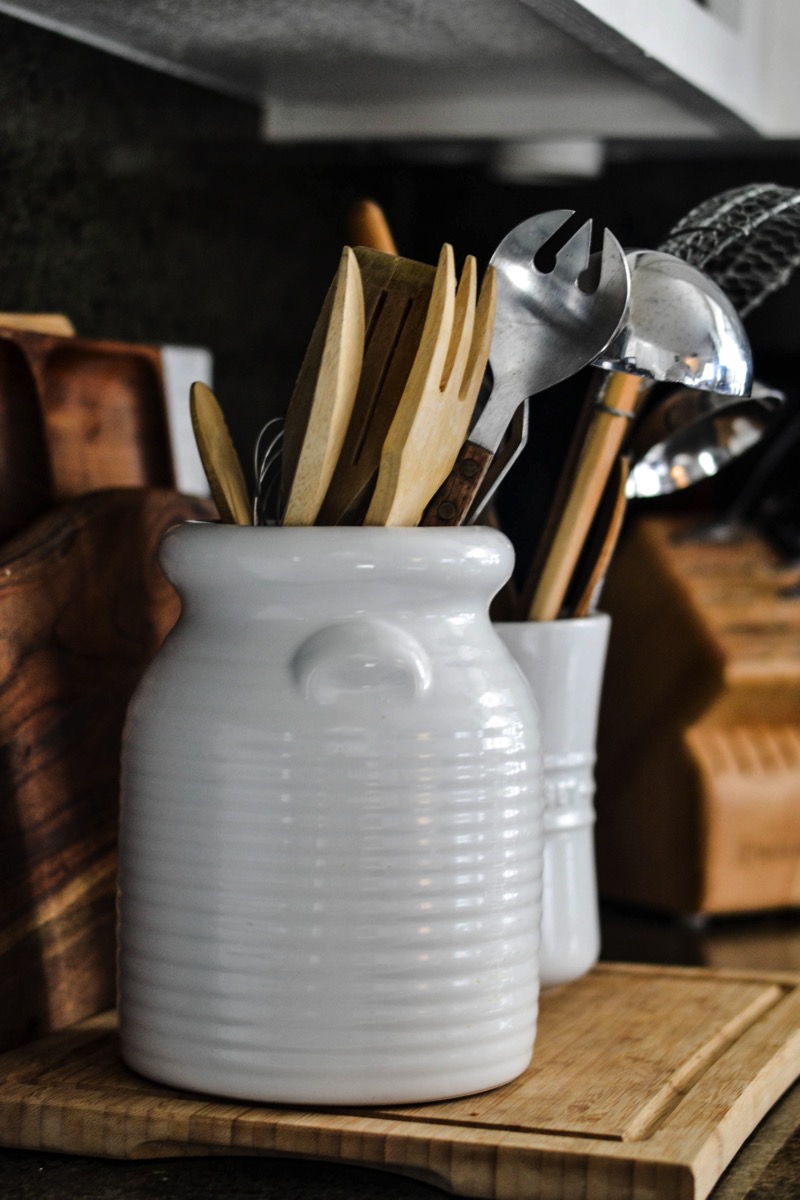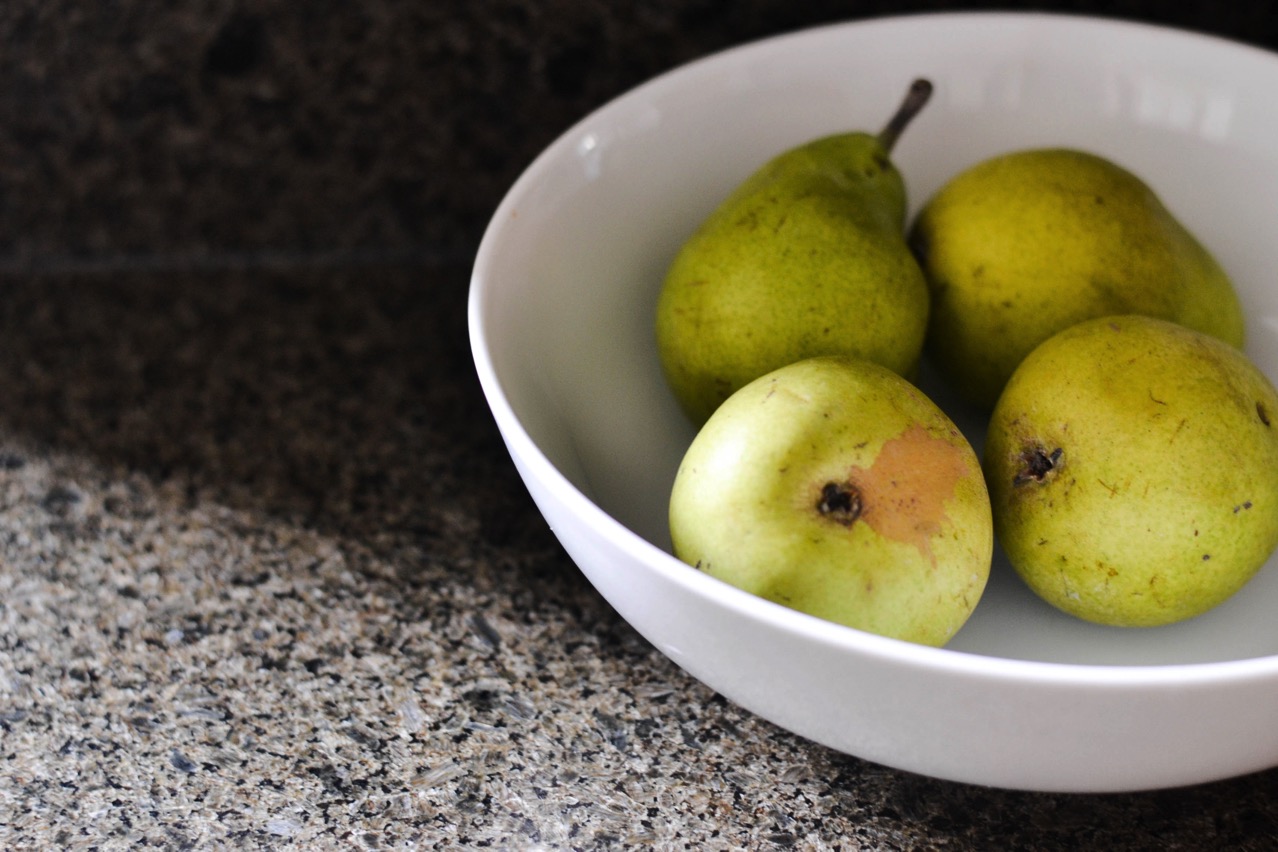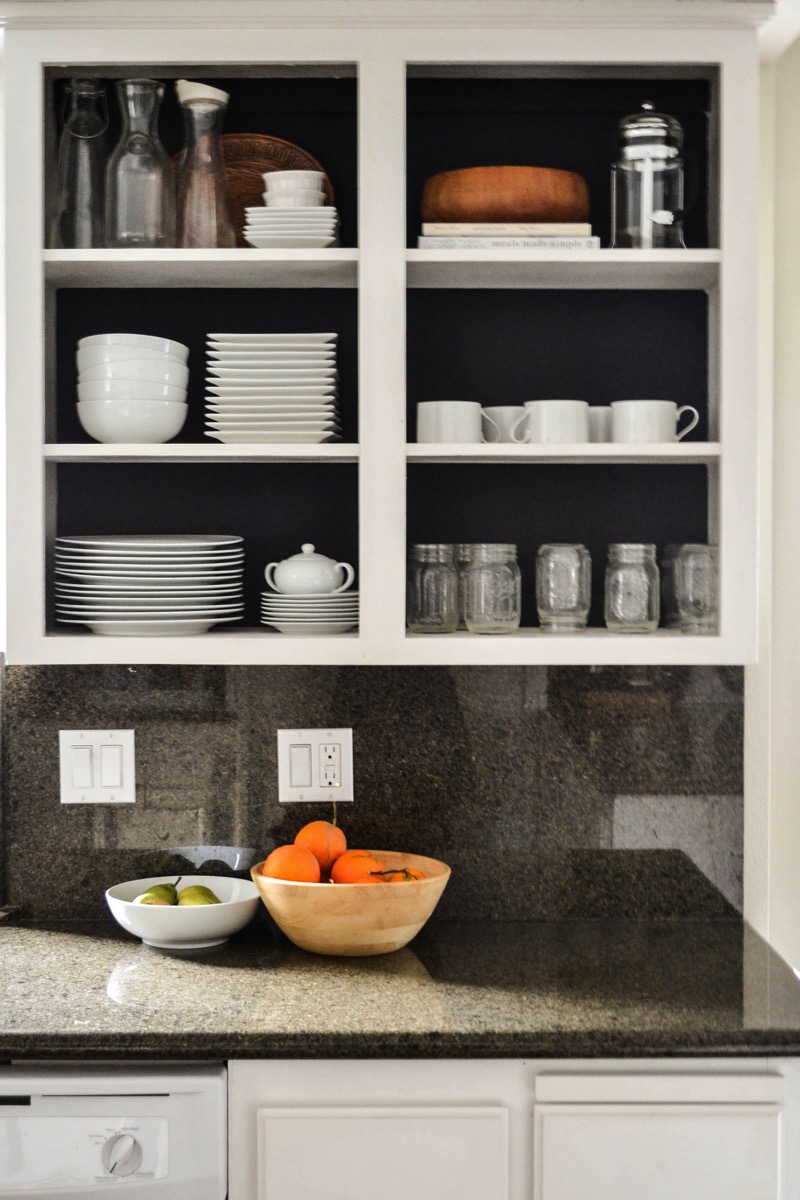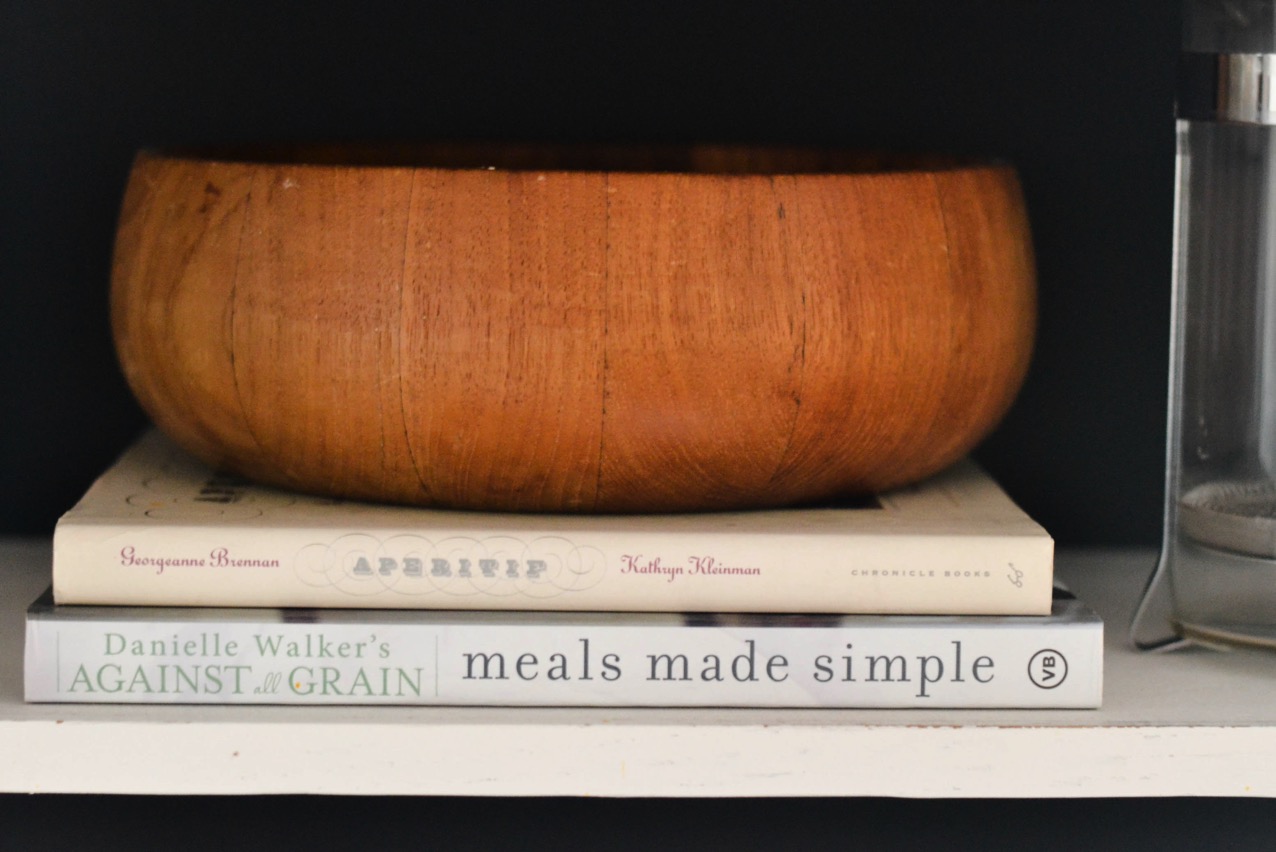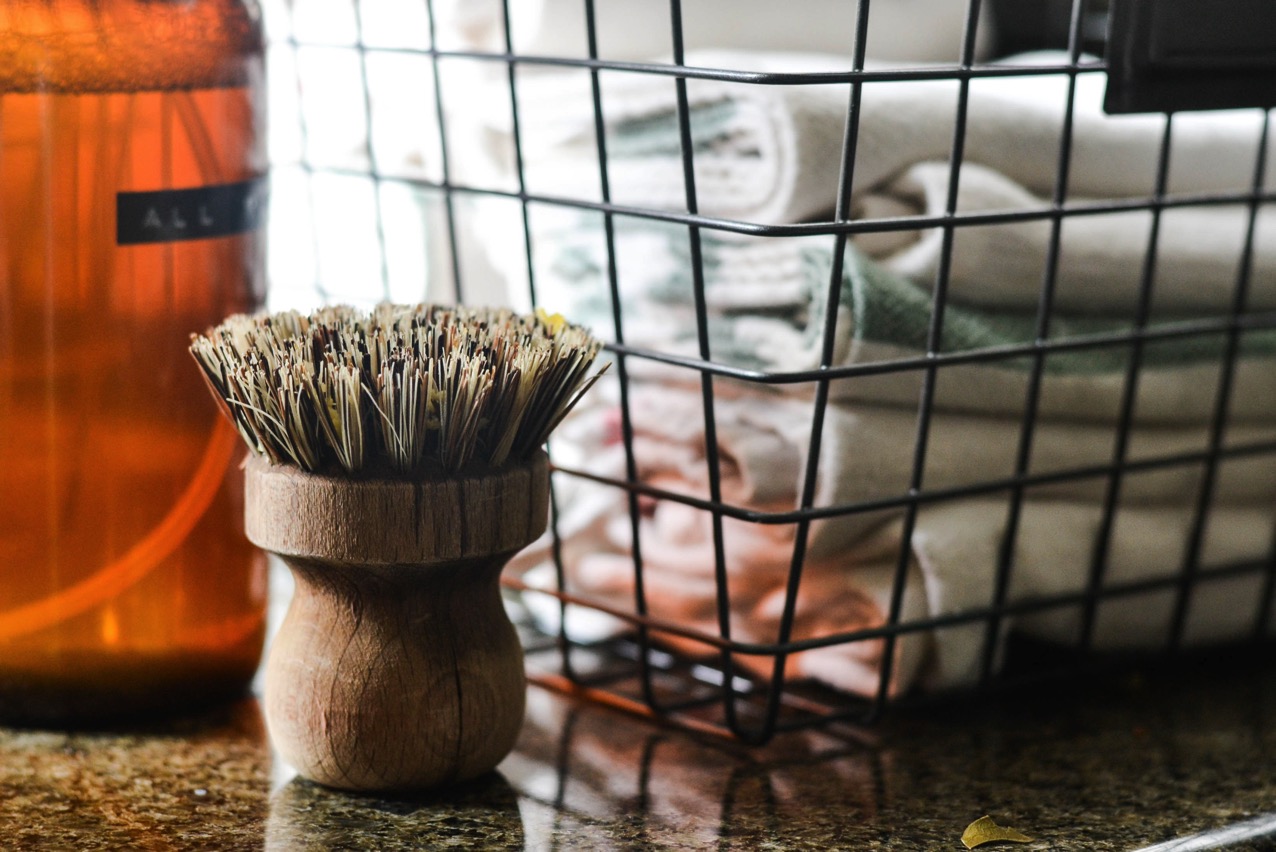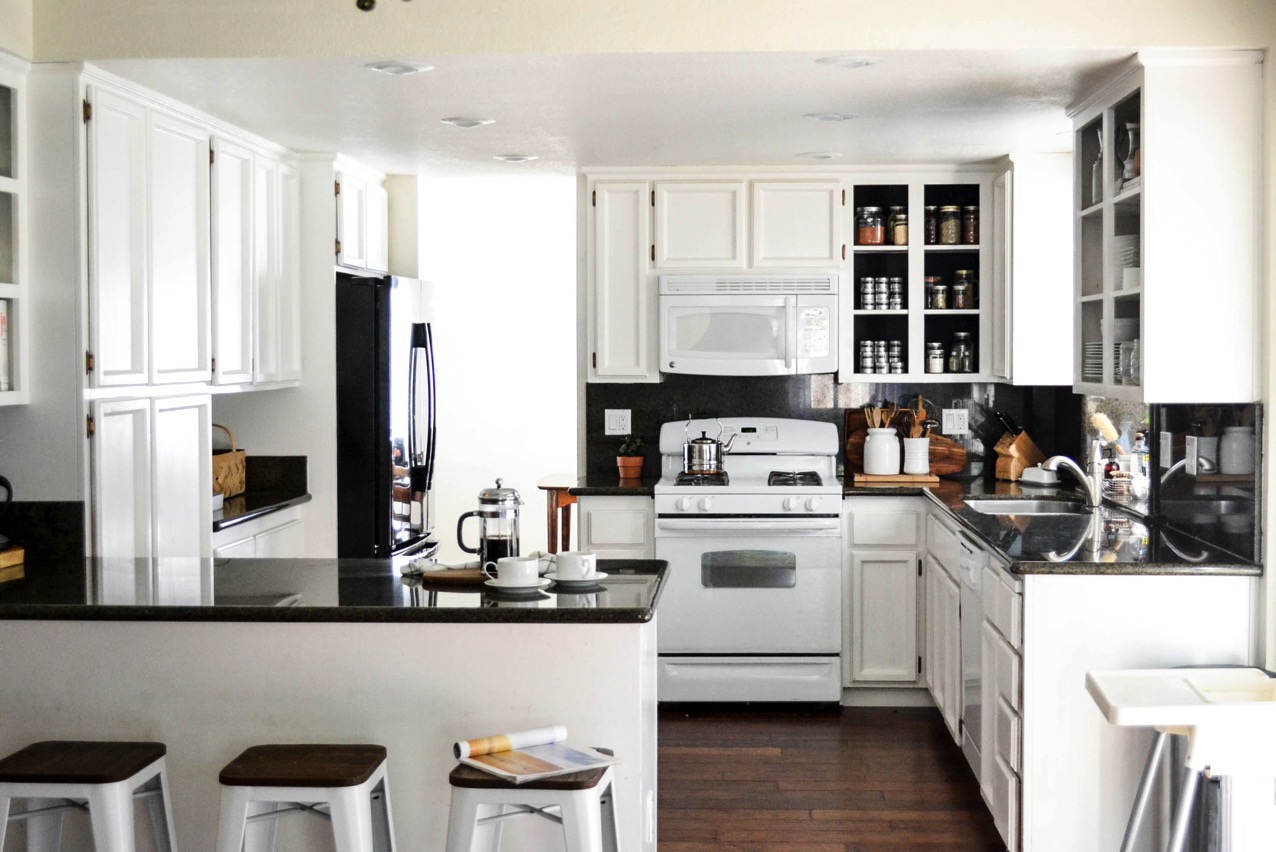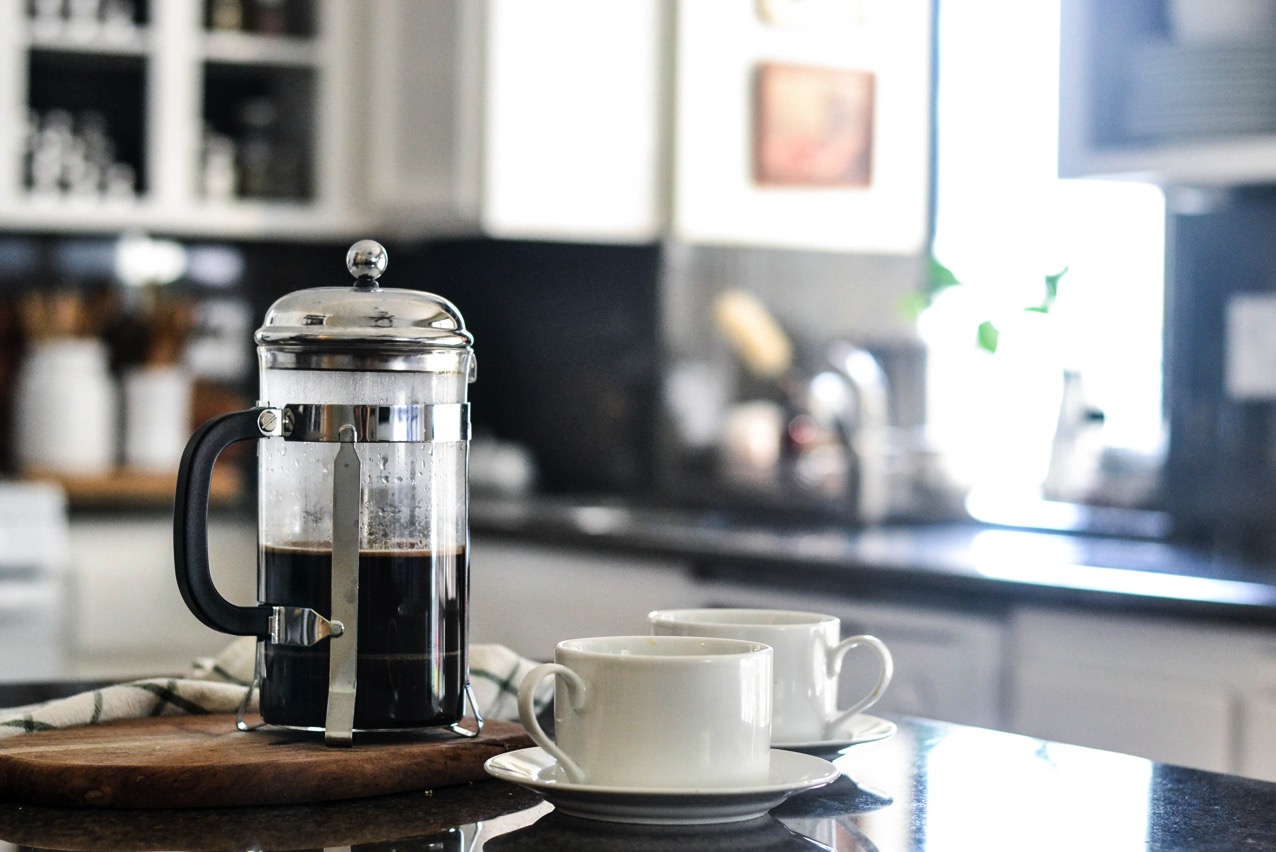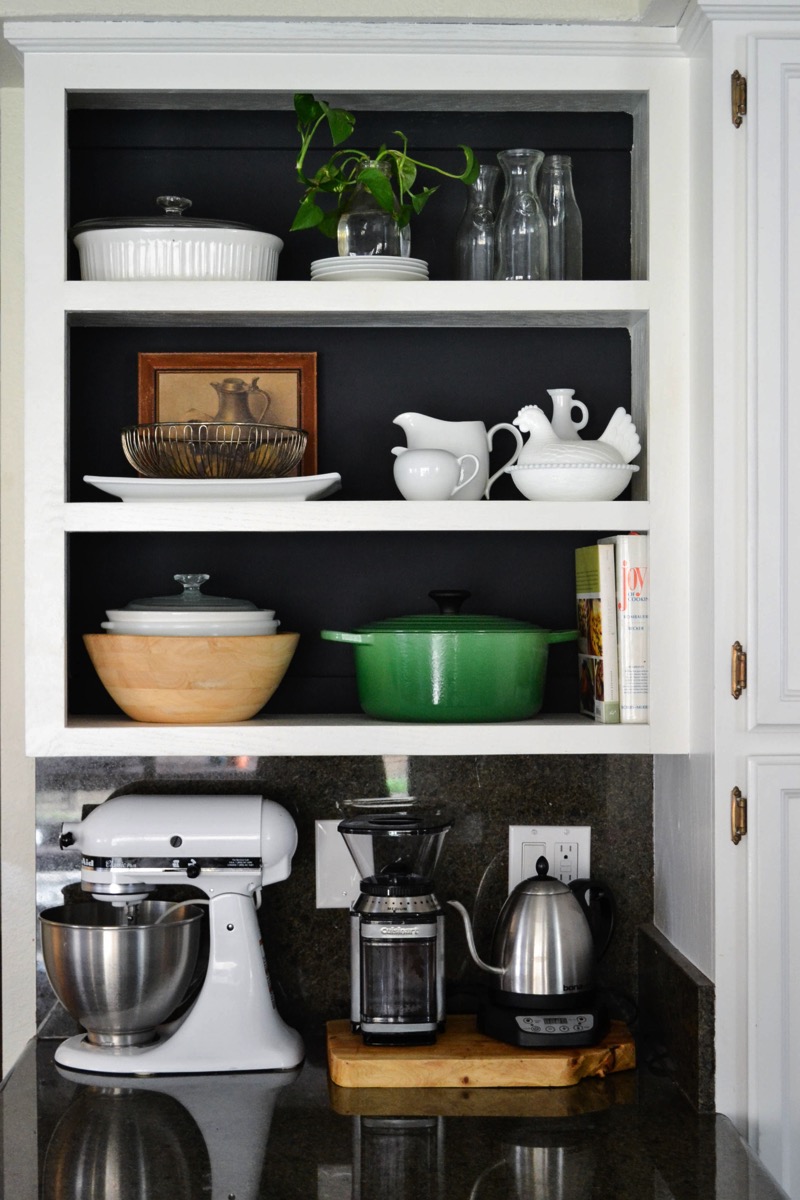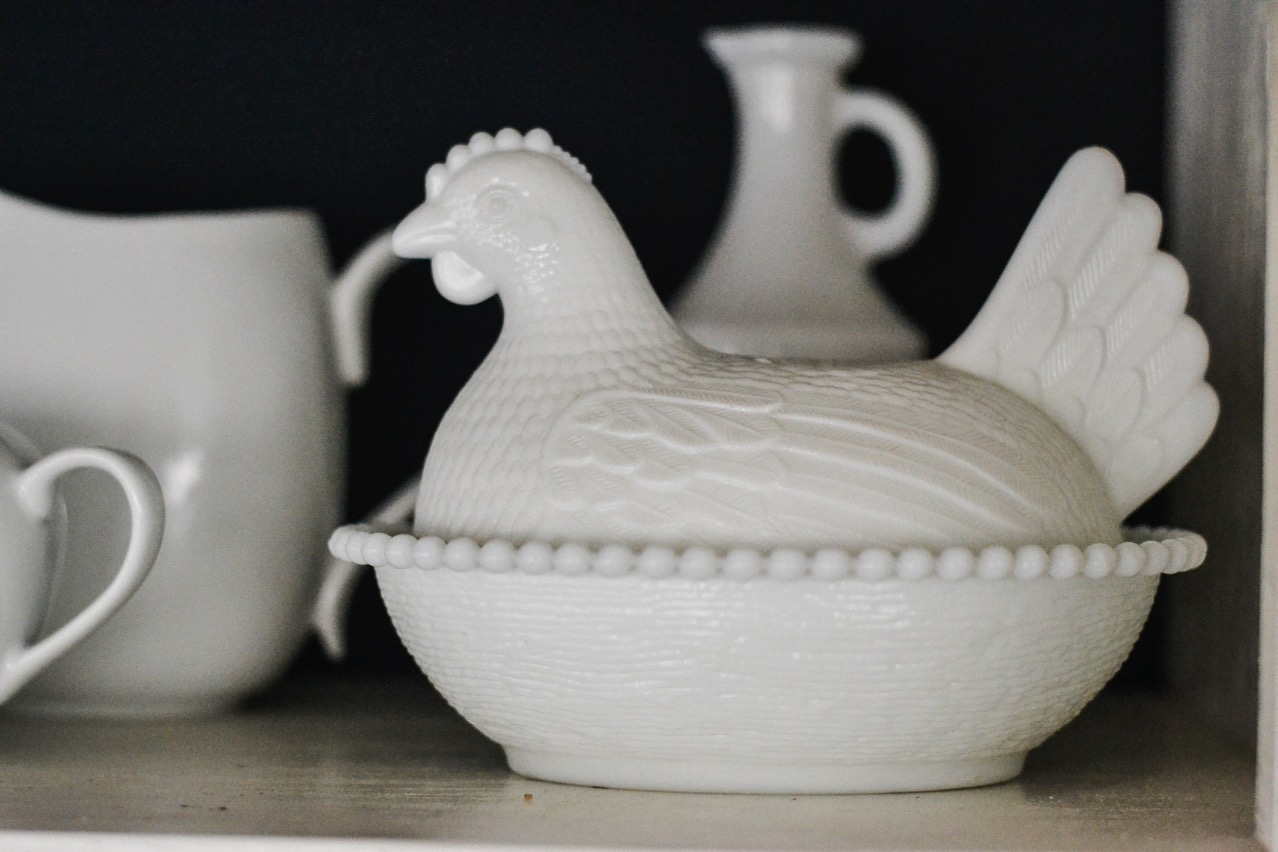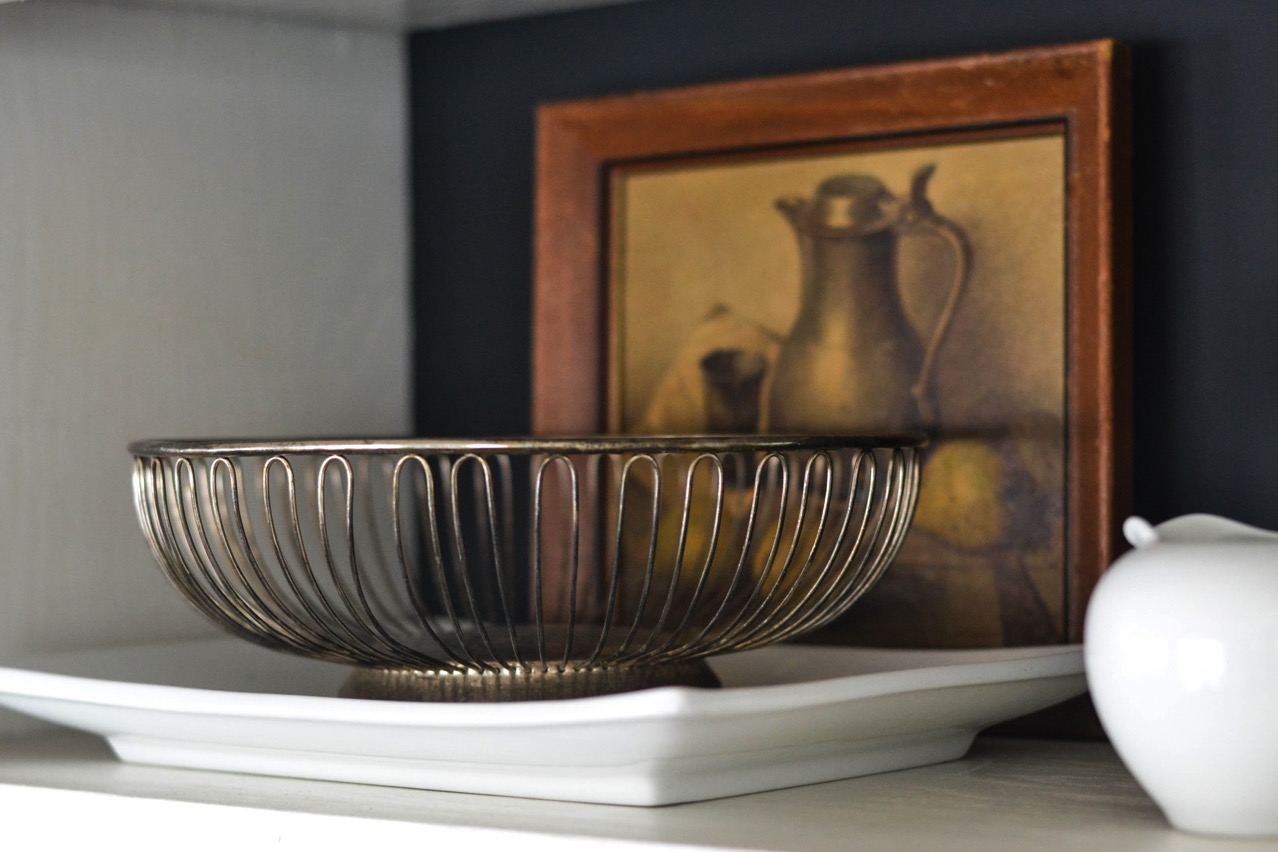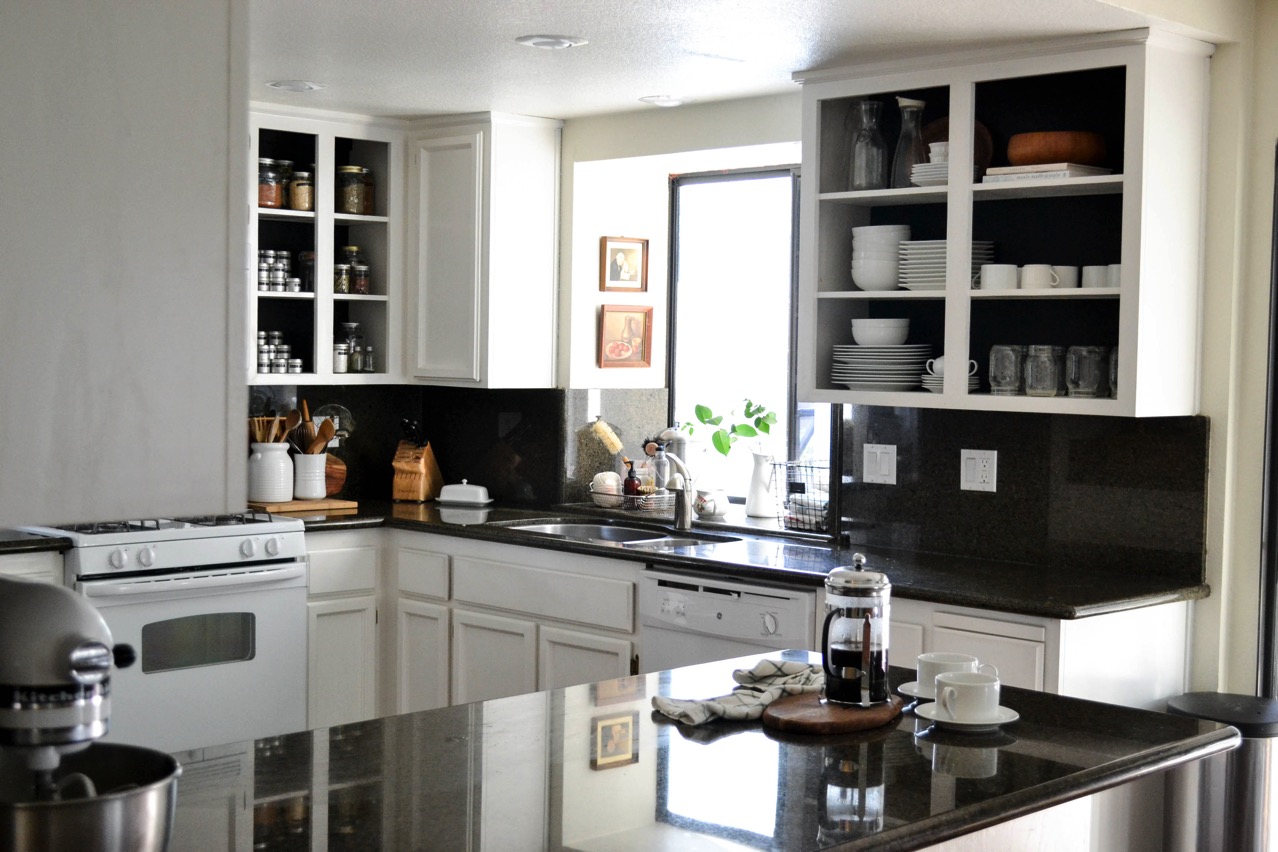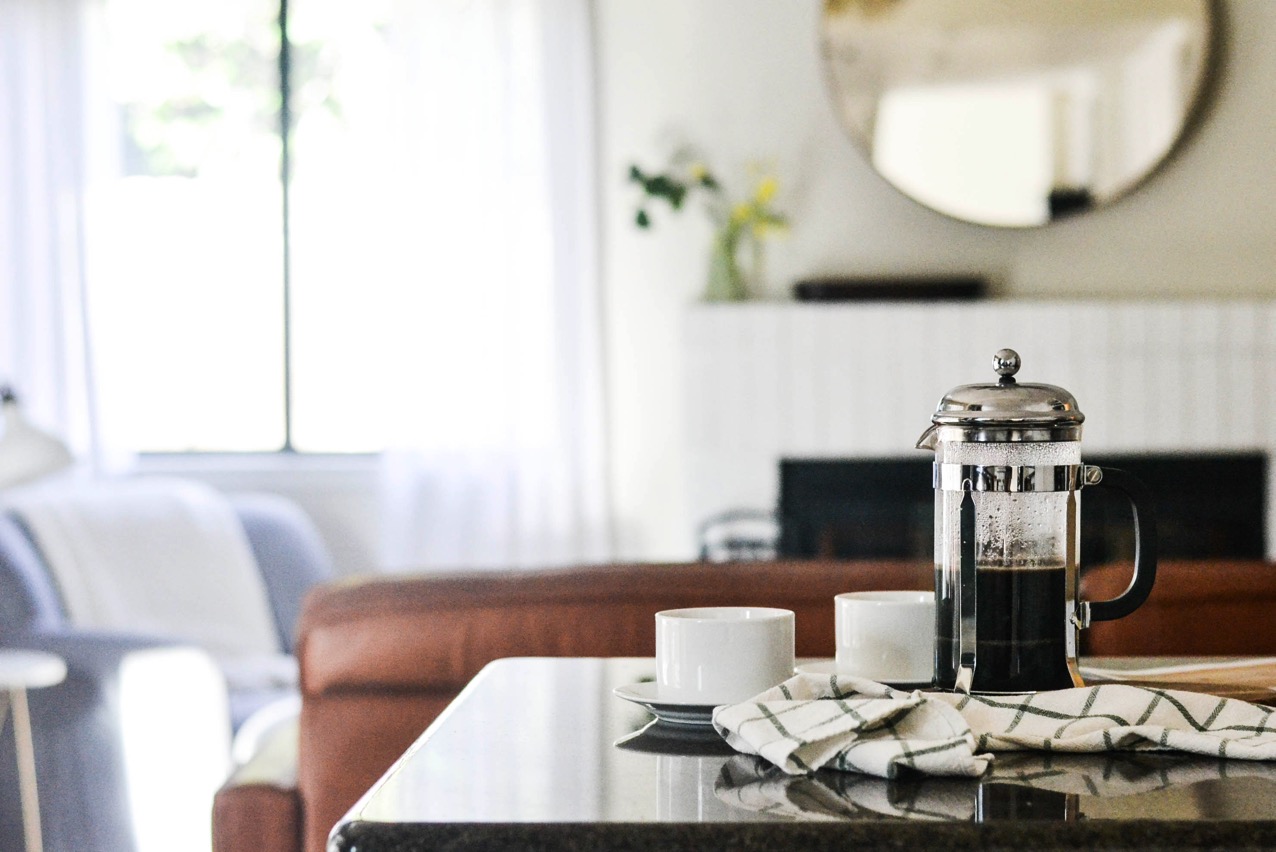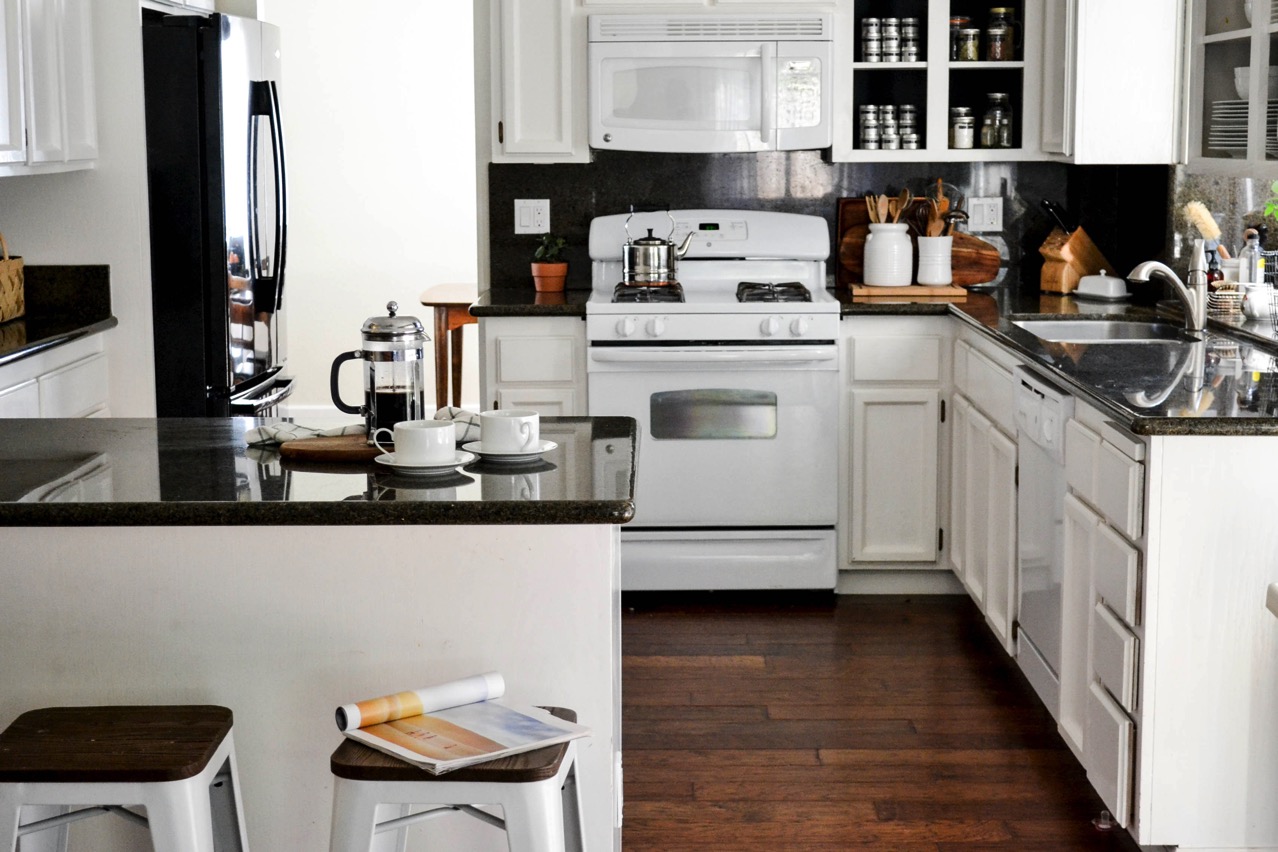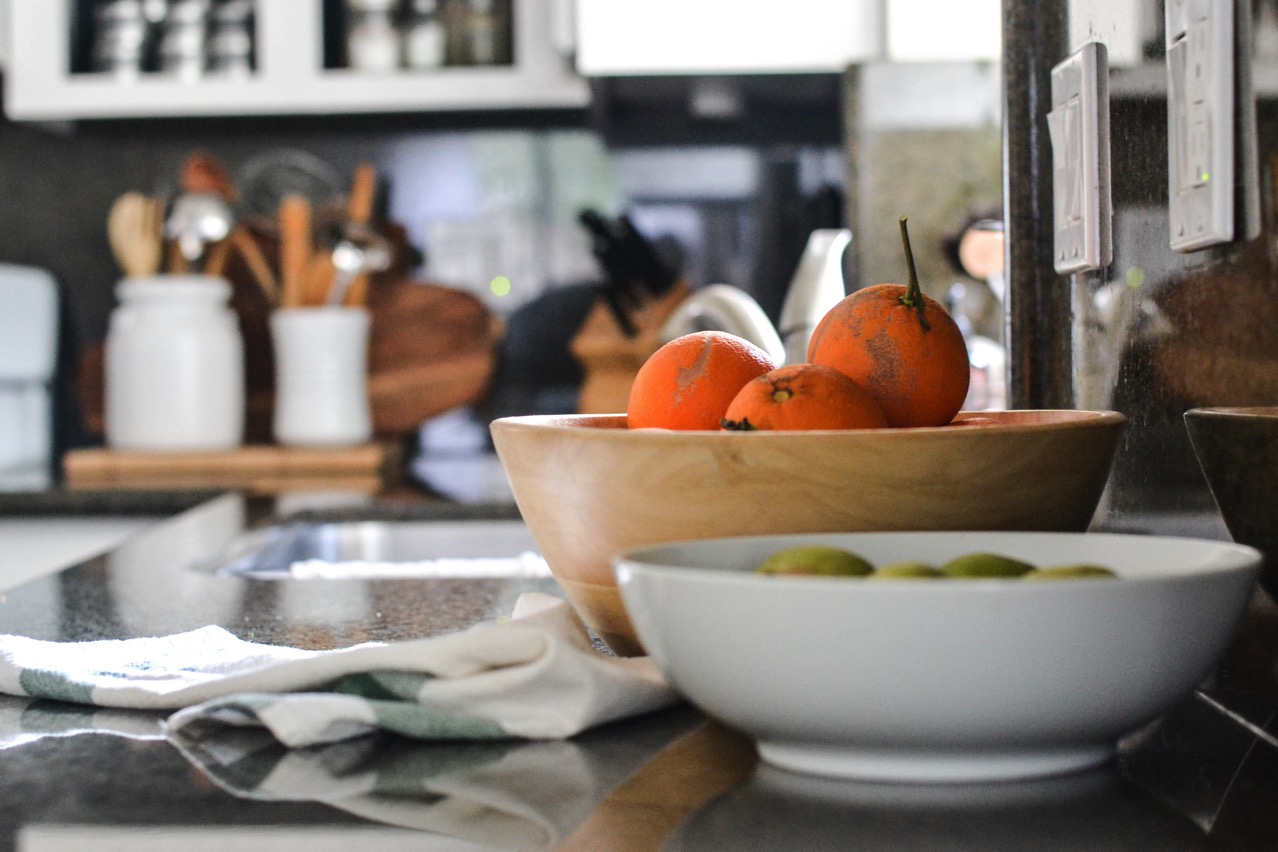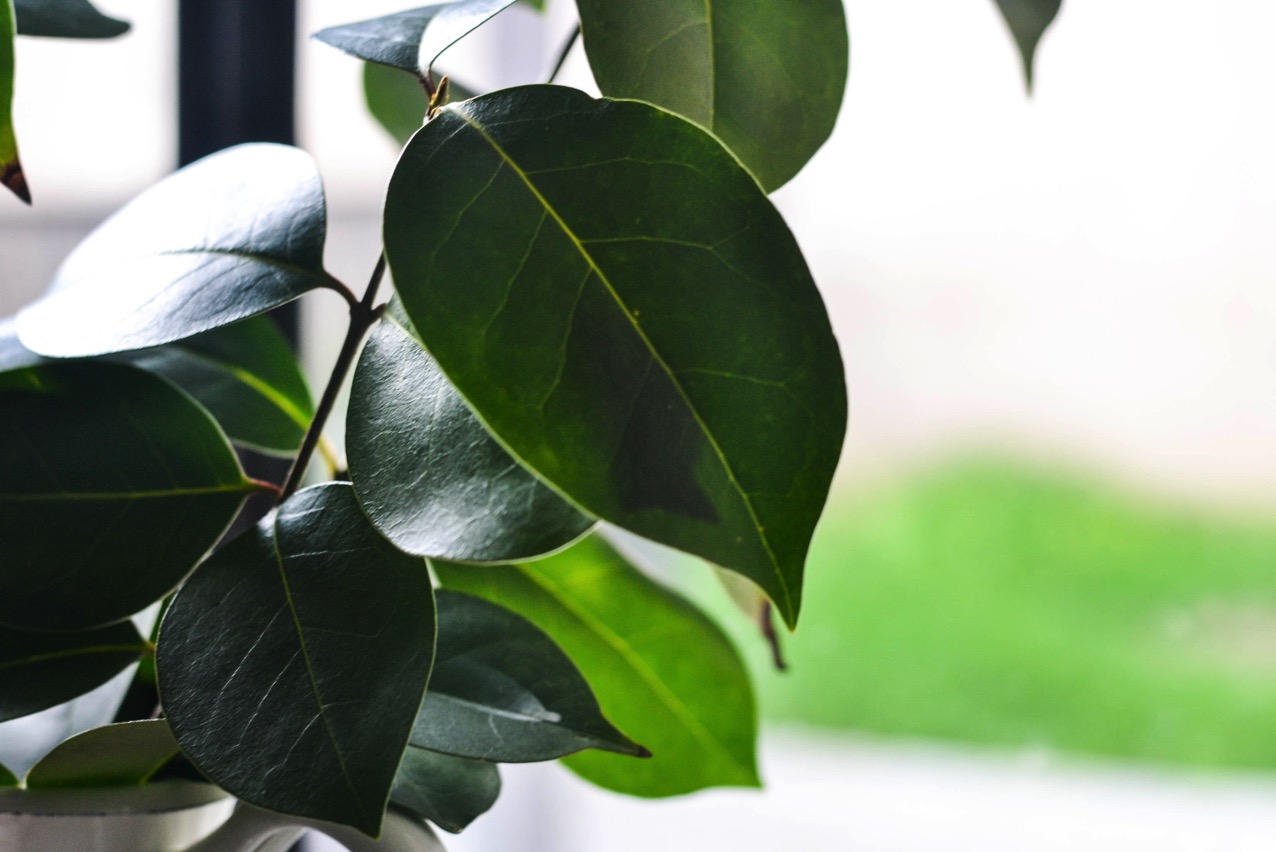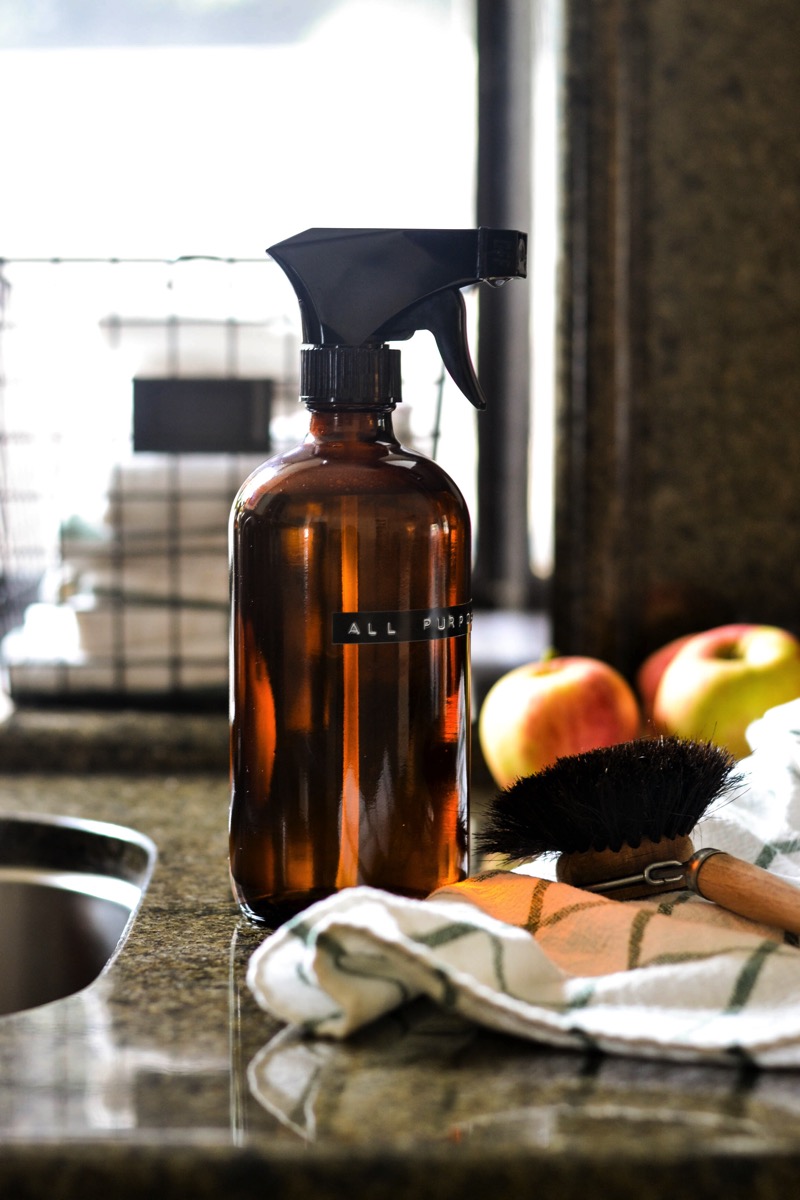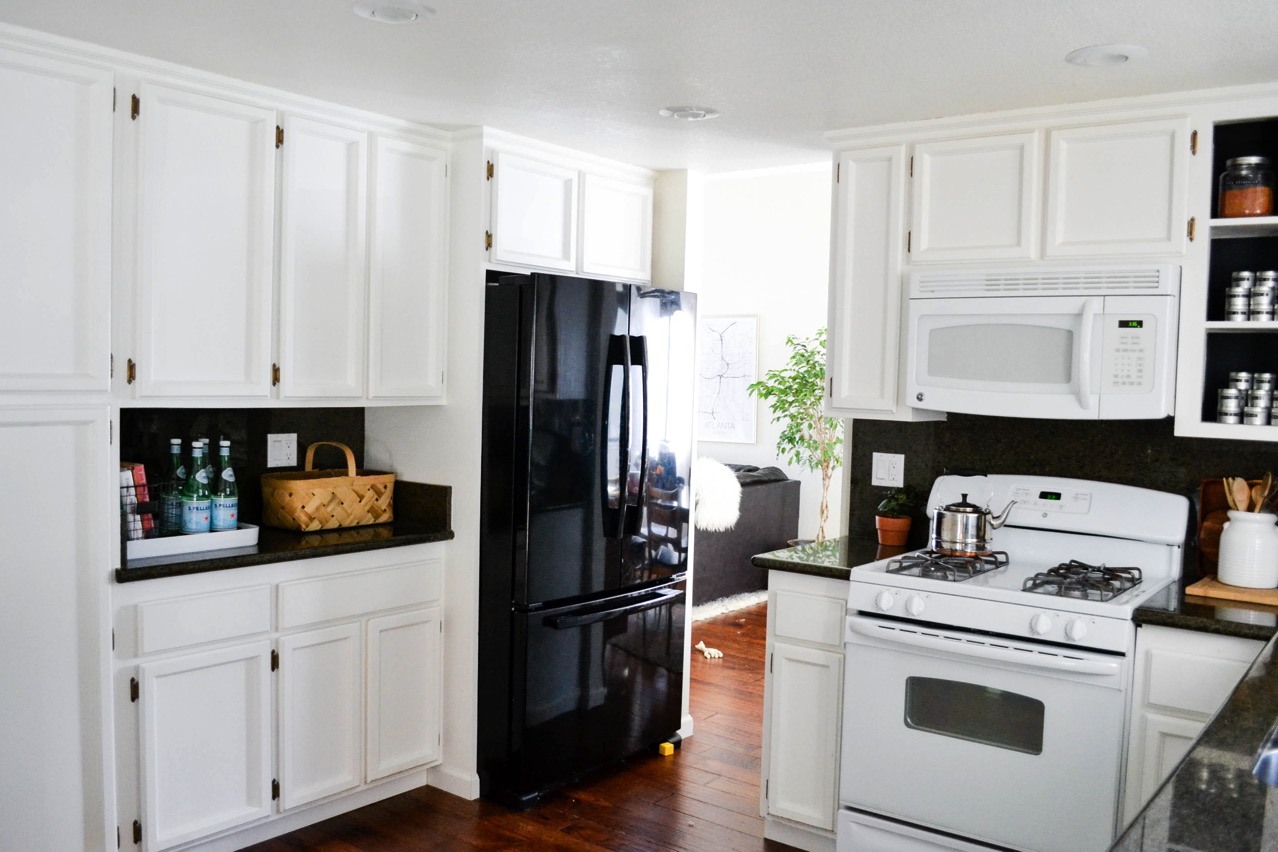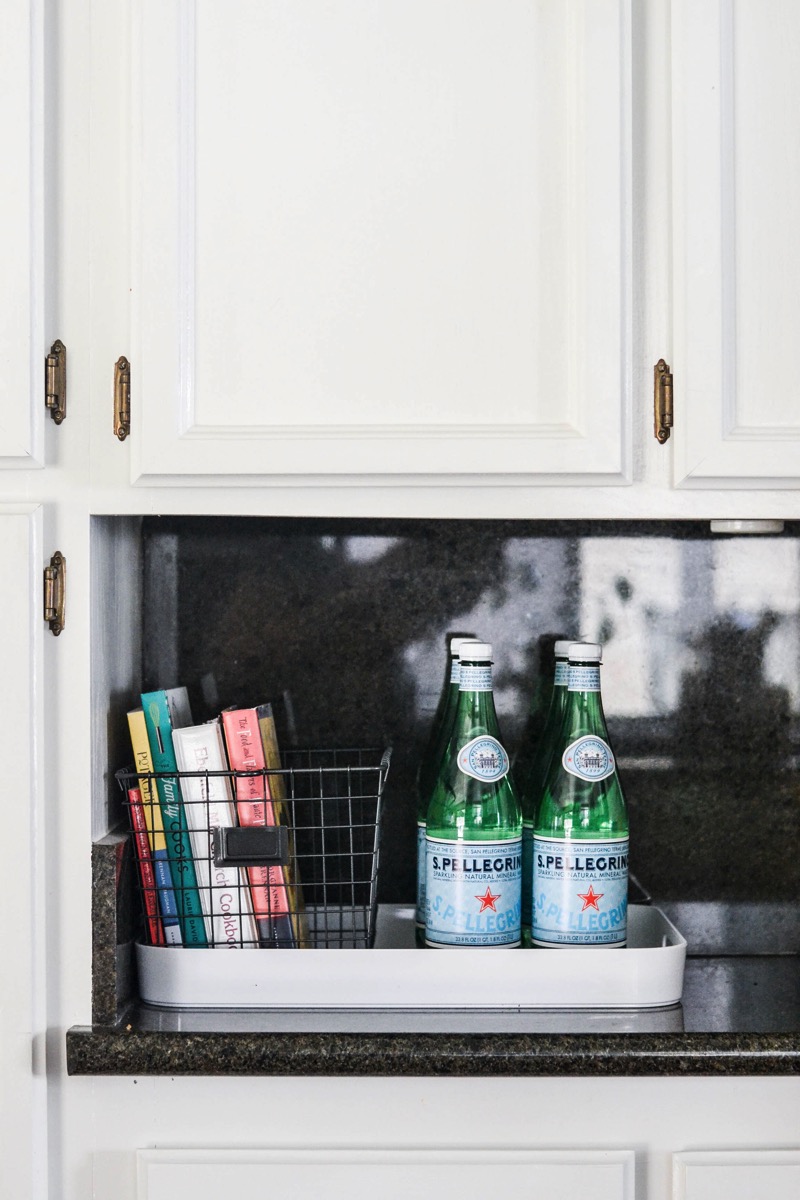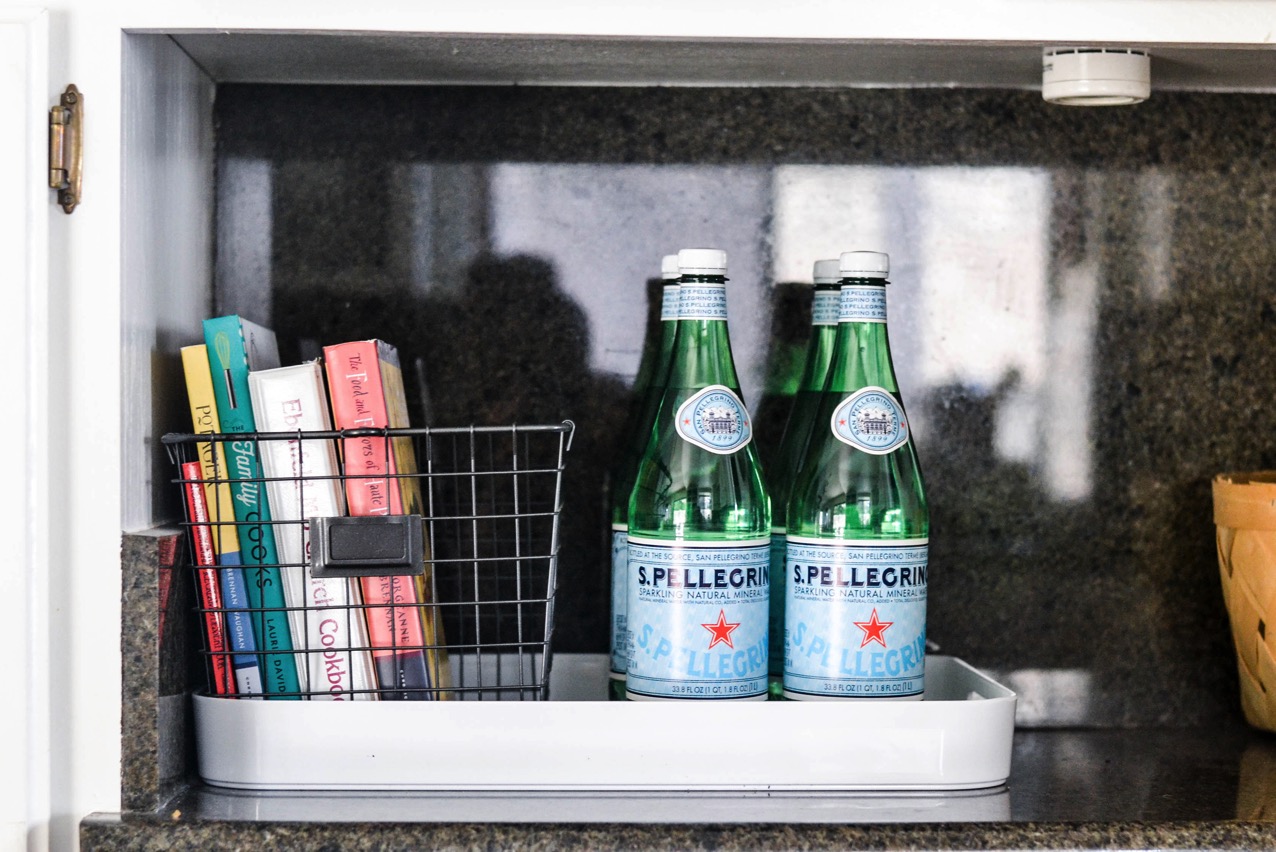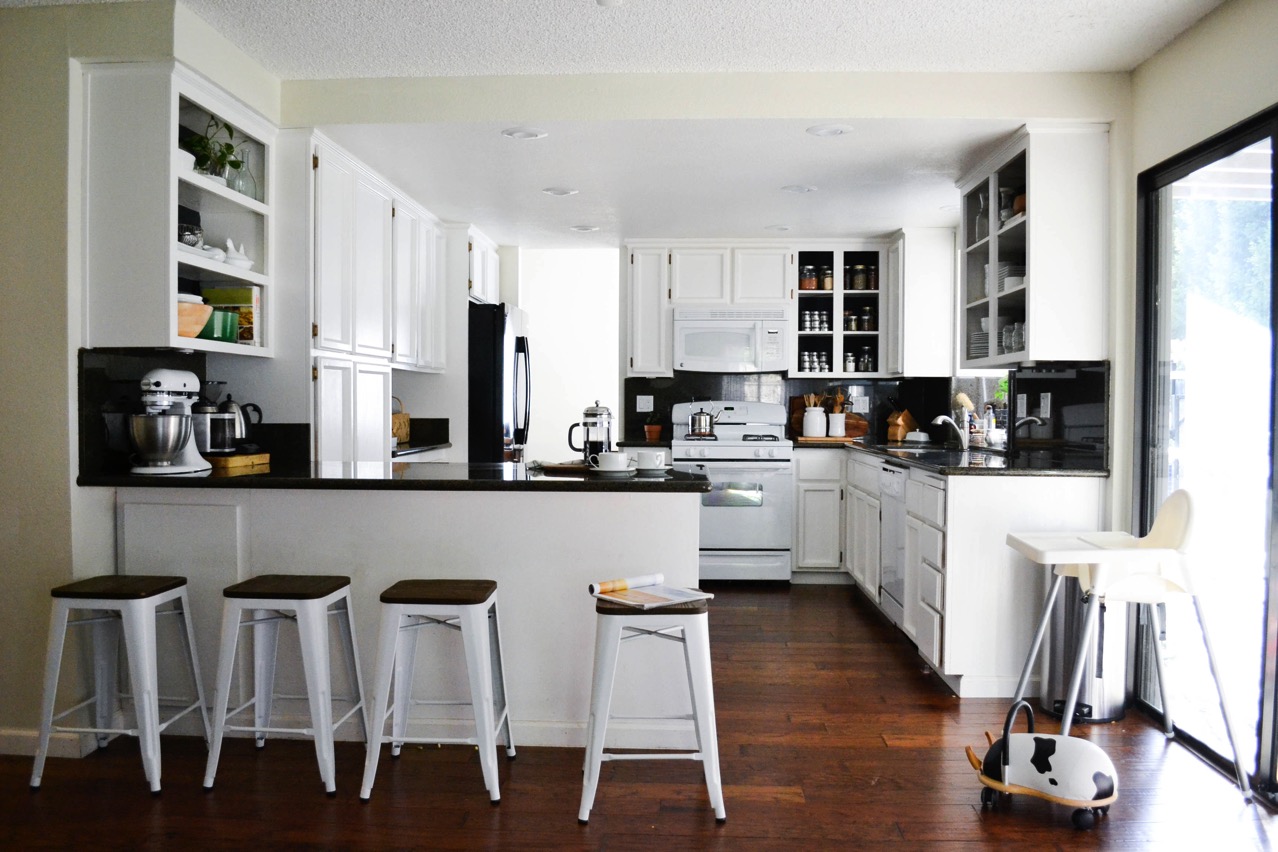 Here are some links to some articles that inspired me about my kitchen.
And here is my kitchen Pinterest board.  🙂
A Simple Kitchen Makeover without Paint
Young House Love on Phase 1 Projects
Making Nice in the Midwest Kitchen Renovation