I'm back!  It feels awesome to get behind a keyboard again.  Want a peek at the new baby's room?
Evelyn's  nursery was the first I've ever decorated knowing the gender of my baby.  As special as it is to find out the gender at birth, I don't think I'll do it again because I had so much fun painting and sewing and doing all the nesting things to pass my pregnant days!  Also because I'm a control freak.  And I say that in the most loving way.
The inspiration for this nursery was my love for seventies decor and granny-chic.  I have tried to infuse this style into other areas of my house, but never been successful. One minute you're admiring a well-placed embroidered mushroom and next thing you know you're being taken to a strange place of brown afghans, paneled rooms and "cool" ash trays.
As it turns out, a girl's nursery is the perfect place to channel my love for all things thrifty and retro.  The Good Lord knew.   I figured out the best way to pull it off was to keep the feeling feminine and cheery.  I majored almost exclusively on florals and jewel tones and made sure to add in lots of bright whites to balance all the muddy browns and greens.
I searched Pinterest high and low to see if I could find someone else who had done a retro nursery like the one I was envisioning.  I found a few things, but nothing that I could completely copy.
A few times in the process, I questioned my good taste and grasp on what was in style, but then I heard the Nester (a hero of mine) in my head telling me that if I liked it, I could do WHATEVER I WANTED.  So I did.
So I gathered all of my favorite retro and granny chic items in the house.  Then I thrifted, sewed and painted to my heart's content.   Evy and I love this room and I hope you do too!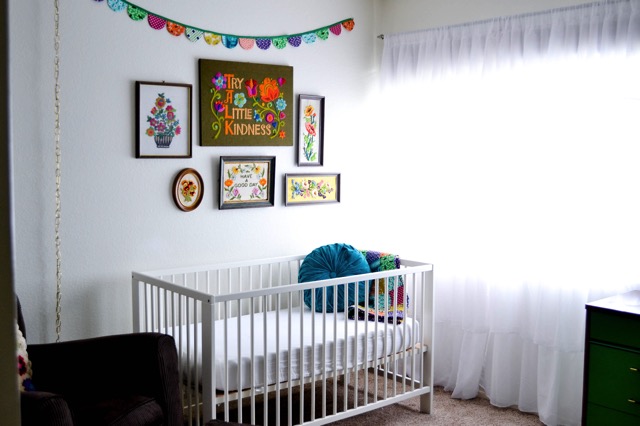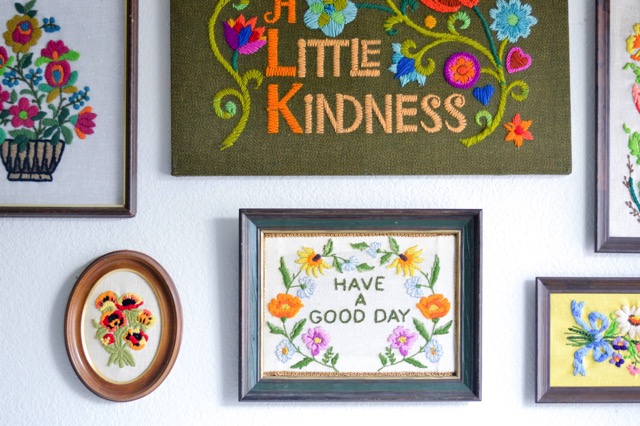 This whole wall of embroidery is completely thrifted.  After some trial and error, I finally decided that a wall of colorful floral embroidery was exactly what needed to go above the crib.  (This was due to David striking down my suggestion of a gold metal sunburst mirror with lots of spikes.  Due to "safety concerns."  It's like we live in an earthquake zone or something.)  It's my favorite part of the room.
I almost had a heart attack when I saw the "Try A Little Kindness" just SITTING THERE at my local thrift store for $7.  I think you could safely say it's the inspiration for this whole room.  My sister found the "Have A Good Day" at her antique store and mailed it to me from Georgia.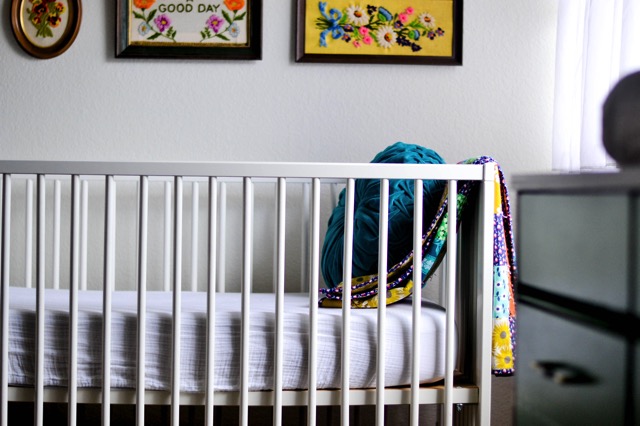 The linens in this room are all white!  I love the Aiden and Anais fresh, white muslin.  Simple, sweet and classic.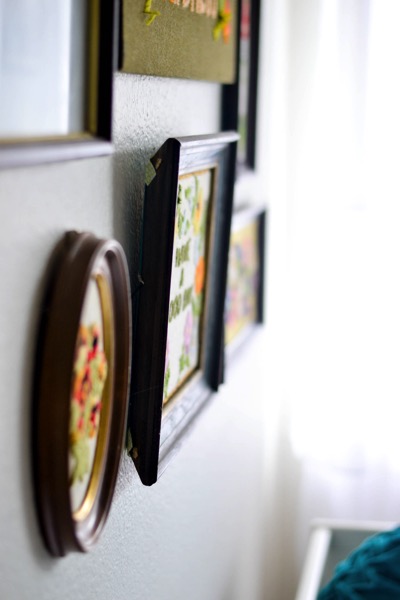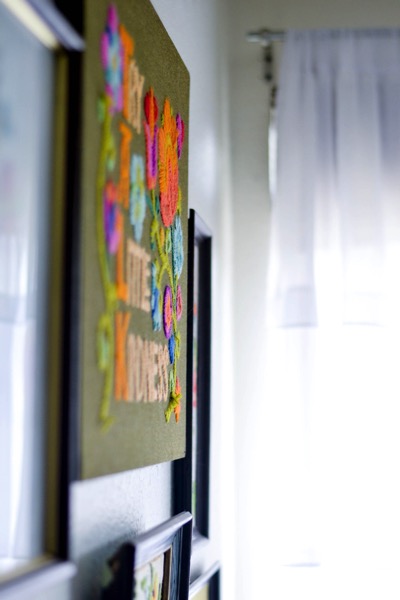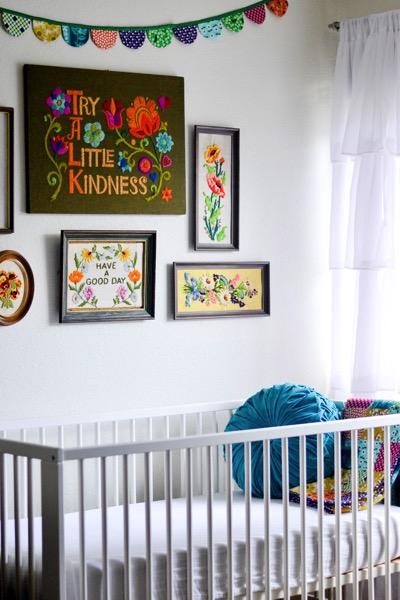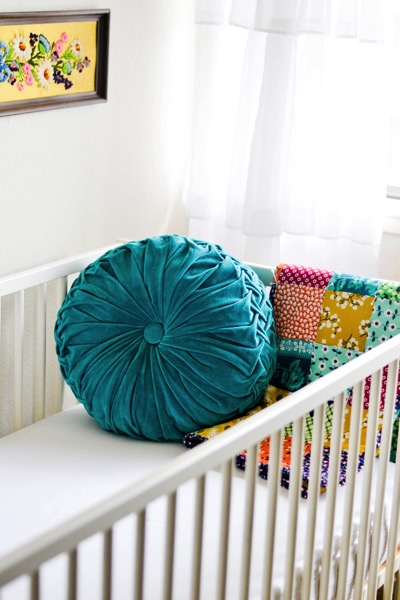 My big splurge in this room is the turquoise Urban Outfitters pintuck pillow.  I looked and looked for a pintuck pillow this color with no luck and finally decided the $40 would be worth it.  And I think it was.
The quilt is a really special piece.  It's only my third quilt, so it is not perfect (I learned from YouTube) but I really wanted it to be something handmade just from me.  K.K. helped me lay out all the squares and I actually sewed a bunch of rows together while I was in labor!  My mom helped me tie it when she was here the week after Evy was born.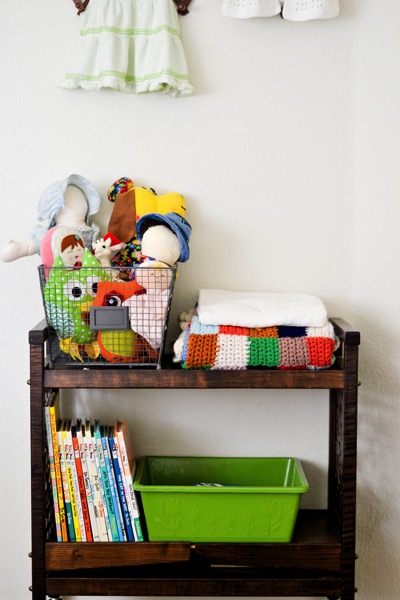 This vintage cart is one of my favorite thrift finds of all times.  Goodwill for $7!  I don't know why, but I just love the concept of a vintage cart with children's books and toys.  You'll see that a lot at my house.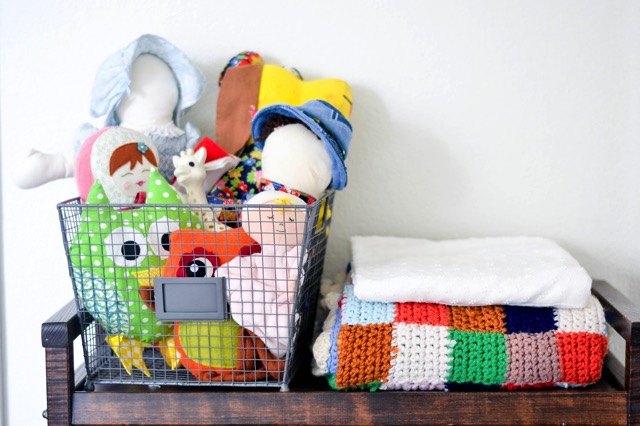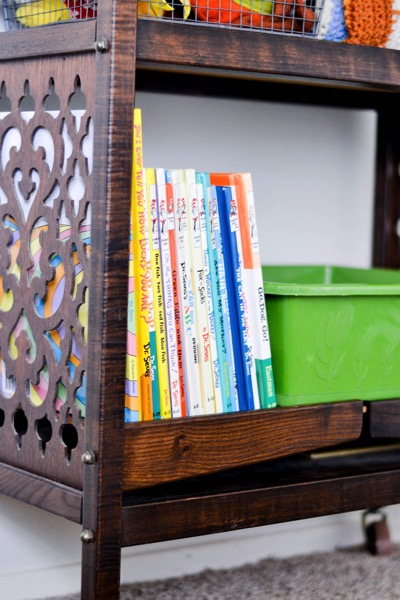 Our collection of Dr. Seuss books is completely thrifted, minus a couple.  It's the only children's book David will read to the girls (he thinks everything else is cheesy and of lesser intelligence.  I will read all of them EXCEPT Fox in Socks.  That book is just a mean tongue twister.)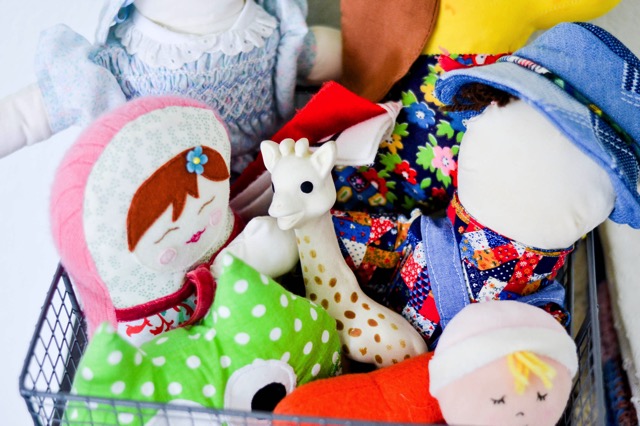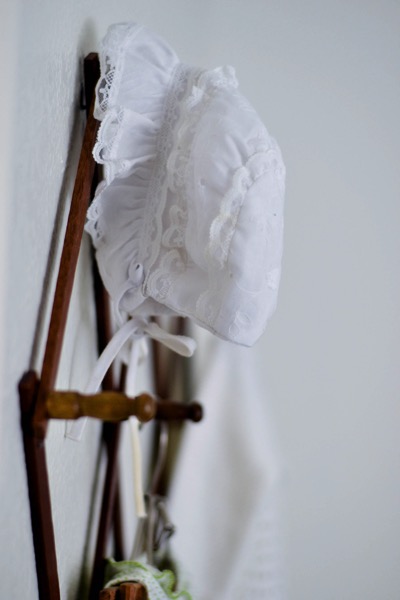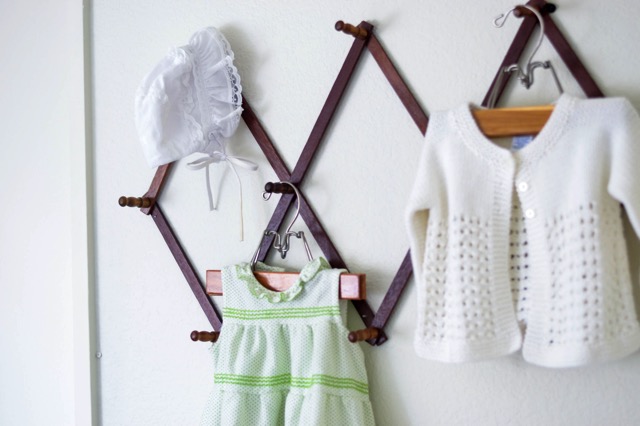 I also love the idea of vintage baby clothes on display!  The sweater is thrifted and the little Carter's dress was an Etsy steal.  The bonnet was given to me by my best friend from high school.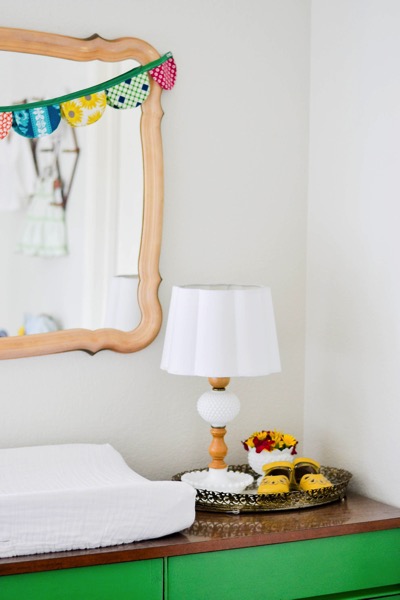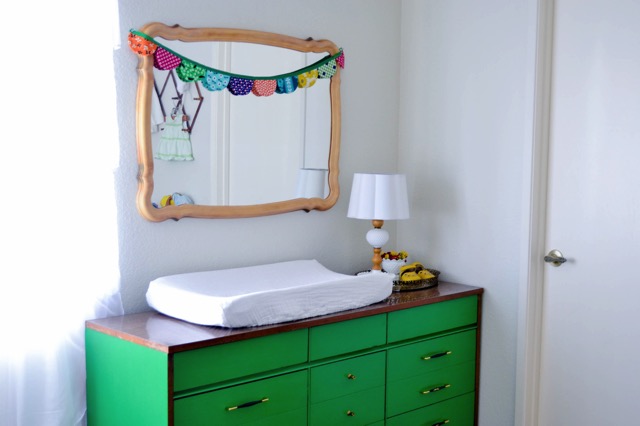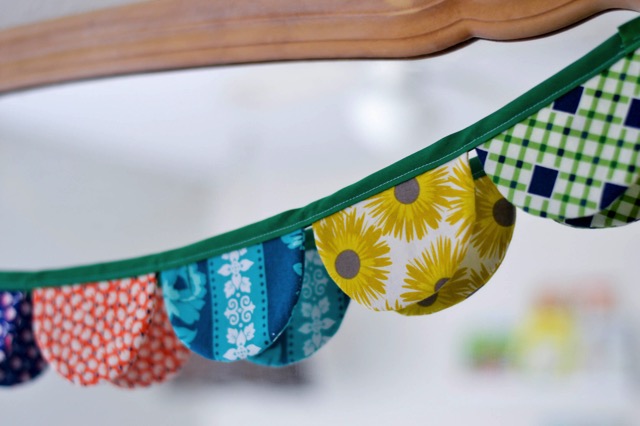 I sewed this scalloped bunting out of fabric from my quilt.  I strongly feel that every nursery should have bunting hung in it.  If not, what kind of future is your child going to have?  Think about it.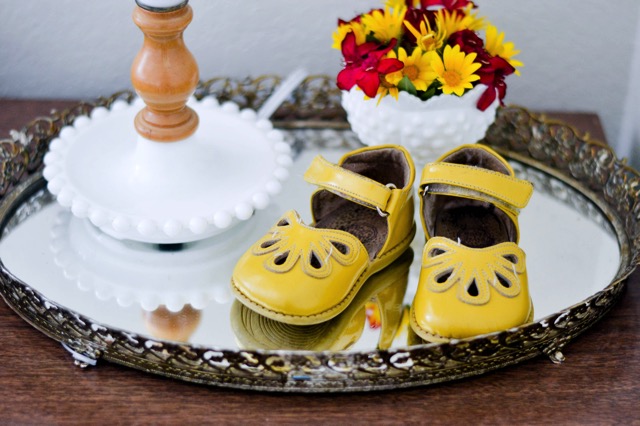 This mid-century dresser was $25 at the thrift store.  The veneer was in pretty bad condition, but in my world all that matters is those mid-century legs!  (Which I now realize you can't actually see in any of the photos).   I can spot 'em a mile away.  A coat of green chalk paint hid EVERYTHING and brought it right back to life.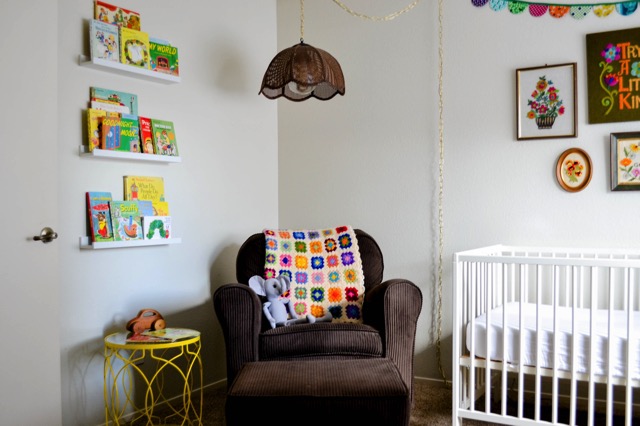 The vintage hanging tulip lamp is from my friend Katie (which my dad rewired and hung).  I looked high and low for one for two years and basically gave up before this one from my friend appeared to me.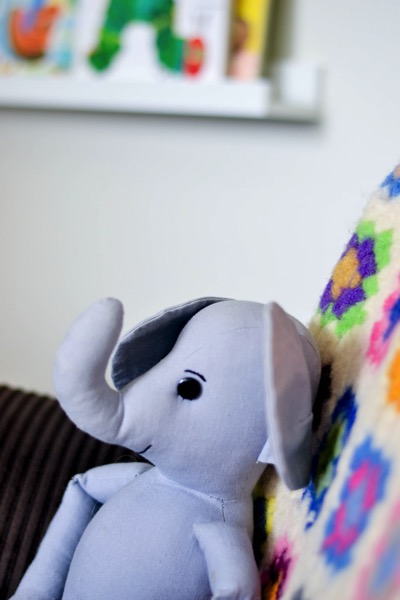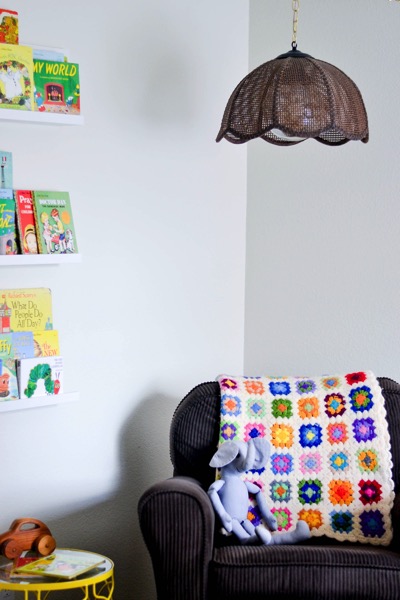 The brown overstuffed glider is not my favorite style statement, but I have nursed all of my babies in it and spent approximately a hundred or so nights sleeping in it like a second bed.  It's a complete necessity to my quality of life so it's what the Nester would call a  "lovely limitation."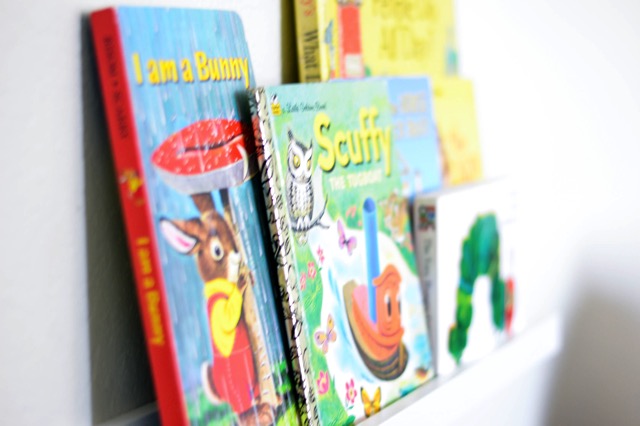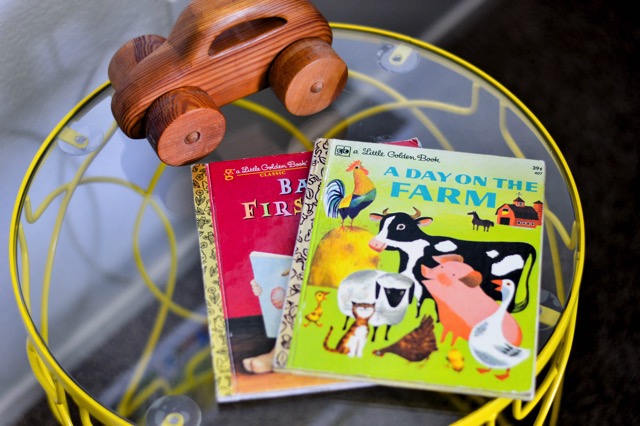 Almost our whole book collection (vintage Little Golden Books and Dr. Seuss) was thrifted.  My girls and I can spot a golden book spine a mile away.  Children's library books these days bug me.  Where are the classics?  Where are the boring, pointless stories about farm animals and tug boats and red balloons and bear families living in tree houses who have to find a picnic spot before it rains?  Yes, the gender roles in these books are severely outdated/borderline offensive, but also the children's library books these days are straight up weird.  Can I just grab a library book that doesn't turn out to be a collection of some strange, wordless illustrations of armadillos? Also does the county library system seriously not own The Bernstein Bears and the Great Road Race!?  WHAT IS CHILDHOOD NOW?
Nod along and keep scrolling if you agree.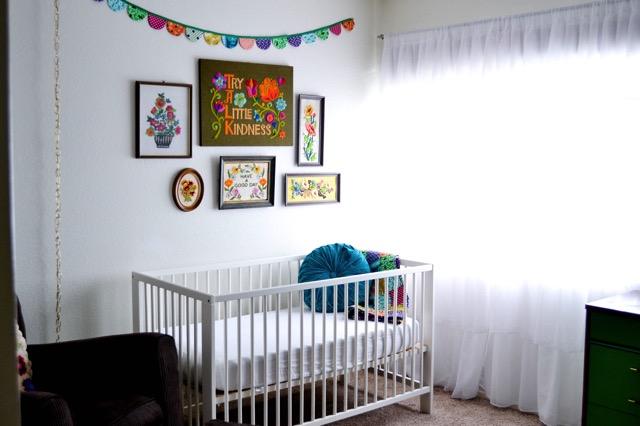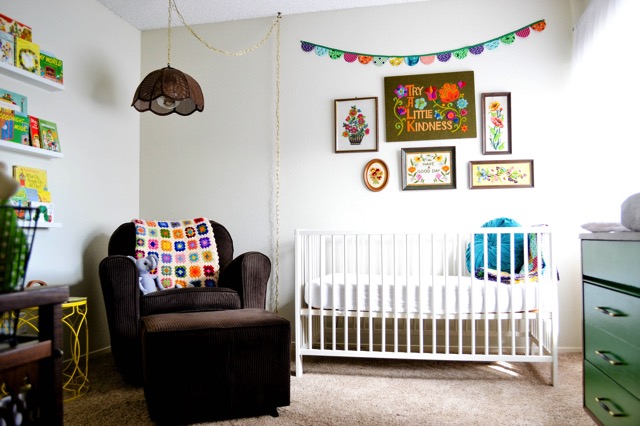 The final and most important test of any nursery is…does it feel like a peaceful cave that you want to hole up in when all your days and nights are running together and Saturday night doesn't feel like Saturday night and your husband is bringing you take-out and Coke while you nurse and your other two children are downstairs being babysat by a full-length animated feature film?
The answer is Yes.  This nursery passes that test.
I hope you have enjoyed Evelyn's nursery!  I had so much fun making it.  And you can sleep tonight now that you've seen it.  (Sleep…hey, I've heard of that before!)
Hope you guys have a great week.  I'll be back on soon with a full-length birth story!