Disappointment alert!
I know you all are looking for nursery photos right now, but these are not it.  Sorry.  I'm a compartmentalizer who can't start on something big until all peripheral business in my life is brought to closure.   (At least I know I'm neurotic, right?)  So the nursery will be next month. (In case you wanted to sneak a look at my inspiration, you can see my nursery Pinterest board here.)
I do, however, have an updated girls room with our new toddler bed and some modern touches!
I've already shared the girls' room twice on the blog (here at our old house and here just after moving to the new one).
My favorite part of this room is the mid century dresser that I bought for $27 after selling my old changing table for $30!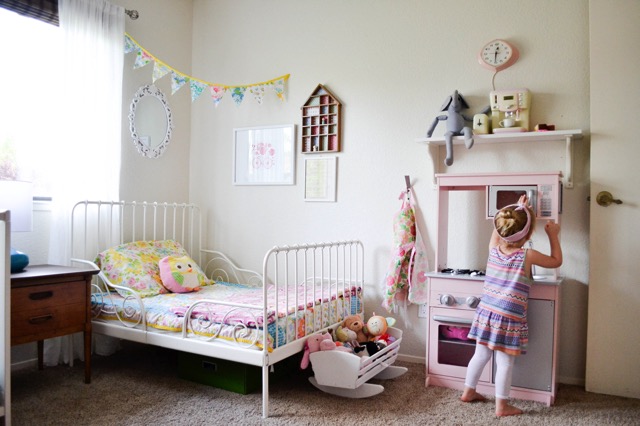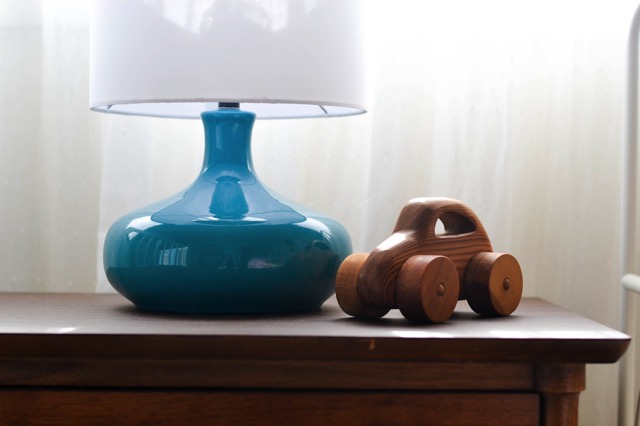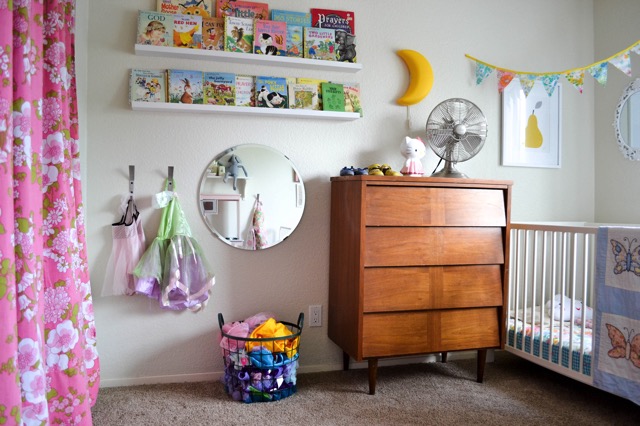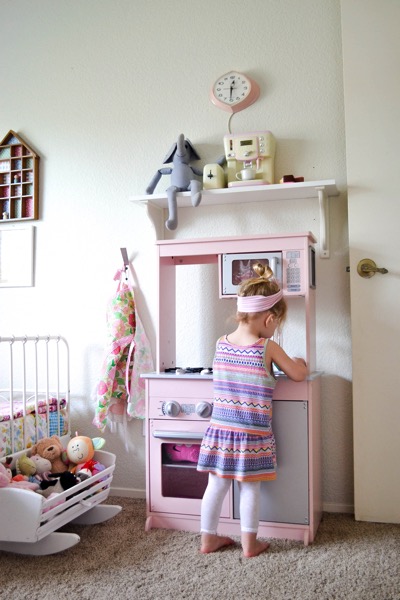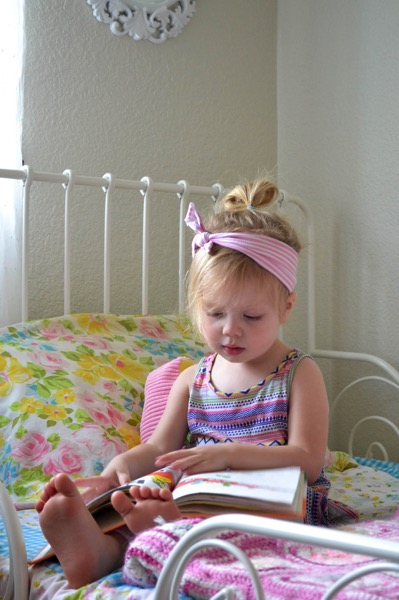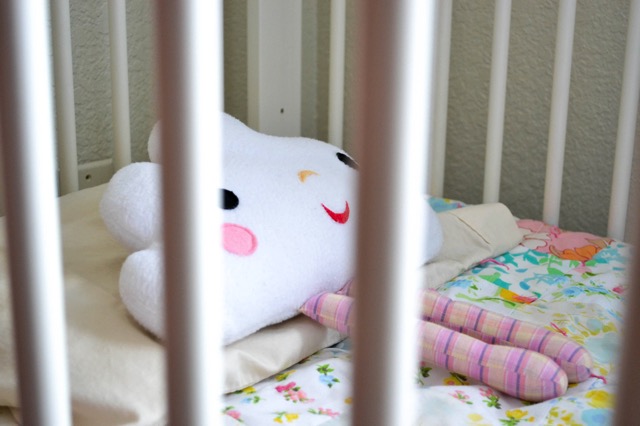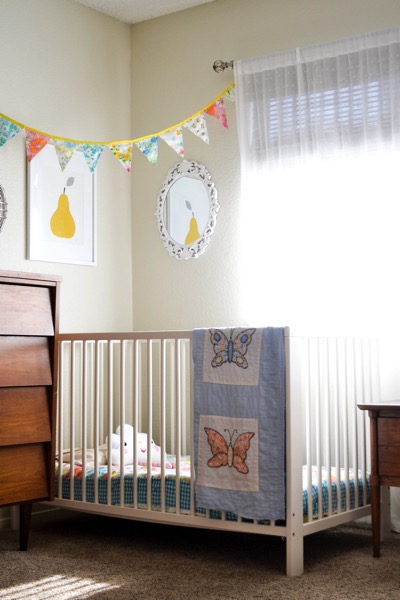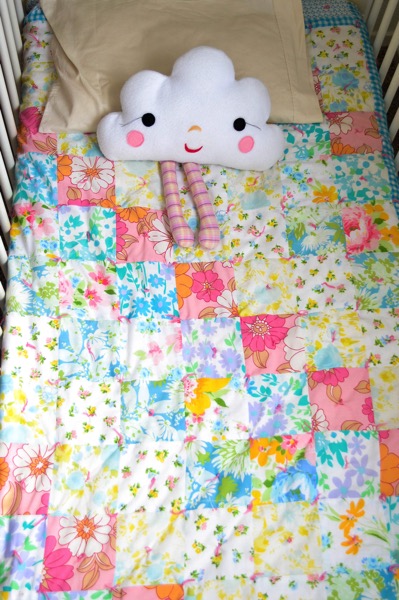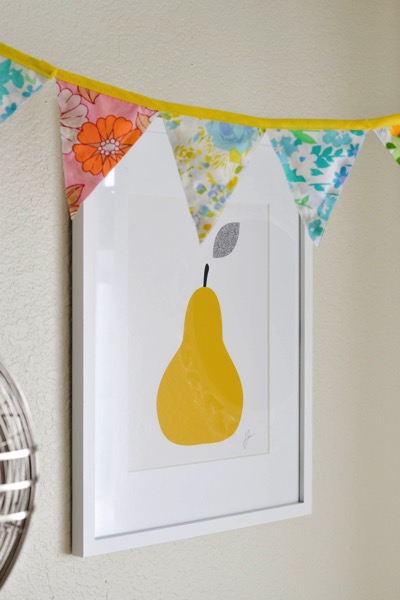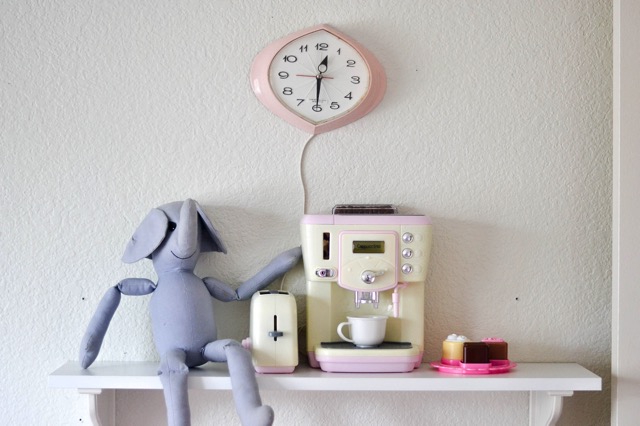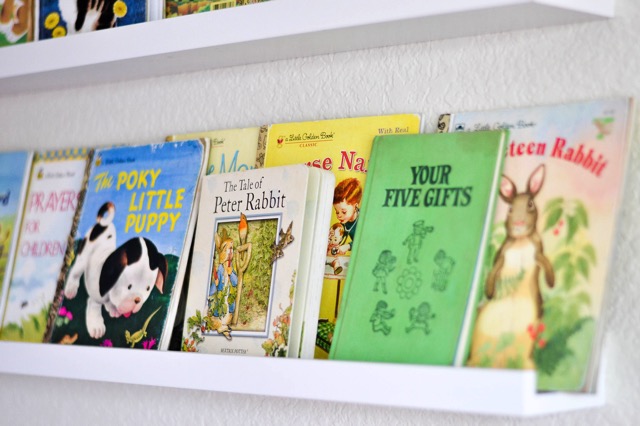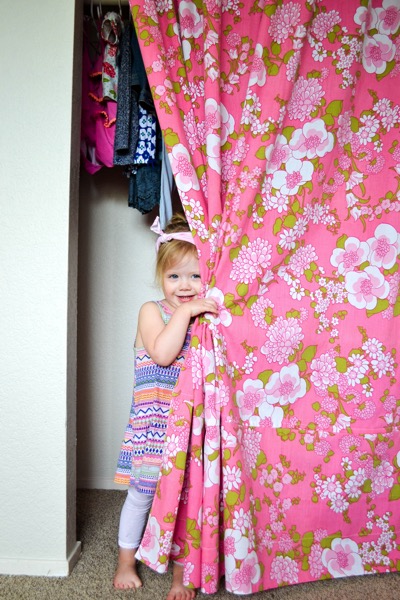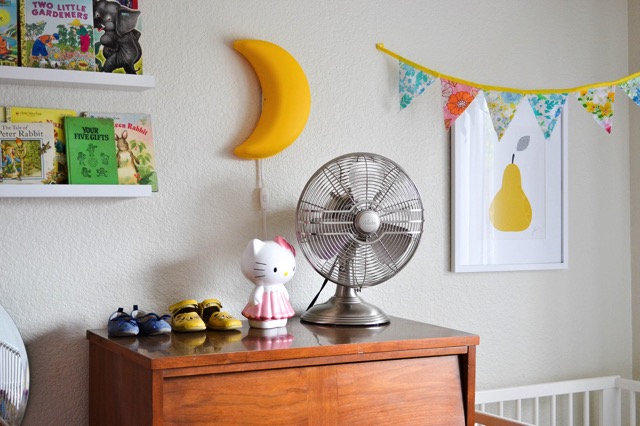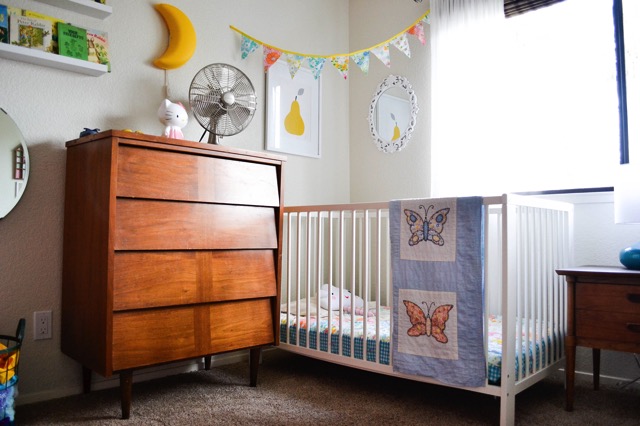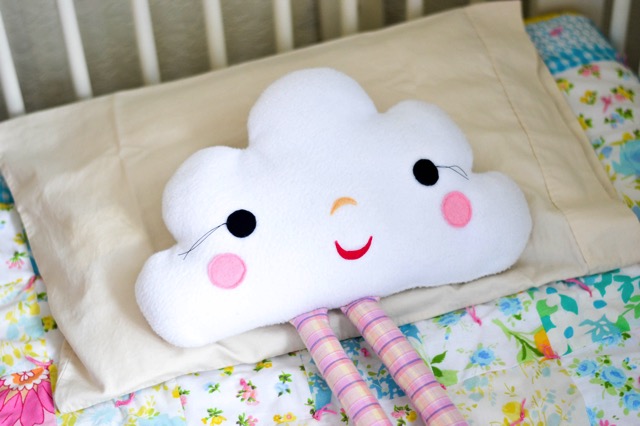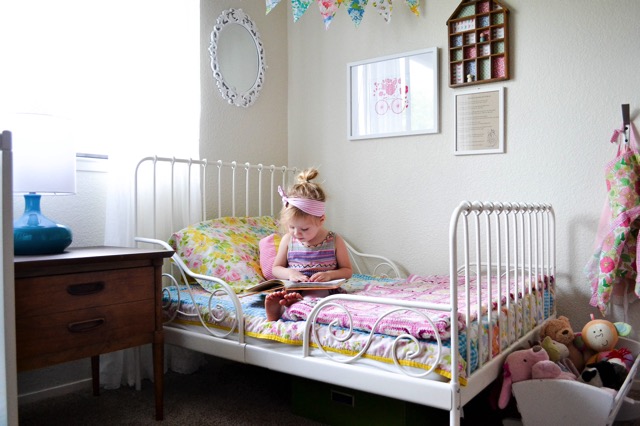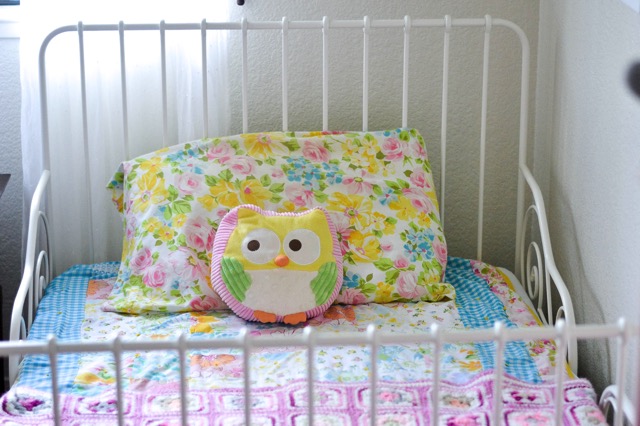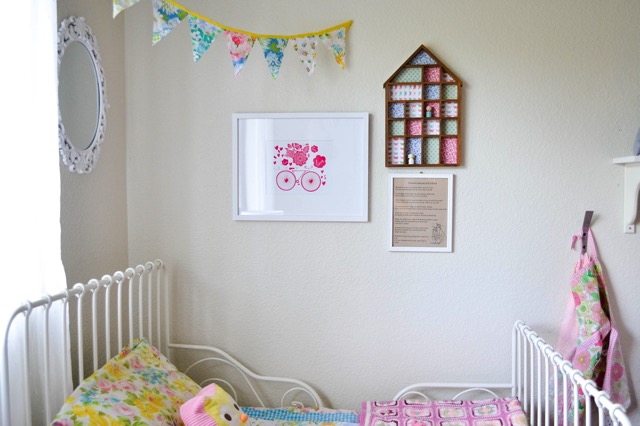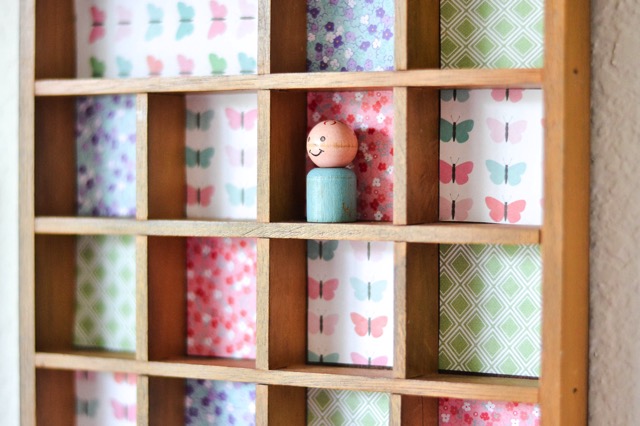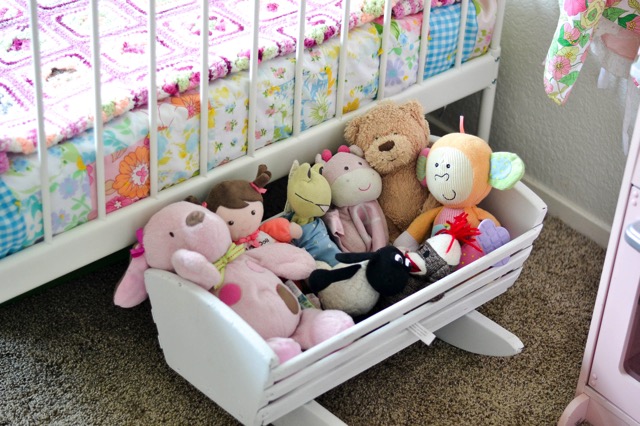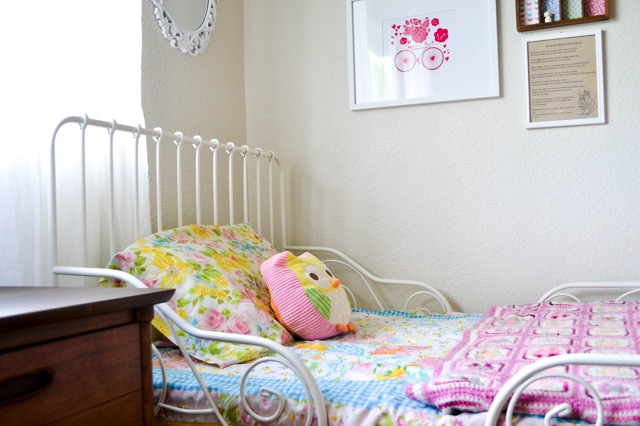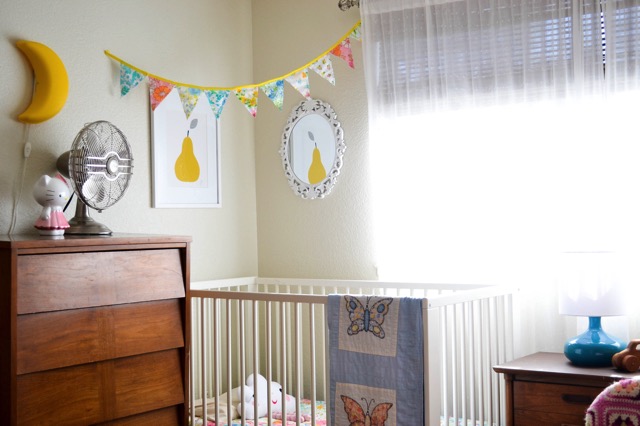 (Fifty-six disclamers.  This room is never this immaculate because my girls play in here all the time.  It is staged right now so you can get the full effect.  At this time in my real life I also don't believe in making beds.  Because bending and tucking make me sweaty.  I also spent a ton of time on Pinterest analyzing and identifying the elements I really wanted in this room.  For every full-price purchase I made, there are at least one or two thrifted/used/re-used items!  You can see my inspiration board here.  This was not a weekend project!  This is a build-it-over time space that is always in flux! Expect updates and additions forever and ever.)
Here's a list of what's in this room and where you can find it!  Because I like those lists…I'm nosy like that.  (Spoiler alert…most of it is thrift store, Ikea and Target!)
Crib:  Ikea Gulliver
Toddler Bed: Ikea Minnen
Dresser: Thrifted
Night table:  Thrifted
Lamp:  Target
Moon Night Light:  thrifted (Ikea)
Fan:  Target
Pear Print:  Etsy
Bike Print:  Etsy
Mirror:  Ikea
House Shelf:  Etsy (I added the "wallpaper."  It's scrapbook paper and Elmer's glue!)
Book ledges:  Ikea Ribba
Kitchen:  Consignment sale
White Mirrors:  Target
Cradle:  Thrifted
Bedding:  Quilts made of thrifted vintage pillow cases, thrifted afghan, heirloom butterfly quilt
Bunting:  Sewn from thrifted vintage pillow case scraps
Closet curtain:  Thrifted sheet sewn into a curtain
Window curtain:  Target
Cloud pillow:  Etsy
Owl pillow:  Thrifted (originally Target)
Vintage Clock:  Etsy