Thanksgiving is my favorite.  In my childhood it's affixed as that cozy day of warm-bread-y smells coming from the kitchen and ice clinking into my Grandma's holiday glasses as my sister and I set the table.
It's that beautiful day where something in your brain switches over and starts telling you that it's perfectly acceptable to have pie for breakfast every morning now until the new season of Biggest Loser starts.   I mean, it is just that perfect kick-off to the most wonderful time o' the year.
Since moving, the possibility of hosting a bigger group really became a reality.  One of the reasons we bought this house was so we could fill it with people.
We invited a bunch of friends over and ended up with 18 people, half of which were kids!  Kid-a-pal-ooza!  I mean, how else do you even do Thanksgiving though?  If we don't have two high chairs, two boosters and a baby en lap, then what is the world coming to?
This was most certainly a year for disposable-chic table settings.
It was SO easy, guys.  I sloppily covered each table with a roll of Kraft paper from Michael's.  Then, I printed off these fabulous (FREE) cutlery bags from Craftaholics Anonymous on 8 x 11 pieces of Kraft paper, hot glued them together and filled them with basic schmasic napkins and cutlery (that I already had).
And of course, garnished it with a lil' sprig of rosemary.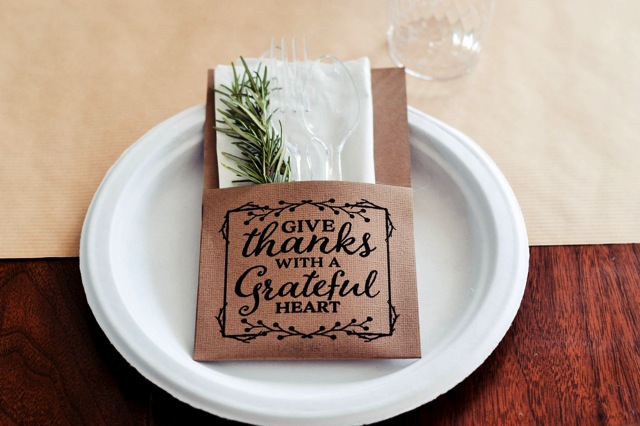 I always believe in complete seating organization and table-setting the night before any event, but I wish I would have waited on the rosemary garnish, as it dried right out over night.
We had three tables: a small kid's table, a card table, and our dining room table with all the leaves in.  Because card tables and Thanksgiving go together like mashed taters with butter 'n gravy!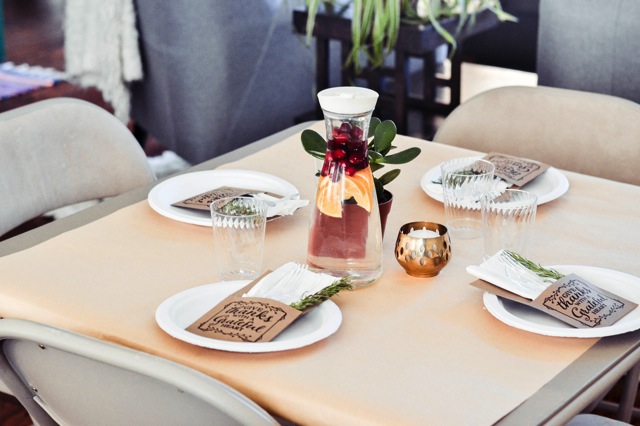 The kid's table was just like ours, minus I did little cups with lids and brown-stripey straws with their names on them.  They are just disposable coffee cups from Party City that I had leftover from a birthday party…with straws jammed in them, which turned out so cute.  Stripey straws do that.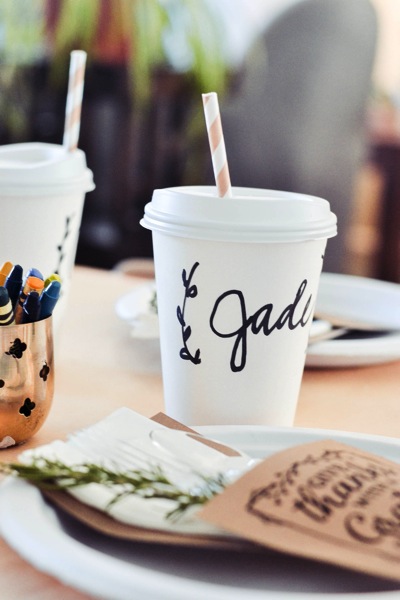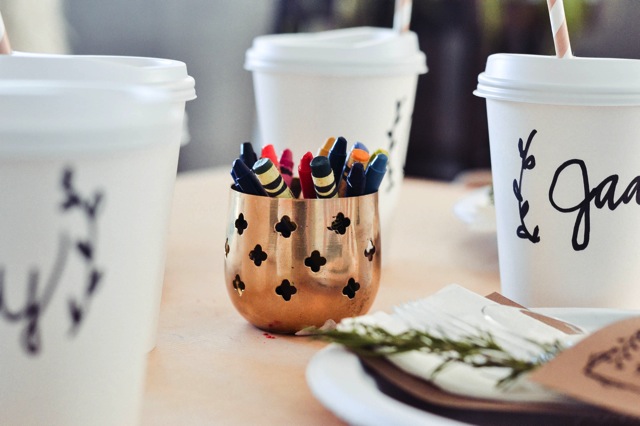 Oh, and crayons…so they could color on the tables.
I didn't really do centerpieces.  I just used my trusty thrifted brass candle holder collection a few Trader Joe's succulents down the middle.  Because I'm trying to roast an 18 lb bird to a perfect internal temp of 165 degrees farenheit for crying out loud!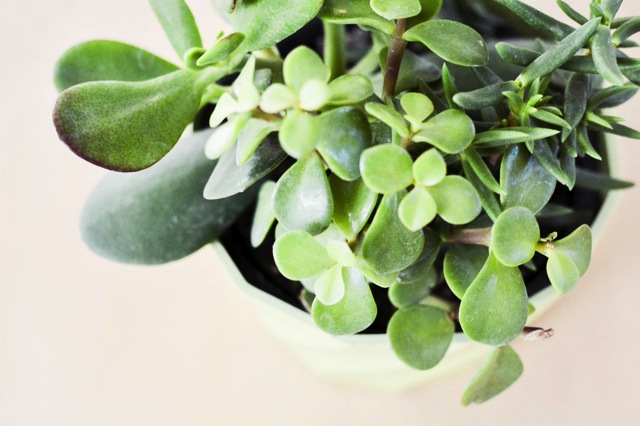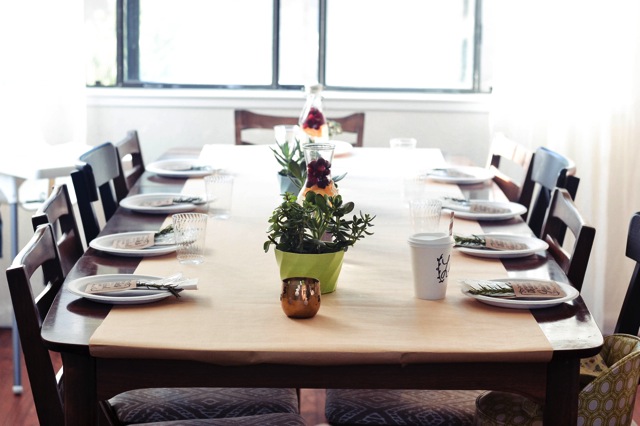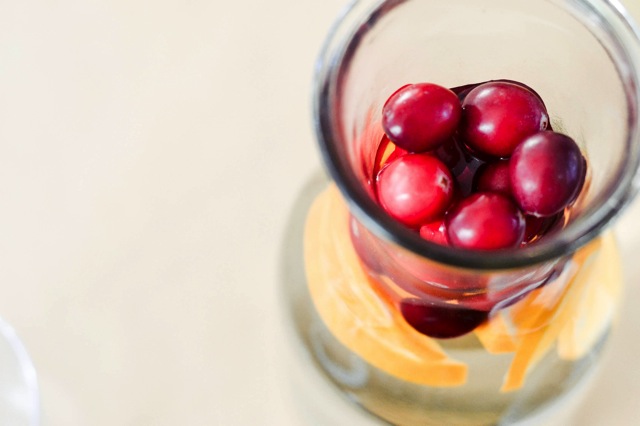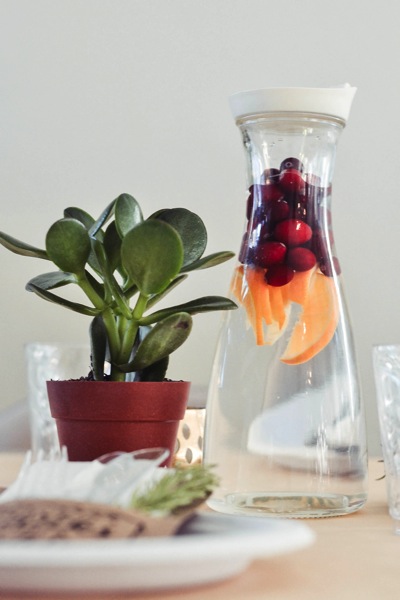 I spent the whole morning puttering around the kitchen, smelling turkey and listening to Good Housekeeping's Thanksgiving playlist on Spotify.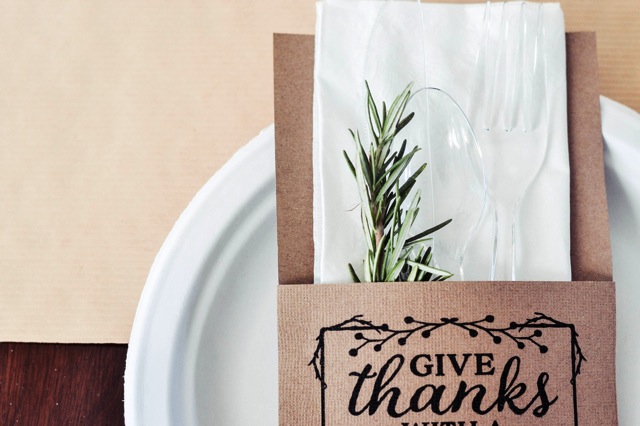 Thanksgiving this year succeeded to fill my love and happiness tank again.
Although…we almost served raw turkey.  Let the true confessions begin.
But that's why you have heavily buttered gravy.  The friends of Friendsgiving were unendingly kind and gracious and just glad it wasn't them hosting with a half-cooked turkey to deal with.   We ate and drank and made merry and crammed in a round or two of Catchphrase with toddlers throwing toys over the stair bannister and jammied babies on our laps pushing all the buttons.
Well, friends, there are paper stars to be folded and fresh wreaths to be made!  The craft life is a rough life, but I take one for the team.
If you enjoyed this post, you can go here to see more Christmas home tours, seasonal decor and holiday-themed tutorials.
For more homeschooling ideas candid peeks into our home, you can go here to sign up for my newsletter .