A couple weekends ago I did a wonderful thing and took a day off from life to frolic in San Francisco's foodie heaven (well, one of them anyways).
On Sunday morning I got on a boat; just me, my camera and the crisp bay air. (And maybe other things. Like a cardigan, a Tide pen, a travel deodorant and hand sanitizer.  Because I'm a mom now, and I have a mom purse. And also because never, ever go to San Francisco without a cardigan. Or to foodie heaven without a Tide pen.)
I call it a self care date, but you could also call it "rollicking," or "frolicking." Whatever you like. It's your choice.
My little day trip was inspired by a book I read about the artisan coffee shop Blue Bottle, located in the San Francisco Ferry Building. It was filled with just enough third-wave coffee snobbery to made me think, "I need to see this foolishness for myself."  (You can read my review here.)
Them books puts fool ideas into my head.
First, I boarded a San Francisco Bay Ferry boat which takes off from Vallejo, a bayside city about thirty minutes from where we live.  The ferry boats depart at various set times throughout the day, so you need to do a bit of planning and arrive about twenty minutes early.  Parking is only $5 for the day and you can get a day pass to the ferry for $24.
Which when you consider bridge tolls, gas, traffic, and parking in the city, it's pretty great.  Especially if you are solo.  I highly recommend it.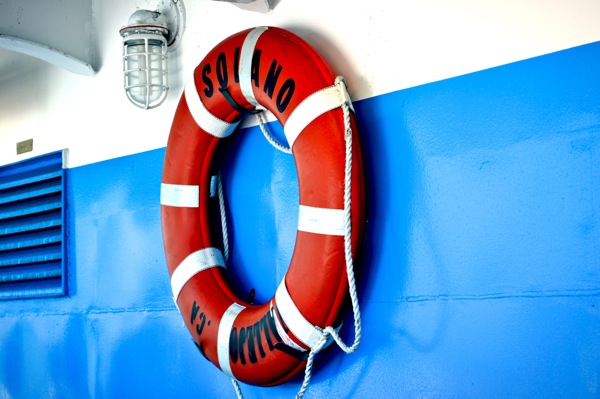 The boats are surprisingly comfortable and convenient. (I could definitely see myself trying this with kids.)  You can even bring your bike on board. Of course, I squished in on the crowded deck in the frigid, bay wind, because I was by myself and YOLO.
The ferry takes you on about a 50-minute a scenic cruise which passes landmarks such as the San Rafael Bridge, Angel Island, and even offers a small glimpse of the Golden Gate Bridge. (Which was covered in fog at 11:30 am, natch).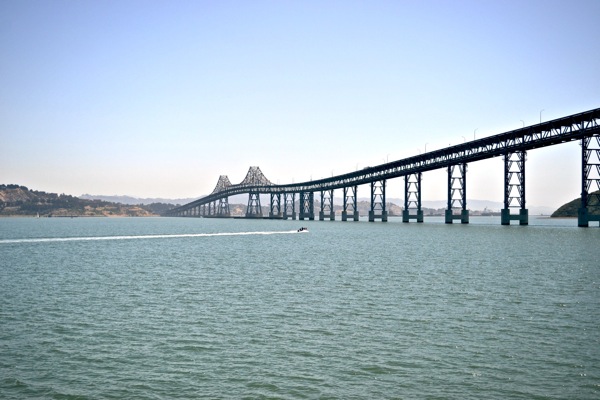 Taking the ferry is all about one thing in my mind: scenic vistas.  And boy, am I a sucker for a scenic vista.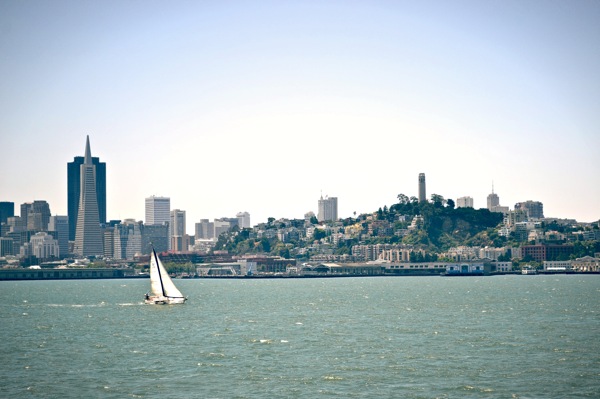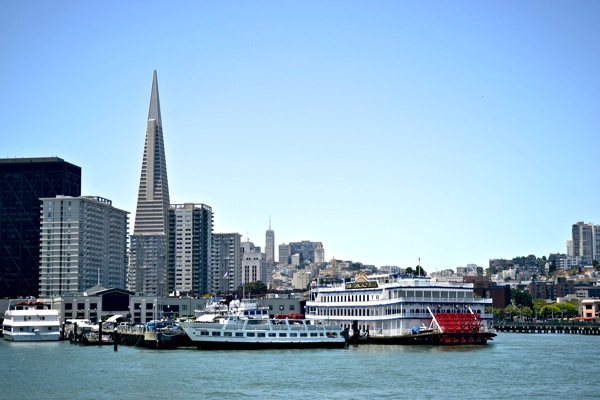 My destination was the Ferry Building, located on Pier 1 of the Embarcadero.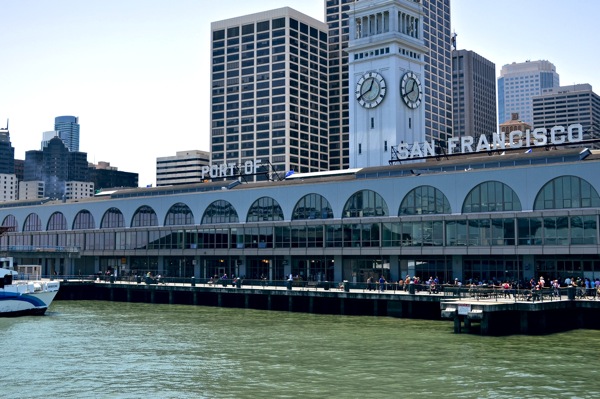 In case you are kind of wondering (maybe like I was for a while), the Embarcadero is 7.5 miles of waterfront along the northwestern edge of San Francisco.  Numbering starts with Pier 1, (at the Bay Bridge and the San Francisco Ferry Building), and ends at the ferry terminal on Pier 41. (Google map it for a bird's eye view.)
The piers that make up the Embarcadero include attractions such as: the Exploratorium at Pier 15 and the famous tourist trap at Pier 39 (better known as Fisherman's Wharf.)   It's a major tourist destination with restaurants, shopping, and tour boats that take off for cool things like cruises to Alcatraz and Angel Island.  Even in the summer, I always go prepared for fog and frigid, waterfront winds. I've been to the Embarcadero several times, but no matter how many times I go, there still seems to be some attraction I haven't witnessed yet.  I daresay, Fisherman's Wharf is a tourist trap worth seeing.
Plus, the people-watching is second to none.   Second. To. None.
My destination, The Ferry Building Marketplace, is a world-class market that showcases the best of the Bay Area's food.  About several dozen high-end individual retail shops offer locally grown and sustainably produced food products.  (Think Harrods of London or Pike Place of Seattle. The Ferry Marketplace is owned by the same people who own Oxbow Public Market in Napa.)
This historic landmark underwent extensive renovation and was restored to it's current state in 2003.  You can read all about that here.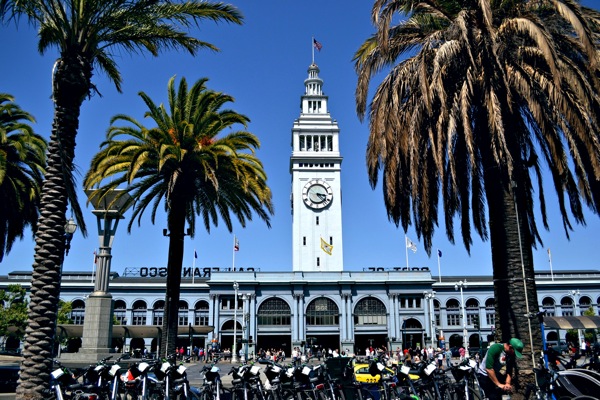 If had known what I was doing, I probably would have come on a day when the Ferry Plaza Farmer's market was open.
But still. The Marketplace by itself is epic.  Every establishment there is the best at what they do.  Craft. Man. Ship.  And my mission for the day was to sample it.  And watch other people.  As non-creepily as possible.
First of all, I got "Excuse me, ma'am-d" by a security guard for wandering past a barricade on the second floor to snap photos.  YESSS.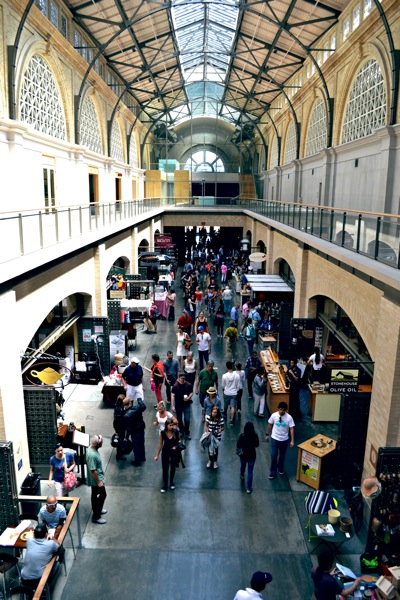 Gotta watch out for me, I'm unpredictable.
Next: Blue Bottle Coffee.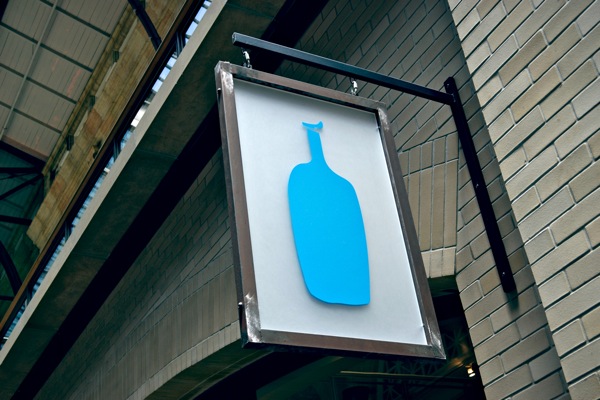 I was a good girl and sampled a cup of regular brew (they make it the pour-over method one cup at a time) unpolluted by the evils of sugar and cream.  It was good.  Very good.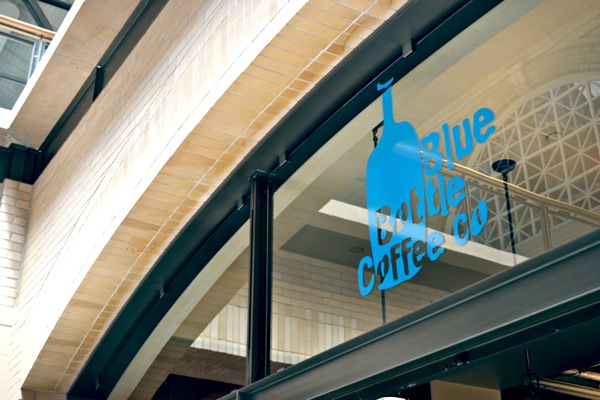 Then, because YOLO, (and I'm not yet a full-on coffee connoisseur) I also tried their caffe mocha.
Which was amazing.  And not sickly sweet. You could actually taste the espresso and chocolate ganache.  And you wanted to.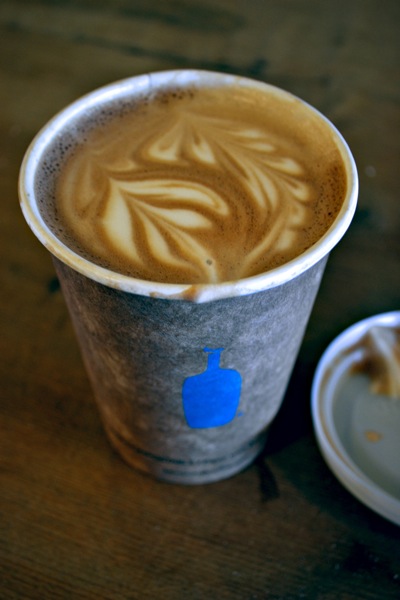 Latte art, of course.
I was super impressed that the barista (who had been serving hundreds of people in the three hours between my two visits) actually recognized me when they took my mocha order.  He said "You came back!"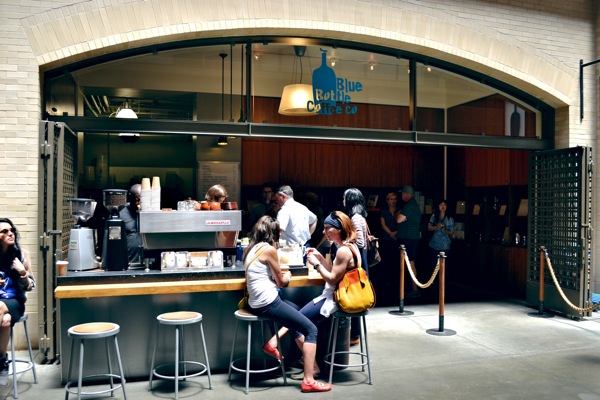 Now that's building brand loyalty, folks.  Or the jumpsuit.  Not sure. Fifty-fifty chance.
Ironically, although I went for coffee, it was an oven-hot June day in San Francisco (you know, 75 degrees and all). So the place to be was on the cooler, waterfront side eating ice cream and watching the ships come in and out of the pier.  I can't say that I've ever thought of a better way to spend a Sunday afternoon.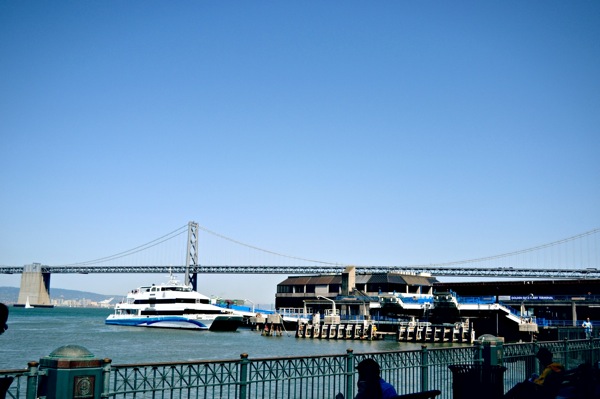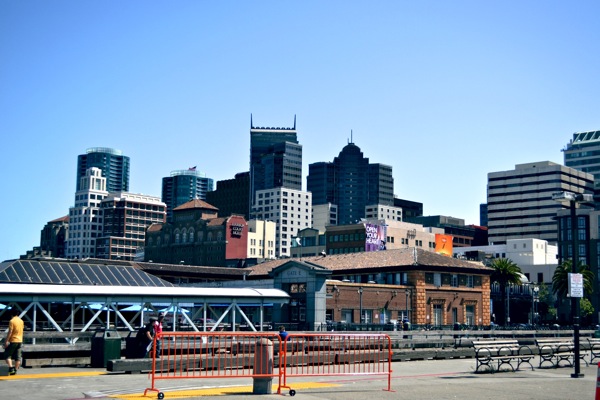 I had to blend in with The People, so I looked around for an ice cream place and found my way to Humphry Slocomb.  I had never heard of it before and their ice cream flavors looked weird, so that was my cue.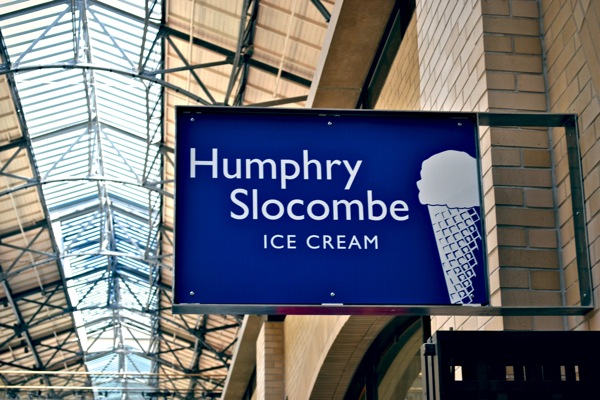 I scoped out a flavor called "Secret Breakfast."  No one else was there to influence me to do something reasonable like "Tahitian Vanilla" or "Here's Your Damn Strawberry," so I go a scoop.  It turned out to be a rich vanilla with crunchy bits of cornflake cookie and a bite of bourbon at the end.  (Secret Breakfast is Slocomb's most popular flavor.)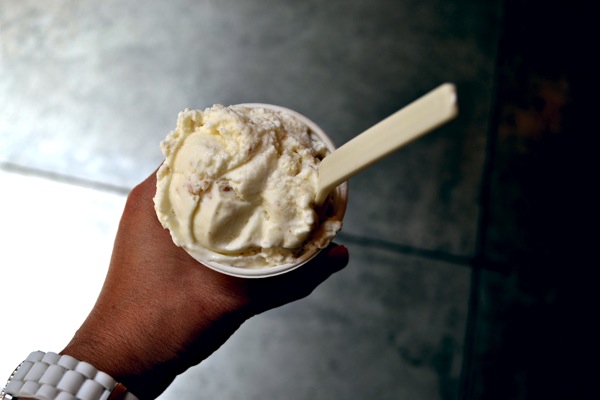 Soooooo….I've been to the Ferry Building once and had some ice cream. I am sure that must make me a foodie.
Being a sophisticated foodie, I had many profound thoughts while I was alone in foodie heaven.
Ha ha. Nope.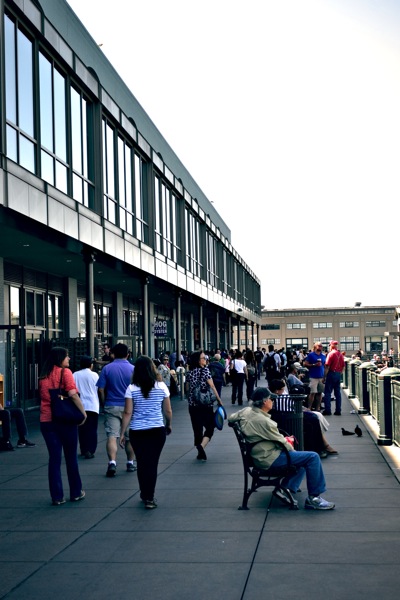 I counted jumpsuits (myself included) and high-waisted denim shorts and made other mental notes of people's outfits, such as John Lennon sun glasses.  (About my jumpsuit: David's comments were,  "hideous" and "the nineties called, they want their jumpsuit back."  Which is how I knew it was the perfect attire for my day out, of course.)
Oh! And I counted bikes! Renting a tandem bike in San Francisco is on my bucket list now.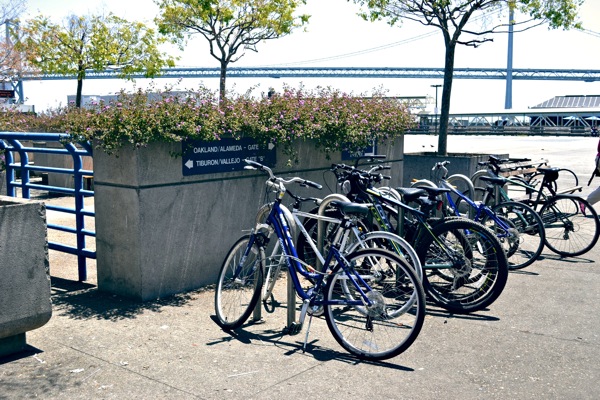 (As far as crowding, there was a steady stream of people, and benches were about 80% full, but it was by no means a zoo. )
I did a little exploration of the Market Street side of the building before I caught the 5:35 boat back home.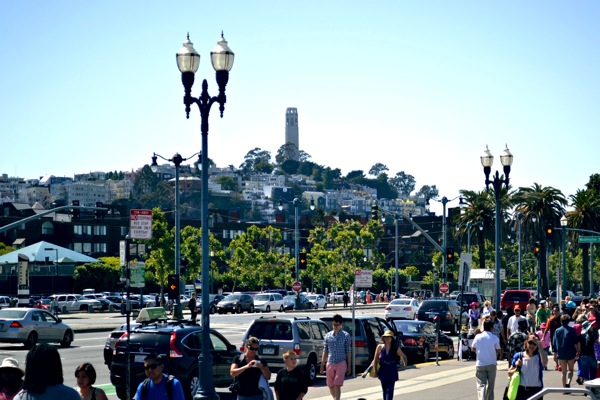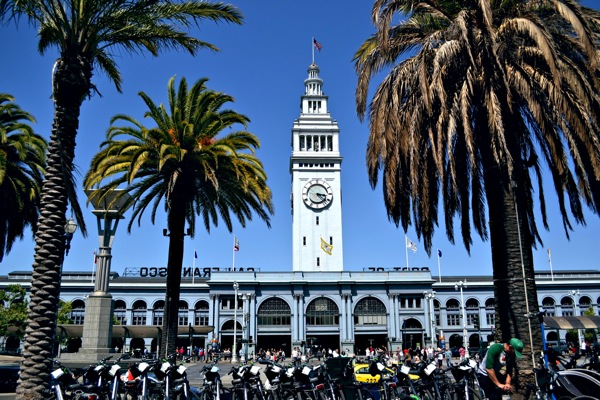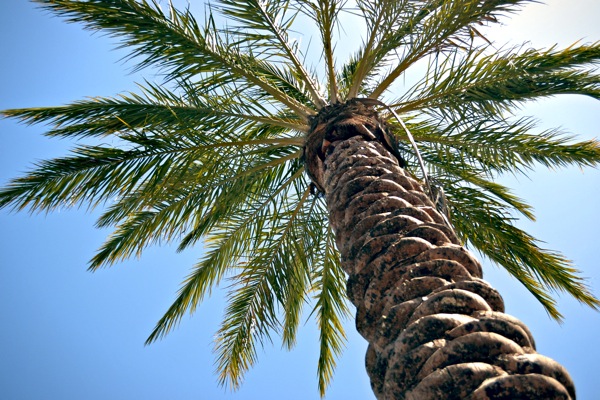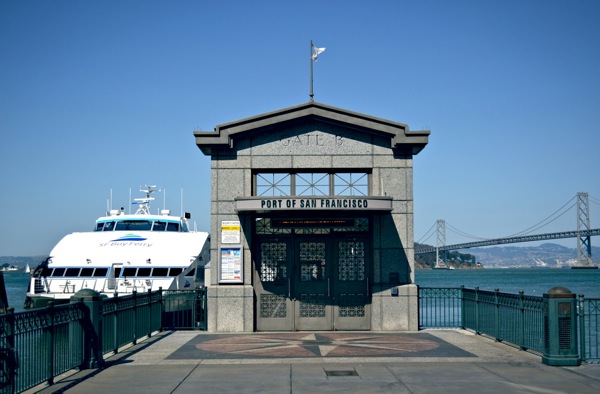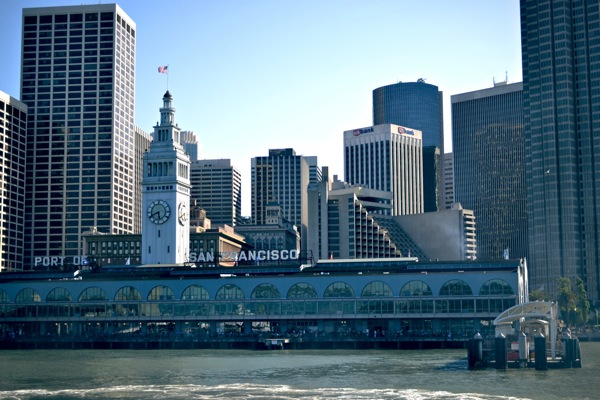 So I'm not sure what this all says about me, the girl who has coffee and ice cream for lunch at San Francisco's foodie heaven, but I thoroughly enjoyed my self-care date to the Ferry Building.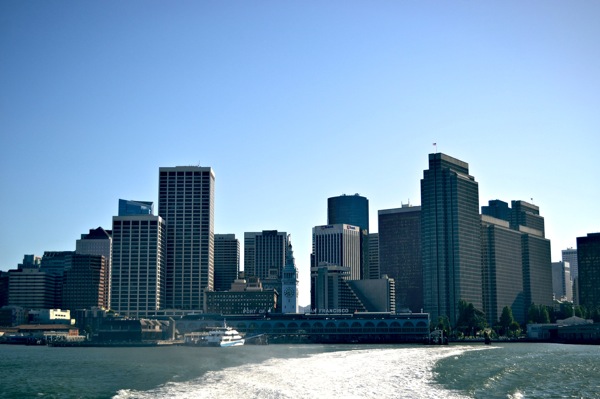 After being whipped with about ten minutes of arctic, SF wind, I enjoyed a glorious, sun-drenched ride on the outside deck and arrived home to 100+ degree temps.
Next time, I'm bringing David and we are renting a tandem bike.  (And also, I imagine, probably eating a more reasonable lunch and being influenced to choose safer ice cream flavors.  And probably will be asked not to wear a jumpsuit, that's just my thought.)