This is my reading nest.  If you don't have one, you should make one.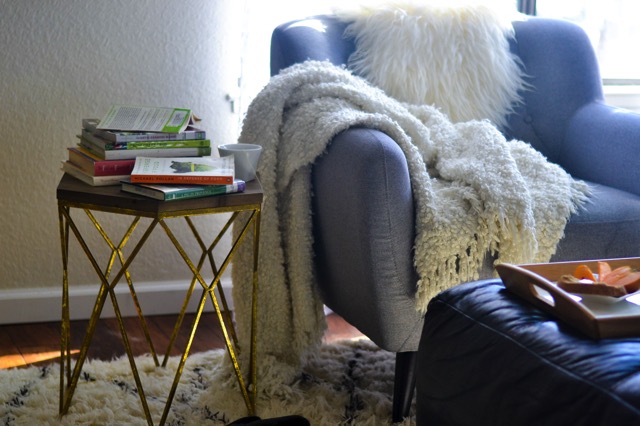 I've always been a book nerd, but I kind of started getting my reading fix from social media and the Internet in the last ten years.  It was like the Oreo bag I just kept going back to, but was making me feel terrible.  It was then I realized something about myself:  I NEED TO READ.  But maybe not just exclusively on the Internet.  Then I remembered there were these things called books.  By people with fully formed thoughts, editors, and proper grammar use.
I decided to bring back my summer reading.  Since I deleted my Facebook profile this past July, I have read so many books.  My low is maybe three a week.  I read really, really fast and if something bores me I toss it aside for something more interesting.
Also guys.  The library is so high-tech these days?  IT IS AWESOME.  It's like compulsively ordering every book that interests me on Amazon, but without spending $200 a month on books.
Books are magical adventures and I love them.
I got on a new kick last week after my brother sent me the book In Defense of Food. (My siblings and I love to fill our fool heads with book learnin').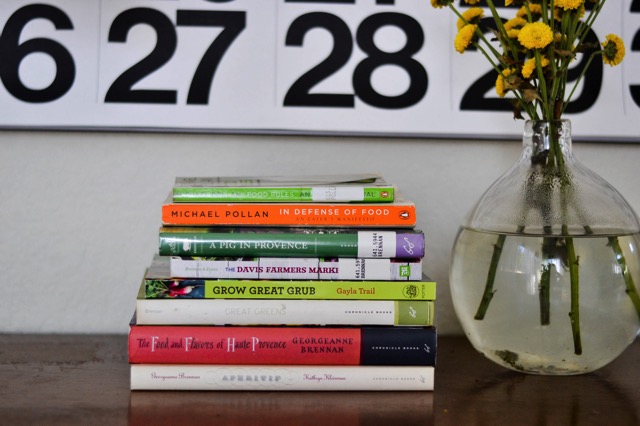 Here is what I'm reading:
In Defense of Food, An Eater's Manifesto by Michael Pollan
This would make my Must Read for Everyone Ever list.  "Eat food.  Not too much.  Mostly Plants."  The author is not a dietician, but a journalist, so the book is truly a record of discovery instead of just a bunch of opinions. Based on historical research, the author lays out our evolution from traditional diets to Western food (which really is more like edible, food-like substances than actual food).  What I liked about this is how it connected the dots between all the different food books I have read.  Yes, we know that our food is manufactured and making us fat and sick, but why?  And how did it get this way?  Why does the government promote industrialized food?  What can we do about it?   Another thing I appreciated about this book is how it underscored the fact that science doesn't actually know that much about how food works.  The answer to our sickness and weight problems actually do not lie in the perfect combination of carb and proteins or the elimination of food groups.  The answer lies in the wisdom behind tradition, culture, environmental responsibility, and the consumption of local food sources.
The Davis Farmer's Market Cook Book by Georgeanne Brennan and Anne Evans
I don't know how many times I have heard "eat local and seasonal."   I romanticize the thought, but I have simply never been able to wrap my mind around the practicals of cooking delicious meals from local and seasonal ingredients.  Especially with foods that I am just not familiar with!  (Google has been no help in this department.)  I love the way this book lays out the recipes.  It gives you eight base recipes and then tells you how to vary them with seasonal ingredients…yummy things like risotto and savory tarts!   Now that I can do.  The history of how the Davis Farmer's Market is also really interesting.  I feel proud to live in a region that is a leader in the organic food movement.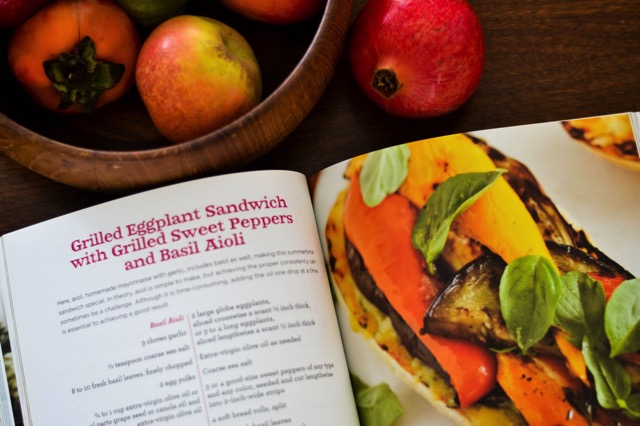 A Pig in Provence by Georgeanne Brennan
I have known about Georgeanne's work for a long time, since she was one of David's first web clients years ago.  We have four of her books and I'm so ashamed to admit I've never really read them cover to cover!  (However, they are so beautiful that they have always been on display in my house.)  I had always heard about her book A Pig in Provence; and I finally decided to get it!  It is the story how she and her husband and their young daughter moved from Southern California to Provence in the 1970's to escape the turmoil of the post-Vietnam era.  They took a leap of faith, bought a farm house and started a simple life in rural France making goat cheese.  The results were lifelong friendships with the locals and a deep love for seasonal living.  This book contains everything I love:  French food culture, tantalizing descriptions of food, and engrossing travel memoirs.  It's the perfect backdrop for her cook books.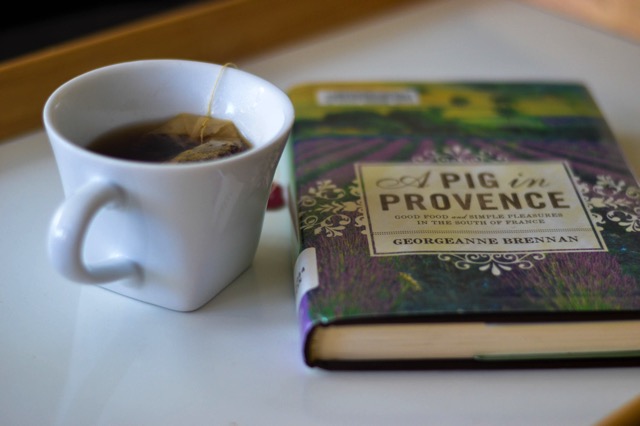 The Food and Flavors of Haute Provence by Georgeanne Brennan
I can't even believe this book has been on my shelf for like a jillion years.  I have just started reading this book of recipes Georgeanne learned from her years spent in France.
Barefoot Contessa Back to Basics by Ina Garten
I've always liked Ina Garten.  I think she is the perfect mix of huggable Grandma and food snob.  She has a special place in her heart for French cuisine and Provencal herbs, which also endears me.  When I Google a recipe, I will often end up with one of hers and I'm never disappointed.  (Now who wouldn't love that?)
Grow Great Grub by Gayla Trail
This is a book about small-space organic gardening that David got last year for Christmas.  This author does an amazing job at laying out a lot of complex information in an easy-to-understand format.  I love her casual, talking-to-me-in-person writing style.   After finishing this, I feel like I have enough of a base understanding to really dig in to the overwhelming subject of organic gardening.   I have checked out several other books the author recommends and my compost is rolling!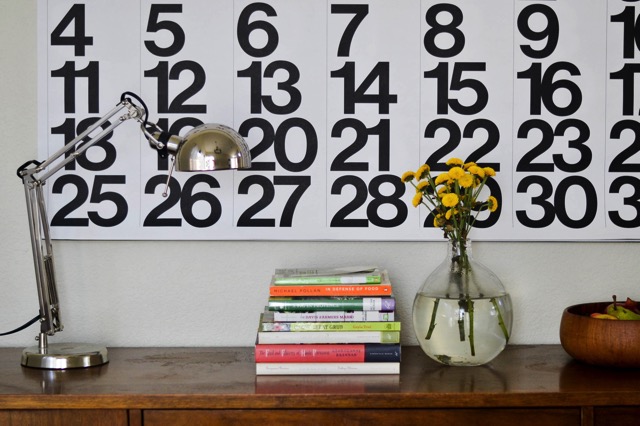 That's what I'm reading right now!
If you enjoyed this post, I think you'll love my free download, The Ultimate Homeschool Mama Book List!
For an archive of I've read through the years, you can go here.  To see all of the curated book lists on my blog in one place, click here.
To receive short reviews and recommendations of what I'm reading each month, sign up for my newsletter.