Thanks to the invention of venti lattes, I've finally come around to pulling out my camera to snap some photos of some of my spring projects.
To date, my favorite DIY project of all time is Libby and K.K.'s mud pie kitchen!
.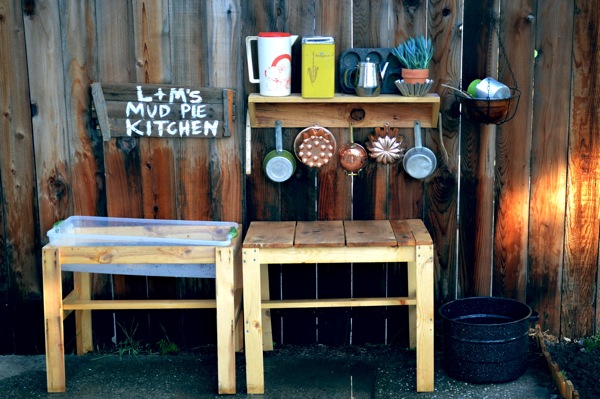 I can't think of anything my girls would rather do than run around in their bare feet digging their fingers into organic sludge and dumping full cups of water out wherever they please. It's exciting stuff.
I had never heard of a "Mud Pie Kitchen", but one day, I was on the internet, browsing and perusing when I happened upon a photo of one on a little web site with a lot of who-has-time-for-that ideas (for annoying, over-achieving, Honors List type parents).  You might've heard of it…rhymes with Schminterest.
Actually, my first exposure to an outdoor play kitchen was at my friend Katie's house.  We had a little back yard playdate and it was her homemade water table that inspired the whole idea.  She filled up the water table, gave the girls some plastic cups and let them go.
The had the muddiest fun.  The whole thing just put me in the most back yard, springy-summery mood and I returned home determined to make a mud pit for the kids to roll in like little piglets.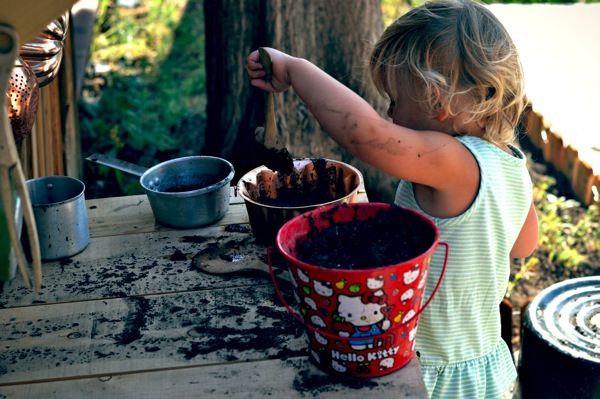 David sort of revised that notion and encouraged me that maybe we would want to start with a water table in the corner of the patio.  (Apparently, you do not need a mud hole for a successful mud pie kitchen.  Apparently, kids find mud.  It's like magic.)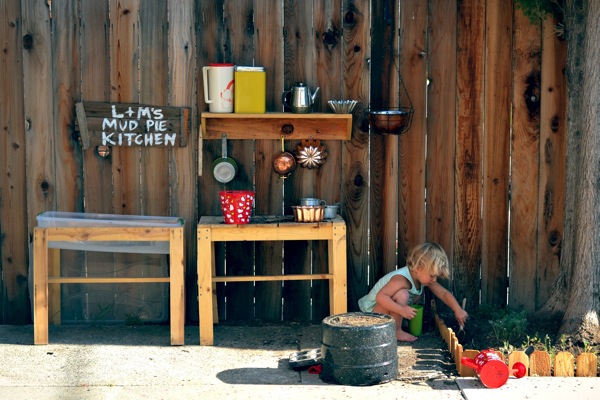 First off, if you have not yet invested in a water table for your littles, I recommend an immediate trip to Target (or Home Depot if you are the DIY type).  It's the fun of a back yard wading pool without the dead grass, wet bathing suits and the need for eagle-eye parental supervision.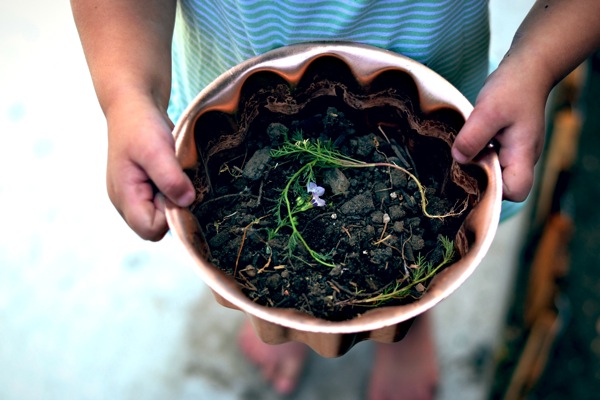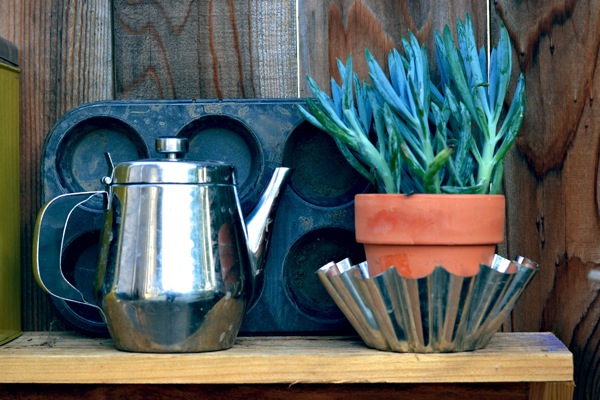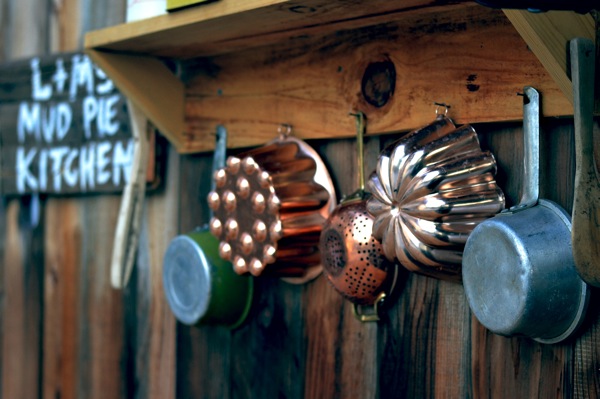 I am also a huge fan of outdoor play.  Primarily as a way to get small children to sleep as soon as their heads hit the pillow.  Secondarily because spraying off the patio is more fun than picking up blocks or Play-Doh off my kitchen floor.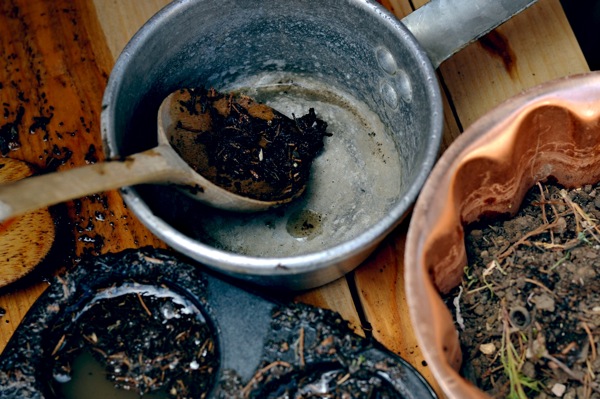 First, I asked David to create a simple water table from a few pieces of lumber and a Rubbermaid container.
When my dad came to visit, he put together a little work table at the same height. He also used some scrap lumber to make a shelf which we mounted to the fence.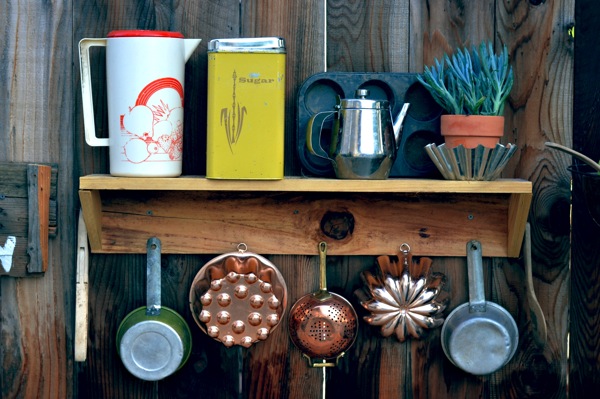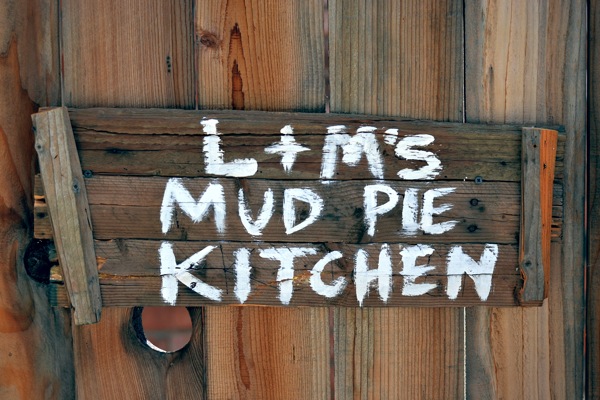 K.K. and I had so much fun thrifting for interesting utensils for her "play chicken," as she calls it.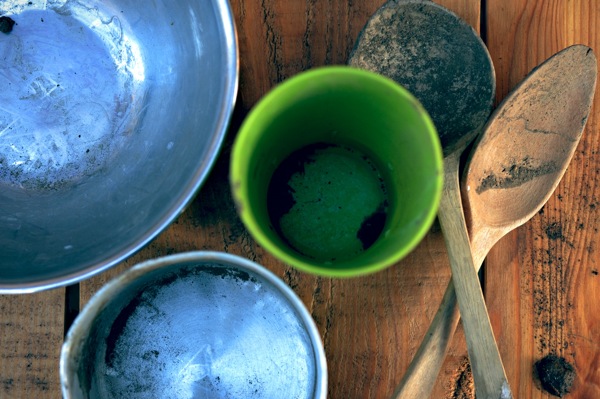 The spoons are a big hit.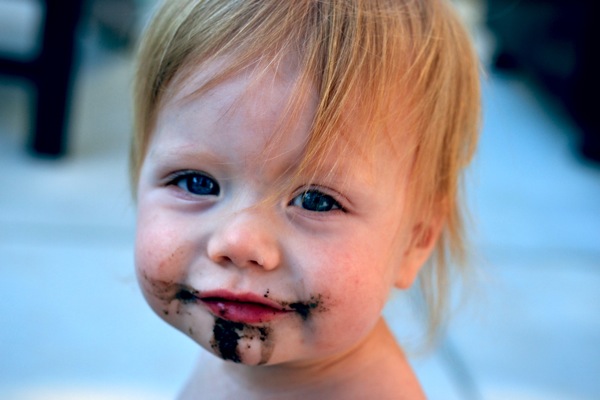 Good for digging and stirring and taste-testing your chocolate sludge cupcakes.  (Which is a staple menu item around here.)  You would never want to serve something to your guests that you hadn't tasted yourself.
We found a place for most of our kitchen treasures on the shelf, but we ended up with more utensils than space, so we mounted this spare hanging planter on the fence to hold our bowls and stuff.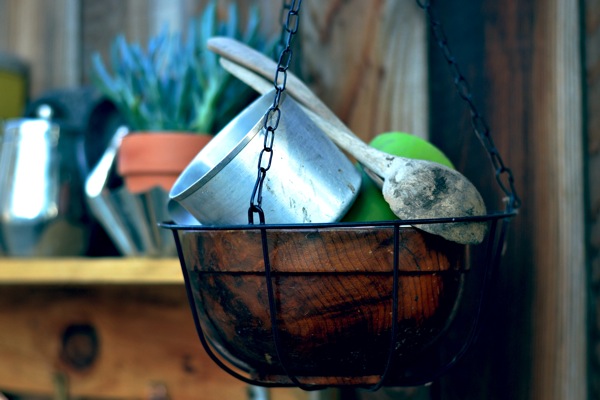 I just cannot say enough about our mud pie kitchen!  My kids play contentedly out here at least twice a day and their friends run right out and beg me to fill up the sink so they can "play chocolate."
(But not a sandbox.  Never a sandbox.  It's another story for another time and it involves rinsing buckets of sand out of baby hair.)
Wishing you a muddy summer full of many Pinterest-y, Honors List parenting moments!