Note to readers: I have archived most posts prior to 2014, but kept this one up since the images are all over Pinterest.  (Don't you hate when you go to click on a picture and you can't find the website?) I hope you enjoy this oldie but goodie! 
One of the biggest challenges for living in a small space is organizing toys.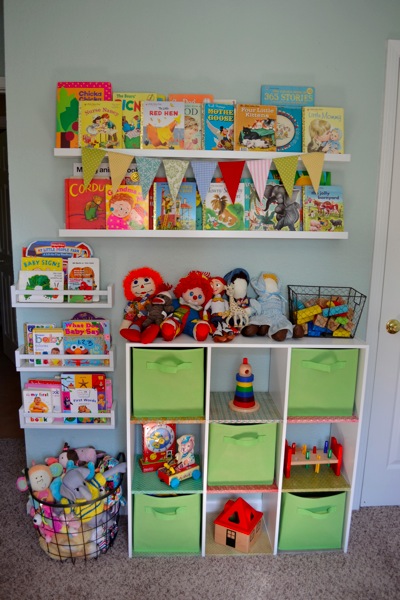 I like to make it even more complicated by having strong toy opinions.   I like quality. I like classic.  I like things that get played with daily.  I don't mind if they are a minefield all over my house during the day, but after 8 p.m., they must be out of my sight!  Away.  In another room.
We recently moved our nursery (and all the baby paraphernalia) for two into the smallest room in the house.  I had one wall to work with!
I needed the wall to do the following:  A.) House toys B.) Look super cute.  Here is what I came up with!
Ikea Ribba Picture Ledges
My biggest tip for maximizing space is to go up.  Ribba Picture ledges turn out to be the perfect front-facing bookshelves for $9.99 each.  No, she cannot reach them, but that is because she rips them!  Plus, it's more of a novelty that way.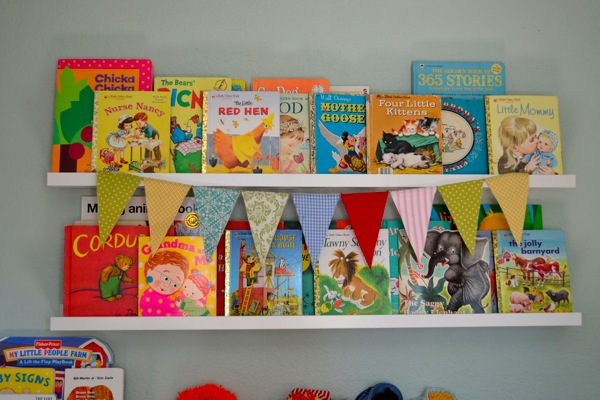 Pennant Banner
I know, it's so PINTERESTY.  But it just screams "Hey, kids, come play with these toys!"   The Ribba shelves were the right spot for my banner, brought over from the old nursery.  (Make one yourself with my super easy no-sew pennant banner tutorial.)
Ikea Bekvam Spice Racks
These too are all over Pinterest Land as front-facing bookshelves.  I grabbed a few and spray painted them white.  They're $4 each.  I hung them vertically down low for easy access to the less destructible books.  Fair warning: these racks are hard to hang! You need to be  precise person or the outcome may be the appearance that a wild animal has attacked the wall with a power drill.  Someone who is familiar with "a level and a measuring tape" did these.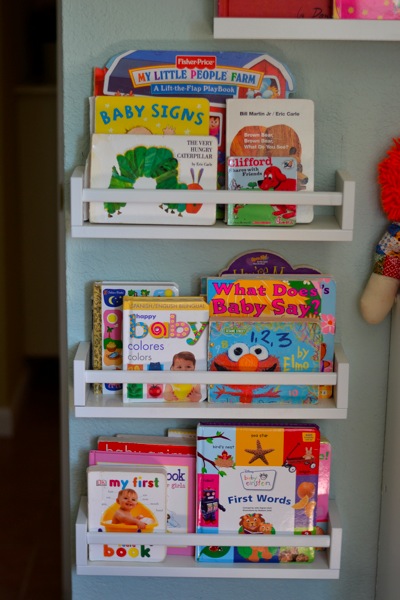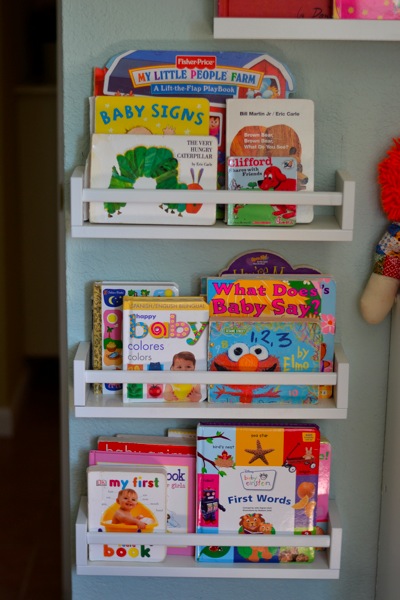 Target Closet Maid 9-Cube Storage Cubby
This thing is pretty low-quality.  It was just so much cheaper and fit in the space better than an Ikea cubby.  I covered the inside of the cubbies with Mod Podge and memory paper.  Cause I love Mod Podge and memory paper.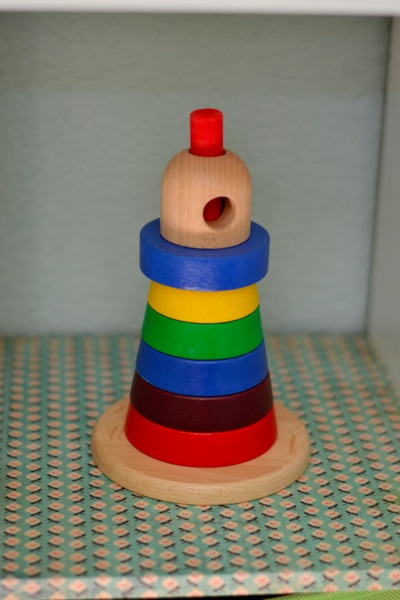 Other Stuff
The large round basket with the stuffed animals was purchased for $12 at Home Goods.  I needed a solution for the stuffed animals because they were kind of taking over my life!  Now they are kind of in a cage, which I now approve of.
The metal basket  on top of the cubbies with the blocks was purchased for $12 at World Market.  I don't love spending that much on baskets, but I really feel it is a detail that gives the space the look I want.
How do YOU organize toys?  What is your opinion on children's toys in your house?